Everything tagged
Latest from The Spokesman-Review
We all know the list of pros and cons for each choice. To each, his own.
But let me add one more in favor of living in the city — lemonade stands.
I have a little experience with urging people to seek therapy, but I am not actually a counselor myself. However, if I were a therapist, I would urge my clients to patronize kids' lemonade stands at every opportunity. It never fails to lift my spirits, and I'll bet many others feel the same way.
OK, it's not a long-term solution to chronic problems. But what would you expect for 50 cents?
Her stepdaughter's children were her top priority, and Tina Crone devoted herself to their care. She took them in, eventually won custody and sought counseling to help the two accept the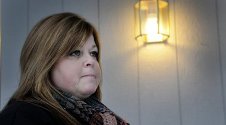 traumatic loss of their mother, Becky Brosnan, who was beaten to death by her estranged husband – the children's father – in February 2009. But Crone struggled to cope with Brosnan's sudden and violent death. Talking about her only brought tears, so she buried her feelings and tried to ignore the nagging pain that burned each day. "I was literally crying every single day," Crone said. "I thought I could handle it on my own, but you really can't." Crone credits an intensive therapy group with helping her cope/Meghann Cuniff, SR. More here. (SR photo of Tina Crone by Jesse Tinsley)
Question: Has violence ever claimed a family member or friend of yours?