Everything tagged
Latest from The Spokesman-Review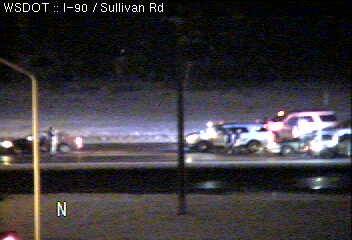 Portions of the chase and final confrontation between a despondent Army veteran and Spokane-area law enforcement were broadcast across the Internet by state traffic cameras.
Although the Washington Department of Transportation doesn't store the images, those who were on the website Tuesday night were able to follow the chase westbound along Interstate 90 from the state line and see part of the standoff at the end of the Sullivan exit ramp.
Some quick-thinking viewers pulled screen grabs of the photos before they expired, some of which were posted to Facebook by the siren-obsessed website Spokane News. Among them is the above image of a man, thought to be 23-year-old Jed Zillmer, standing alongside a stopped car facing a fleet of law enforcement vehicles behind him.
Zillmer, who reportedly was despondent and threatening to shoot people, was killed by Spokane County sheriff's deputies in the confrontation. A multi-agency investigation is underway.
The state's traffic control cameras capture and display new images every two minutes.
Al Gilson, a spokesman for the state Transportation Department, said they are intended to provide people with a glimpse of current traffic conditions and to alert authorities to potential problems as quickly as possible. The cameras are monitored around the clock in Spokane by traffic operators who can call police or paramedics to advise of collisions or other unsafe conditions.
The cameras generally are pointed at the freeway but can be rotated. On Tuesday night, the freeway camera at Sullivan Road was rotated to the north when the fleeing vehicle exited and continued to broadcast as the chase turned to a standoff.
"They keep track of what's going on," Gilson said of the camera monitors.
Initiative-meister and red-light camera-hater Tim Eyman is urging adherents to send e-mails to city leaders around the state decrying the tactics of a leading camera purveyor.
The Spokane mayor and city councilmember were included in his missive this week to supporters, asking them to urge leaders to take a stand on "sleazeball" tactics of ATS, the red-light company that operates the systems in Spokane and many other communities. It's a response to a story in the Everett Herald this week that indicates a company executive waged an "Astroturf" campaign on that paper's website to support the systems when locals criticized them.
Spokane city spokeswoman Marlene Feist said city officials had only received a handful of e-mails Thursday. That seemed low, prompting some worrying that Eyman was slipping, until a check of his e-mail links showed addresses were incorrect for several Spokane officials.
The correct e-mails can be found here.

OLYMPIA – Cities that want to install cameras to catch motorists who run red lights or speed through school zones would have to get voter approval under bills before the Legislature.
They might also have to make the yellow light last a bit longer at intersections with cameras or set the lights so they are red in all directions for at least a second. They wouldn't be able to promise a share of the ticket revenue to the company that sells them the cameras.
Traffic ticket cameras started as a pilot project several years ago and "turned into a big problem in Washington state," Rep. Christopher Hurst, D-Enumclaw, told the House Transportation Committee Tuesday. He proposed two different bills, using different standards for setting up the system; but both would require voter approval whenever a city starts or expands a red light camera program.