Everything tagged
Latest from The Spokesman-Review
A Spokane jury found a Walmart employee did not assault a customer he believed was shoplifting in an altercation outside the Shadle Park location in December 2012.
Beyonce Nieves brought suit against the Arkansas-based retailer claiming a store loss prevention employee accosted her outside the store on suspicions she stole stockings from the Ladies Wear Department. Troy Nelson, an attorney for Walmart in the case, said the jury threw out the assault, outrage and unlawful detention claims in its verdict delivered earlier this week, ruling the employee's acts were reasonable.
Via email, Nelson said Walmart would be filing a proposed judgment in their favor in the coming days. Nelson thanked the jury and said he was pleased with the verdict.
Nieves claimed she had been profiled by the employee, saying she was approached for her physical appearance. Theft charges against her were later dropped for lack of evidence, according to court documents.
The first eyewitnesses in the murder trial of George Zimmerman testified Wednesday that they believe Trayvon

Martin was yelling for help and being beaten by Zimmerman before he died. The witnesses, former neighbors of Zimmerman's in the Retreat at Twin Lakes gated community, described trying to make out what was going on outside their windows on the rainy night of Feb. 26, 2012. In both cases, Zimmerman's lawyers pointed to the possible influence of media on the witnesses' recollections. Zimmerman, 29, says he acted in self-defense when he shot and killed Trayvon Martin. The prosecution says he profiled and murdered the black teen. If convicted of second-degree murder, Zimmerman could be sentenced to life in prison/Yamiche Alcindor, USA Today. More here. (AP photo:
Witness Jane Surdyka gives her testimony during George Zimmerman's trial)
Question: How closely are you following this trial?
The Kootenai County Task Force on Human Relations on Sept. 7 will mark the Sept. 7, 2000, day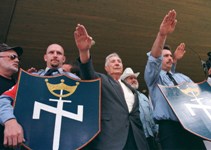 when a civil jury in Coeur d'Alene returned a verdict of $6.3 million against the white supremacist group after its guards attacked two people. The verdict forced Aryan Nations founder Richard Butler to give up his compound and the group eventually withered away. Butler died a few years later. Other groups have cropped up around the country that use the name Aryan Nations. The ceremony will be outside the Kootenai County Courthouse, near the downtown area where the Aryan Nations for years held public parades that drew a handful of supporters and large numbers of opponents/Associated Press. More here. (AP file photo: Richard Butler & his followers rally in July 1999.)

Question: Did you ever encounter Richard Butler or one of his hirelings during the heyday of the Aryan Nations?