Everything tagged
Latest from The Spokesman-Review
Hostess is betting on a sweet comeback for Twinkies when they return to shelves next month. The company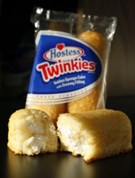 that went bankrupt after an acrimonious fight with its unionized workers last year is back up and running under new owners and a leaner structure. It says it plans to have Twinkies and other snack cakes back on shelves starting July 15. Based on the outpouring of nostalgia sparked by its demise, Hostess is expecting a blockbuster return next month for Twinkies and other sugary treats, such as CupCakes and Donettes. The company says the cakes will taste the same but that the boxes will now bare the tag line "The Sweetest Comeback In The History Of Ever"/Associated Press. More here. (AP file photo)
Question: When did you last eat a Hostess Twinkie?
The end of Twinkies has been big news for several days (see Cathy's great post below). Even the priest Sunday at Mass in my temporary Chicago parish mentioned it. He also mentioned the end of Kodak (the camera company filed for bankruptcy last January). He wondered if future generations would understand the term "Kodak Moment" which describes great pictures captured at gatherings.
He then added one more cultural phenomenon that could die out — high school football! If concerns about concussions in young brains continue to escalate parents might not let their boys play football in high school, let alone middle school.
If high school football ends, doesn't that mean college football would lack players to recruit and if college football ended wouldn't that spell the end of professional football?
A culture without football? Are the healthy brains of our little ones worth it? My vote: Yes.
Yours?
(S-R file photo of Texas high school football)
Hostess Brands Inc., the maker of Twinkies and Wonder Bread, is seeking bankruptcy protection, blaming its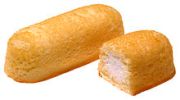 ension and medical benefits obligations, increased competition and tough economic conditions. The Chapter 11 filing on Wednesday comes just two years after a predecessor company emerged from bankruptcy proceedings. That company, called Interstate Bakeries and based in Kansas City, Mo., filed for bankruptcy protection in 2004. It emerged in February 2009/Associated Press. More here.
Question: Which American snack cake do you like best?