Everything tagged
Latest from The Spokesman-Review
No. 3 Boise State didn't even play this week and lost ground. The much ballyhooed BSU season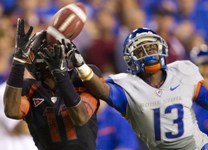 opener against Virginia Tech lived up to the hype with the Broncos winning in the final moments of an exciting game, but then Virginia Tech went and lost its second game against a much inferior opponent, lowly James Madison. (No good can come from a major football power losing to a school named for a president, even if he was the principal author of the Constitution.) So, after a thrilling win against a team - Virginia Tech - that once also aspired to a national title, Boise State is left with the reality of having the team that was supposed to be its toughest opponent all year being 0-2 two weeks into the season/Marc Johnson, The Johnson Report. More here.
Cutline:  Boise  State cornerback Brandyn Thompson (13), right, defends a deep pass against  Virginia  Tech  wide receiver Dyrell Roberts (11) in the final minute of the fourth quarter of an NCAA college football game on Monday in Landover, Md.  Boise  State won the game 33-30. (AP Photo/Evan Vucci)

Question: Is Boise State worthy of national title consideration (if it goes undefeated), now that it's toughest opponent, Virginia Tech, has lost to a lower division school?

Sportscaster Brent Musburger, who hails from Montana, had high words of praise for the Coeur d'Alene area during Boise State's victory over Virginia Tech in Washington, D.C., last night. After former Lake City High star Byron Hout made a tackle in the second half, Musburger told his broadcast partner  Kirk Herbstreit about Coeur d'Alene, urging him to go to Idaho and to go up north to Coeur d'Alene. "It's one of the most beautiful spots in the world — with all those lakes," Musburger said. Herbstreit responded that Mussberger had piqued his interest in our area.
Question: Do you like to hear Coeur d'Alene and/or North Idaho mentioned in glowing terms on national television?
Boise State receiver Austin Pettis,left, pulls down the game winning touchdown against Virginia Tech at FedEx Field in Landover, Md., on Monday. (AP Photo/Joe Jaszewski/Idaho Statesman)
Question: Are you ready to put Boise State into the national title game after this big, exciting victory over Virginia Tech?