Everything tagged
Latest from The Spokesman-Review
It should surprise no one, therefore, that a number of business interests have lent their support to the Idaho Department of Environmental Quality's appeal for $350,000 to restore a water-quality monitoring program that was largely suspended two years ago. Numerous Idaho cities, including Coeur d'Alene and Post Falls, have spoken out, too. The Beneficial Use Reconnaissance Program – more familiar as BURP – was first conducted in 1993 as a pilot program to track the health of some 96,000 miles of Idaho streams, plus the state's beloved lakes. Every summer thereafter, DEQ has hired college students to collect samples from hundreds of surface water locations around the state. Every summer until two years ago, that is/Spokesman-Review Editorial Board. More here.
Question: Are you as amazed as I am that southern Idaho solons who rightfully obsess over water in their 'hood can't find $350,000 to protect water in North Idaho?
Tuesday Poll: 62 of 86 respondents (72.09%) consider funding for water quality monitoring to be a necessity in the next Idaho budget, compared to 20 of 86 (23.26%) who say it is a luxury in these tough economic times. 4 were undecided.
Today's Poll: Do you consider funding for clean-water monitoring by Otter administration to be a luxury or necessity?

As you probably know, we've been rallying support for water quality monitoring for weeks now.  We have been calling on Gov. Otter to restore funding to the budget to perform one of the basic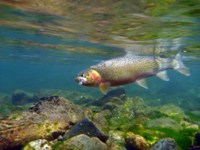 functions under the Clean Water Act, something the Governor and legislature have declined to fund for the past two years. Of course, this is exactly what you'd expect of your local grassroots conservation organization. But guess what — we're not the only ones. Because of the potential impact that another year of non-monitoring  would have on water quality permitting and municipal budgets, a number of Idaho municipalities have joined in the chorus. Boise, Nampa, Hailey, Moscow, Post Falls, Ponderay, and Blaine County are on record as supporting the water quality monitoring line item in the budget/Terry Harris, KEA Blog. More here. (SR file photo: Rich Landers)
Question: Should Idaho restore funding to monitor water quality?

Question: Do you water quality monitoring as a luxury in hard times, as the Otter administration apparently does, or as a necessity?