Everything tagged
Latest from The Spokesman-Review
Lois Free and Donald Evans kiss just moments after being wed Friday in the sporting goods department of Walmart in Post Falls. The senior couple, whose former spouses both died in 2011, met near the bicycle area of the store nine years ago and began dating in 2012. Story by Brian Walker/Press here. (Coeur d'Alene Press photo: Shawn Gust)
Question: Do you shop at WalMart?
All over America this week, parents faced a very modern problem: how to explain the Kim Kardashian divorce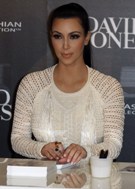 to their children. How could it be otherwise? America's latest approximation of a royal wedding is still playing on TV, over and over and over again, even though it's been more than a week since the professional reality TV starlet told the tabloids that she had filed for divorce from Kris Humphries, a basketball player for the New Jersey Nets. Yet the kids come home from school and there it is on the tube, in high definition: America's fairy-tale wedding. The cognitive dissonance was smothering. For a while this week, it seemed that the Kardashians were all that America was talking about, Greek debt be damned/Brian Stelter & Noam Cohen, New York Times. More here. (AP photo, of Kim Kardashian signing autographs)
Question: Who should get the $2 million ring that Kris Humphries gave to Kim Kardashian back in the good ol' 72 days when they were newlyweds in love? And/or: Does this sham marriage prompt you to re-define what marriage is all about?
Kim Kardashian's lightning-quick marriage shouldn't have any impact on the E! Entertainment network's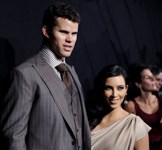 relationship with the reality TV family despite some shuffling this week, E!'s chief said on Wednesday. E! moved up, and then moved back, a rerun of Kardashian's lavish wedding to pro basketball player Kris Humphries after Kardashian announced this week that the marriage was kaput. The network, feeling its reputation sullied, put out a statement calling rumors that it had orchestrated the wedding for TV to be "completely false." "I don't even know if Kim has had a chance to emotionally process this the way that she needs to," said Suzanne Kolb, president of the E! Entertainment. "I don't have any indication that this is going to change her career path"/CBS News. More here.
Question: Can you think of anything of significance that lasted shorter than Kim Kardashian's marriage?