Everything tagged
Latest from The Spokesman-Review
A sign on the door of the West Wing announces the bad news for garlic lovers.
Raci Erdem, owner of the beloved White House Grill in Post Falls, has shuttered Spokane's sister restaurant. The West Wing, 4334 S. Regal St., opened in November 2010.
The sign said it was a difficult decision, but that Erdem wanted to concentrate on the White House Grill. No word on the Oval Office, which is also owned by Erdem.
I'll check in with him and report back.
The White House Grill is at 712 N. Spokane St. in Post Falls. Reach the restaurant at (208) 777-9672 or (208) 964-2077.
My all-time favorite television show – The West Wing – is back…sort of.
Some cast members have reunited to get us united in our civic duty and profound privilege: voting.
The team has created a public service announcement for Bridget Mary McCormack, the Michigan State Supreme Court candidate whose sister Mary acted on the series.
Enjoy the education from the Emmy Award winners who remind us to read everything on the ballot – Michigan or not – and vote. Since some of our candidates are non-partisan, if you vote strictly according to your political party, you may skip some of the candidates.
President Bartlett was a great leader – at least for one hour each Wednesday night. And I am certain, he votes.
(S-R archives photo: Martin Sheen as President Bartlett in The West Wing)
Item: No trick … Bakers in for a treat: Family of World War II hero to spend Halloween at White House/Brian Walker, Coeur d'Alene Press
More Info: "The president and first lady are inviting some military families - including the Bakers -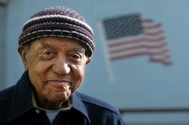 to go trick-or-treating here at the White House and then attend a Halloween party," said Adam Abrams, White House spokesman. "While the Bakers are here in Washington, we look forward giving them a West Wing tour." Baker's widow, Heidy, her daughter, Alexandra Pawlik, and grandson Vernon Pawlik, 10, all of St. Maries, were denied entry to the White House last month because the boy was wearing shorts and a T-shirt, which happened to have a photo of the war hero.
Question: Do you consider this invitation to be a good resolution to the recent flap in which the Bakers were denied access to the West Wing?