Everything tagged
Latest from The Spokesman-Review
A crowd turned out in the early morning darkness in Coeur d'Alene today to counter the small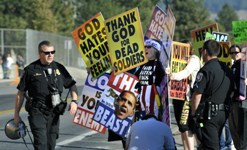 group of protesters from Westboro Baptist Church that plans a second day of denouncing gays, soldiers, Jews, the United States, and private and public colleges and schools. The eight members of the extremist group from Topeka, Kan., were out holding signs at the corner of Fourth and Dalton streets, next to Coeur d'Alene High School, by 6 a.m., while at least 50 counter-demonstrators met them with messages of their own. "I don't like the way they treat veterans at the funerals," said Greg Prado of Hayden, a Marine who served in Operations Desert Shield and Desert Storm. Prado attended with his son Cade, 6, and wife Amy/Alison Boggs, SR. More here.

Nic: And they're at Lake City HS with counter-protests across the street (both to the north and to the east). Oddly, a local is on the Westboro side with the Support Obama/vote Minnick sing. And he's next to the "God hates boobies/gay people/America" people so it looks like he's one of them.
Question: Am I the only one who feels sorry for the kids that Fred Phelps & his horrible family have drawn into their web of hate?