More topics
Background and latest updates on ongoing stories
Bomb attempt at MLK march
Summary
A backpack, containing a bomb capable of "multiple casualties," was discovered Jan. 17, 2011, in downtown Spokane.
Public facilities district workers reported the package at 9:26 a.m., just before the annual Martin Luther King Jr. Unity March was set to begin. Investigators received numerous photos and video taken that day of the area around Washington Street and Main Avenue.
The FBI confirmed the next day that the Swiss Army-brand backpack contained a bomb that could have caused "multiple casualties" and credited Spokane city employees who noticed the suspicious bag and alerted authorities in time to re-route the parade. Chemicals were mixed with shrapnel in what law enforcement officials say was a weapon designed to inflict maximum injuries.
Federal agents arrested Kevin W. Harpham, an ex-soldier with ties to the white supremacist movement, on Wednesday, March 9.
A federal grand jury returned an indictment against Harpham on March 22, 2011, officially charging him with placing the bomb. Harpham, 36, was charged with attempted use of a weapon of mass destruction and possession of an unregistered explosive device. He initially pleaded not guilty.
In a plea deal made Sept. 7, 2011, he pleaded guilty to attempting to use a weapon of mass destruction and attempting to cause bodily injury with an explosive device with a racist motive.
Three Spokane police sergeants were honored for their efforts to quickly divert thousands of marchers to a new route and for their other work that day. Officials lauded Jason Hartman, Chuck Reisenauer and Eric Olsen as heroes for their work and gave them a standing ovation at a City Council meeting Jan. 24.
After an unsuccessful attempt by Harpham to withdraw his guilty plea, U.S. District Court Judge Justin Quackenbush sentenced Harpham to 32 years in prison on Dec. 19, 2011.
Filter
By content type
Latest updates in this topic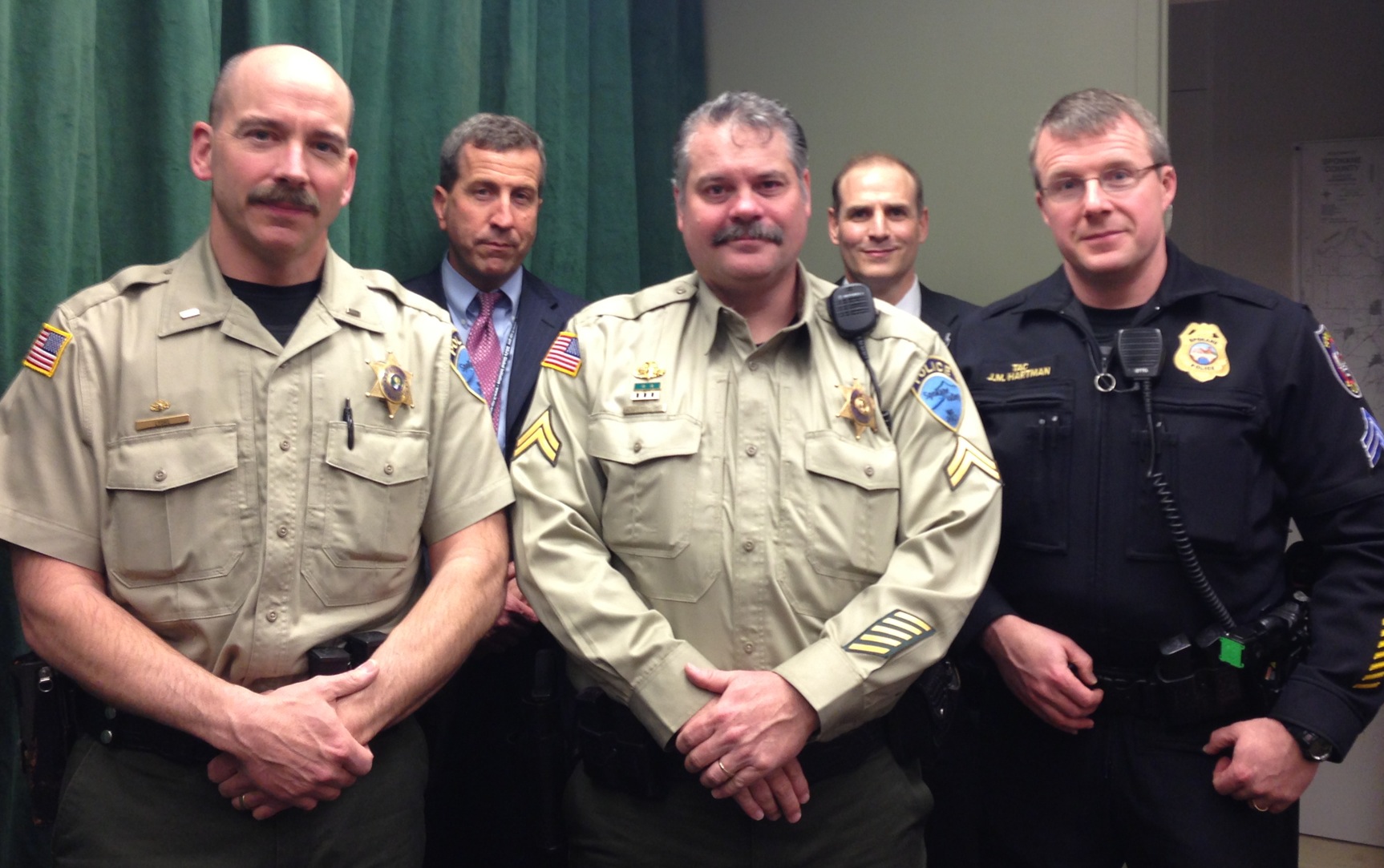 Several Spokane Police officers and Sheriff's deputies have been awarded by the Federal Bureau of Investigation for protecting the community from a bomb planted by Kevin W. Harpham during the MLK Unity March in 2011.
(Pictured from left to right in front row: Lt. Matt Lyons, Cpl. Mark Fox and Sgt. Jason Hartman. Lt. Eric Olsen was absent from the award ceremony due to training, according to police spokeswoman Monique Cotton. Photo courtesy: SPD)
The bomb did not detonate because Harpham's remote triggering device could not get close enough to the device. The bomb was laced with rat poison and placed on the northeast corner of Main Avenue and Washington Street, reports said.
Spokane Police Sgt. Jason Hartman and Lt. Eric Olsen were awarded Thursday afternoon for moving the march route, an act that's believed to have saved several lives.
Court documents show three contract workers discovered the bomb as Harpham walked in the march. Police changed the route before he could walk in range of the device - losing his opportunity to detonate the bomb.
Cpl. Mark Fox and Lt. Matt Lyons with the Spokane County Sheriff's were also awarded by the FBI for their work with the bomb squad disarming Harpham's device.
Harpham was arrested in March near his rural home near Addy. He was sentenced to 32 years in prison in Dec. 2011.
Related documents: MLK bomb maker gets 32 years in prison | Parade change averted blast