More topics
Background and latest updates on ongoing stories
Otto Zehm
Summary
A jury convicted Spokane Police Officer Karl F. Thompson Jr. of needlessly beating Otto Zehm and then lying about it to cover up his actions. The verdict was delivered in federal court in Yakima on Wednesday, Nov. 2, 2011 – five years and seven months since Zehm's life ended and questions of police accountability began.
Thompson ultimately was sentenced to 51 months in federal prison, although he promptly filed his plan to appeal. Thompson was transferred to a federal detention center in Seattle.
On March 18, 2006, Otto Zehm was beaten, shocked and hog-tied by police officers in a north Spokane Zip Trip, after he was accused erroneously of theft. He died two days later at a Spokane hospital. Thompson was the first responding officer.
On May 21, 2012, the Spokane City Council closed one chapter of the excessive force case by finalizing the $1.67 million settlement with the family of Otto Zehm. The deal was reached in mediation between city representatives, including Mayor David Condon, and Zehm family attorneys.
Condon has issued a handwritten apology to Zehm's mother, Anna, and recently, the Spokane Park Board placed a memorial plaque for Zehm in Mission Park. Also, the police department must provide crisis-intervention training for all Spokane police officers who aren't scheduled to retire within a year and provide $50,000 for a consultant to help the city implement changes to its use-of-force policy.
At the Zip Trip convenience store, officers confronted Zehm, 36, who was holding a pop bottle. Zehm was beaten with a baton, shocked with a Taser and left "hogtied" on the floor.
In May 2006, Spokane County Medical Examiner Sally Aiken ruled that Zehm died as a result of homicide, with lack of oxygen to the brain as the official cause.
Public outcry over Zehm's death and others prompted outside review of the Police Department, changes to protocol and the creation of a police ombudsman position. The latter has drawn criticism.
In March 2009, the Center for Justice filed a federal civil rights suit against the city of Spokane and nine of its police officers on behalf of Zehm's family. The lawsuit alleged that officers used excessive force and that the police department and its former acting chief, Jim Nicks, engaged in a conspiracy to portray Zehm as the aggressor.
In June 2009, a federal grand jury handed down two indictments against Thompson, accusing him of violating Zehm's civil rights.
Documents filed in April 2010 raised serious new allegations in the case. In them, federal prosecutors suggest members of the Spokane Police Department tried to cover up their handling of the confrontation with Zehm and that the agency's investigation clearing officers of wrongdoing was incomplete and inaccurate.
A timeline of the case shows five years of complex legal wrangling involving the criminal case against Thompson and a $2.9 million civil claim by Zehm's mother and estate against the city of Spokane.
Recently unsealed federal court files show that the lead investigator within the police department, detective Terry Ferguson, knew that if the video of Zehm's death became public, the results would be 'inflammatory.' Thompson also sent emails to police union officials requesting that they research deaths caused by a condition known as 'excited delirium.'
Thompson's sentencing on Nov. 15, 2012 followed a complex legal process that included a rare re-examination of jurors. Federal authorities also have questioned the legitimacy of Thompson's divorce, which was used as a basis for a judge to declare him indigent, allowing Thompson to use more than half a million dollars in taxpayer money for his defense.
Updated Nov. 28, 2012 by Riley Jessett, intern
Filter
By content type
Latest updates in this topic
A Spokane police officer who is the target of a grand jury investigation for her role in the Otto Zehm case cried on the stand today as she alleged intimidation by federal agents.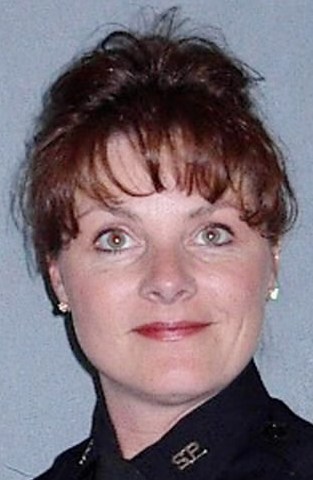 Sandy McIntyre, who has a "father-daughter relationship" with Karl Thompson, has previously told federal investigators she though Thompson overreacted after she watched the video of the confrontation with Zehm.
But she told jurors in Thompson's excessive force case today that she doesn't actually believe that and doesn't remember saying that.
"I did not think he overreacted. I did not see the whole video and I wasn't there," McIntyre said. "It's unfair of me to say he overreacted; I wasn't there."
Federal prosecutor Victor Boutros said McIntyre talked to Thompson after watching video, but McIntyre said "I didn't speak to him about what was on the tape."
Boutros said McIntyre exclaimed out loud that there was never a lunge, which McIntyre denied.
"I would not have made a note of that," she said.
Boutros pointed out that after Acting Police Chief Jim Nicks told the department about the lunge, "You never corrected lunge lie, even though you knew it wasn't true."
McIntyre replied: "I wasn't at work. It wasn't my job to correct that."
McIntyre began crying when Thompson's lawyer, Carl Oreskovich, asked her whether she was scared when FBI threatened to charge her with obstruction of justice. She said it "very much" frightened her, though Boutros said the warning was a stand thing said before all interviews.
Oreskovich asked about her children, ages 19 and 14.
"My career means the world to me, just like my family does. That being said, it scared me to death," McIntyre said. "I was told 'now's the time to save yourself.'"
McIntyre said that if you look at just a portion of the video or what's on TV "Yeah it looks horrible, it looks bad" but "I wasn't there when it started." Only Thompson was, she said.
McIntyre admitted that she said "I don't recall" to grand jury questions when she actually did recall portions of it. "I did not feel like I could expand on my answers," McIntyre said.
Oreskovich emphasized to jurors that federal agents "scared the hell" out of McIntyre to get her to say certain things to the grand jury.
Also testifying today was Officer Erin Raleigh.
Check out my minute-by-minute coverage here.
Look for Tom Clouse's full report from Yakima in The Spokesman-Review. We'll be back with full coverage on Monday.
Past coverage: