More topics
Background and latest updates on ongoing stories
Wolves
Summary
Few wildlife conservation efforts have been as controversial as that of the grey wolf in the Northern Rockies. Federal efforts to protect the wolf have clashed with state efforts to control wolf populations and protect livestock and game from predation by wolf packs.
Idaho and Montana have been given federal authority to manage wolf numbers using public hunts. Federal officials require Idaho to maintain a population of at least 150 wolves and 10 breeding pairs.
Idaho wildlife officials have boosted bag limits, expanded trapping and extended hunting seasons in some areas to help further reduce wolf populations in all corners of the state. Its 10-month wolf season runs until June.
Idaho's wolf managers estimated 500 to 600 wolves roamed the state as of spring 2012, down from the more than 1,000 when the 2011 hunting season opened in August.
Hunters and trappers killed 364 wolves since the 2011 season opened, while dozens more wolves have died of natural causes or been killed for preying on livestock or targeted as part of a strategy to lessen impacts on specific elk herds in the state.
A federal appeals court in March rejected a lawsuit from conservation groups that wanted to block wolf hunts across the Northern Rockies. The ruling from a three-judge panel of the 9th U.S. Circuit Court of Appeals said Congress had the right to intervene when it stripped protections from wolves in spring 2011.
Lawmakers stepped in after court rulings kept wolves on the endangered list for years after they reached recovery goals. Wildlife advocates claimed in their lawsuit that Congress violated the separation of powers by interfering with the courts. But the court said Congress was within its rights, and that lawmakers had appropriately amended the Endangered Species Act to deal with Northern Rockies wolves.
There are more than 1,700 wolves in Montana, Idaho, Wyoming and expanding populations in portions of Eastern Washington and northeastern Oregon. Wolf hunting could resume in Wyoming this fall.
In parts of Montana, ranchers and local officials frustrated with continuing attacks on livestock have proposed bounties for hunters that kill wolves. Montana wildlife officials said they will consider ways to expand hunting after 166 wolves were killed this season, short of the state's 220-wolf quota.
Wolves once thrived across North America but were exterminated across most of the continental U.S. by the 1930s, through government sponsored poisoning and bounty programs.
Wolves were put on the endangered list in 1974. Over the last two decades, state and federal agencies have spent more than $100 million on wolf restoration programs across the country. There are more than 4,500 of the animals in the upper Great Lakes and a struggling population of several dozen wolves in the Desert Southwest.
Prior lawsuits resulted first in the animals' reintroduction to the Northern Rockies and then later kept them on the endangered list for a decade after the species reached recovery goal of 300 wolves in three states.
The U.S. Fish and Wildlife Service is monitoring the hunts. But agency officials have said they have no plans to intervene because the states have pledged to manage wolves responsibly.
Federal officials have pledged to step in to restore endangered species protections if wolf numbers drop to less than 100 animals in either Montana or Idaho.
Even without hunting, wolves are shot regularly in the region in response to livestock attacks. Since their reintroduction, more than 1,600 wolves have been shot by government wildlife agents or ranchers.
Filter
By content type
Latest updates in this topic
ENDANGERED SPECIES — OR-7, a wolf originally from northeast Oregon, may have found a mate in southwest Oregon's Cascade Mountains, the Oregon Department of Fish and Wildlife reports.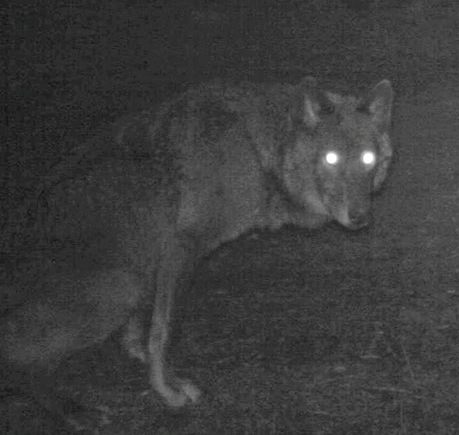 In early May, remote cameras on the Rogue River-Siskiyou National Forest captured several images of what appears to be a black female wolf in the same area where OR-7 is currently located. The images were found by wildlife biologists when they checked cameras on May 7.
The remote cameras were set up by U.S. Fish and Wildlife Service and Oregon Department of Fish and Wildlife as part of ongoing cooperative wolf monitoring efforts. New images of OR-7 were also captured on the same cameras and can be accessed and viewed at ODFW's wolf photo gallery (see first three images).
"This information is not definitive, but it is likely that this new wolf and OR-7 have paired up. More localized GPS collar data from OR-7 is an indicator that they may have denned," said John Stephenson, Service wolf biologist. "If that is correct, they would be rearing pups at this time of year."
The Service and ODFW probably won't be able to confirm the presence of pups until June or later, the earliest pup surveys are conducted, so as not to disturb them at such a young age. Wolf pups are generally born in mid-April, so any pups would be less than a month old at this time.
If confirmed, the pups would mark the first known wolf breeding in the Oregon Cascades since the early 20th century.
Wolf OR7 is already well-known due to his long trek and his search for a mate—normal behavior for a wolf, which will leave a pack to look for new territory and for a chance to mate. "This latest development is another twist in OR-7's interesting story," said Russ Morgan, ODFW wolf coordinator.
The Service and ODFW will continue to monitor the area to gather additional information on the pair and possible pups. That monitoring will include the use of remote cameras, DNA sample collection from scats found, and pup surveys when appropriate.
Wolves throughout Oregon are protected by the state Endangered Species Act. Wolves west of Oregon Highways 395-78-95, including OR-7 and the female wolf, are also protected by the federal Endangered Species Act, with the Service as the lead management agency.
At the end of last year, there were 64 known wolves in Oregon. Except for OR-7, most known wolves are in the northeast corner of the state.
About OR-7
OR-7 was born into northeast Oregon's Imnaha wolf pack in April 2009 and collared by ODFW on Feb. 25, 2011. He left the pack in September 2011, traveled across Oregon and into California on Dec. 28, 2011, becoming the first known wolf in that state since 1924.
Other wolves have traveled further, and other uncollared wolves may have made it to California. But OR-7's GPS collar, which transmits his location data several times a day, enabled wildlife managers to track him closely.
Since March 2013, OR-7 has spent the majority of his time in the southwest Cascades in an area mapped on ODFW's website.