Little Red Jeep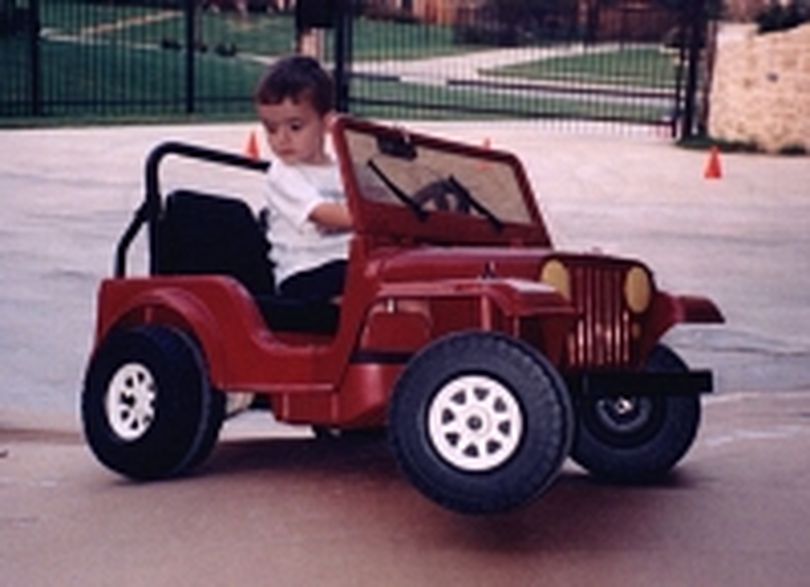 Instead of Ritalin, my parents bought me my first car at the age of five: A 1990 Jeep power wheel. Cherry red, two gears (fast AND slow), a roll bar that stopped just below my head and a storage compartment nestled beneath the Trans-am inspired eagle decal on the hood perfect for storing a peanut butter sandwich.

I stood next to my new ride for roughly half a day gritting my teeth to powder while it sat in the garage and charged, then promptly drove it into a ditch and rolled it over on top of myself, like you're supposed to do in a Jeep.

It was a particularly bad mess for several reasons, the first being my father had gone inside to do whatever a dad does on Saturday morning when his small child is criss-crossing the street in his dream ride for the first time. I'll just presume from experience he was taking a crap and reading Hemmings Motor News, smelling the sweet aroma of my "dinosaur" shaped pancakes wafting up from the kitchen grill. Point being, he was usually indisposed during his Saturday morning man time anywhere from 1-3 hours. In his blissful cocoon he had no idea his tiny son would soon be fighting for his life in a ditch out front of the house.

This was no ordinary ditch mind you, mainly because our derelict neighbors made a habit of throwing their massive dogs' campfire sized droppings in it up stream from our home. Adding to the horror, it had rained the previous day and the waters were still flowing like a sewage pipe.

The ditch was not on my Dad's mind as he lumbered up to the throne and gave me the go ahead to unplug the Jeep from the garage wall and embark on my first solo driving experience. I hopped behind the wheel of the greatest 4x4 the world had ever known with the intention of pushing her to the limits. I had seen the four Duracell batteries beneath the muscular hood and each was roughly the size of my head; oh yeah, this thing could run.

With one hand clutching a creamy peanut butter sandwich and the other gripping the plastic steering wheel I mashed the accelerator to the floor and started down the driveway. It went without saying that everyone in the neighborhood was watching me through their front windows, green with envy at my good fortune. That's when our ditch caught my cocky eye. Brown clumpy water was flowing along its terrible bed, but the sidewall was demanding I transverse it's rocky terrain in mocking defiance of the poo stream below.

I stopped, took a bite from my peanut butter sandwich and laid two plastic tires into the ditch with the confidence of a kid who had been spanked but wasn't afraid to face the hand's wrath again.

We flipped.

Splash!

Oh God! Oh No! What's happening?!

Instantly the massive weight of the Jeep collapsed the collapsible windshield and pinned my doughy body in the waste river's current. There was no sunlight in this horrible stinky place.

The evil stream tore the sandwich from my hand and cackled at me as I watched it disappear upside down into the black hole of the pipe that ran beneath our driveway. The river had eaten my sandwich, and next it was going to eat me and turn me into poop. My parents would have to scoop me up with a shovel and throw me in the compost pile in the back yard, like good neighbors did.

Where were my parents? I began to scream and mashed the accelerator with my foot again; this was a Jeep and Jeeps could go anywhere god dammit!

It worked.

The Jeep righted itself, and daylight streamed in on my soggy trembling body.

"What the hell are you doing?! A voice boomed.

Ah, it was dad, in his underwear, holding the Jeep like a matchbox car as the tires spun to a stop. All of a sudden the river's black hole seemed like a friendly place, but I was safe and my legs could move out of their pretzeled contortion again. I was allowed to drive the Jeep back up to the garage and plug it in to charge for another day of learning experiences.

I learned two lessons that day: Jeeps will flip over on you, and never take a hill sideways when you're off roading, it's too easy to lose your sandwich that way.
---
---