2013 Toyota Avalon: Swinging for the fences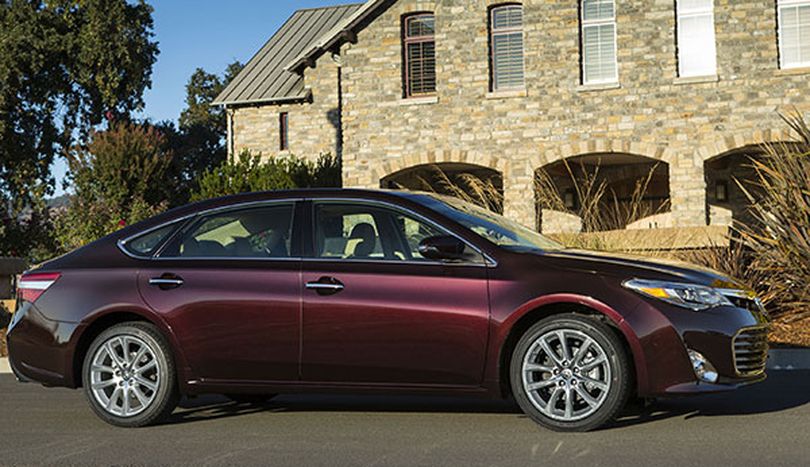 For 2013, Toyota set out not to merely update the full-size Avalon; instead, it gave its underachieving flagship a personality transplant.
For the first 12 years of its existence, the Avalon lacked focus and, consequently, a true identity. It was the Toyota of choice for owners seeking Toyota reliability and Lexus comforts but who, for whatever reason, preferred not to move up to Lexus.
The new Avalon erases that past. Shunning its Lexus-lite ID, it has become a car that's meant to be driven and not merely piloted.
Sharp reflexes replace previous vagaries. Handling is crisp, steering is quick and accurate. The ride is firm -- while remaining supple and compliant -- and unwanted body motions are eased into retirement.
Speaking of which, Toyota aims the new Avalon at a younger set of buyers. Today's average buyer is 65; Toyota is shooting for 55.
To this purpose, designers re-skinned the Avalon. Exterior dimensions are tighter and styling is crisper and more dynamic. A strong, lifting shoulder line flows from the front fender to the short decklid, where it meets up with a tapering roofline.
Toyota is especially proud of the front fascia, where a whisper-thin grille floats above a protuberant and oversized lower air intake. The look may not be entirely cohesive but at least we can no longer accuse Toyota of not trying.
In the transition from boulevard cruiser to something more engaging, the Avalon has lost 160 pounds and gained stiffness; chassis rigidity is up 16 percent, reducing body flex and allowing suspension engineers to strike a balance between ride firmness and compliance.
Toyota has spared little expense to elevate the Avalon's cabin to the highest standards of the near-luxury class -- and, perhaps, beyond. Hand-stitched leather (available in two grades) covers the seats, while a soft-touch, hand-stitched material wraps the sculpted, bi-level dash. Smoked-chrome accents and glossy panel pieces add subtle flash.
A variable-rate window motor powers the windows, slowing them near the top of their travel to reduce wind noise and, says Toyota, "add refinement."
Despite its trimmer dimensions, Avalon's interior and trunk have grown more spacious. There is, of course, almost no end to available cabin technology.
Two powertrains are available, a conventional V-6, and a hybrid.
A 268-horsepower, 3.5-liter V-6, paired with a three-mode six-speed automatic, powers conventional models. Tuned for efficiency, the gearbox delivers smooth, no-rush shifts that always land the engine in the heart of its power band. In Sport mode, the gearbox matches engine revs on downshifts, an unexpected bit of sport geekery. Toyota claims sub-7-second Zero-to-60 times and a best-in-class efficiency ratings of 21 mpg city/31 mpg highway.
Running the latest version of Toyota's Hybrid Synergy Drive system, the Avalon Hybrid produces a seamless hybrid experience, while delivering 39 mpg city/40 mpg highway.
More good news: Avalon's base price ($31,750, including destination) drops $1,445. Hybrids, which are available in premium trims only, start at $36,315.
Under new CEO Akido Toyoda, Toyota and Lexus are redefining themselves. "Toyota's back and we're going to be swinging for the fences again," one exec said at the Avalon launch.
Welcome back.
2013 Toyota Avalon
Various conventional and hybrid models reviewed
Price range: $31,750-42,160
V-6 fuel efficiency: 21 city/31 highway
Hybrid fuel efficiency: 40 city/39 highway
Regular unleaded fuel specified
---
---