Sat., Dec. 8, 2012
Subaru Crosstrek: Wait! Haven't we been here before?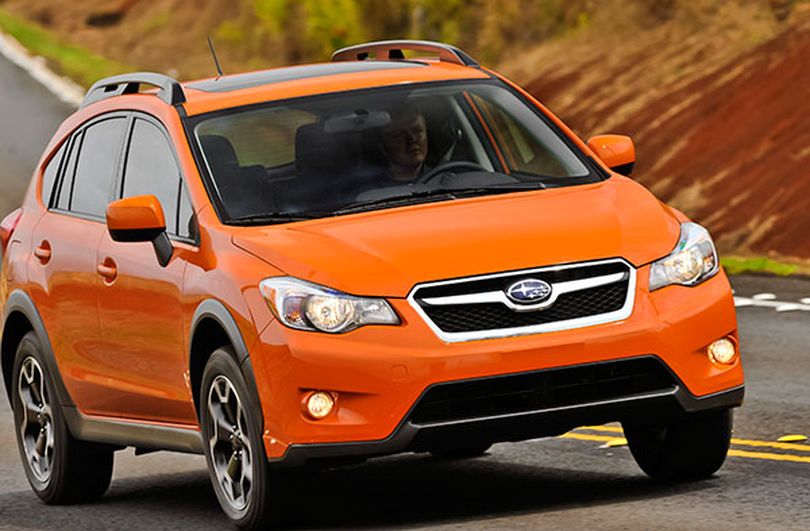 "That looks like a fun little car. That's the kind of car you'd just go out and have fun in." Uniformed agent of the US gov't, peering through the coffee shop window at the Subaru XV Crosstrek parked outside.
"That's the kind of car I'd have bought for myself, but my wife wanted something more comfortable." Friendly neighborhood barristo
Subaru has done it again. They've altered the bones of the compact Impreza, lifted it three inches, bulked up selected suspension bits, added body cladding and created a new model.
Last time it was the Outback; this one they call the XV Crosstrek (from $22,790, including destination). Roomier than the base Impreza -- four full-size adults can get comfy -- it boasts class-leading fuel efficiency - 23 city/30 highway with the base 5-speed manual; 25/33 with the optional CVT.
Hint: Get the manual. The Crosstrek checks in at a not-svelte 3,100 lbs and the 148-hp flat-four needs all the help it can get.
The postal carrier was right; the Crosstrek looks spry and engaging, though performance isn't its strong suit.
The barristo was also right: it's a bit down on power, but with standard AWD, short wheelbase and elevated stance, it will handle light-duty off-roading. Once again, best to avoid the CVT if trail-running is on your agenda.
He was also right on the comfort score. With Its elevated ride height and truncated wheelbase, the Crosstrek's ride is choppy on city streets, though not bad on the open road.
The little four labors to get to speed and road and wind noise are present at speed. Something has to give when budgets are involved and the compromise between weight and silence is a perpetual challenge.
So is cabin tech, where Subaru lags. The base trim, ironically dubbed "Premium") fails to quality for navigation, which would have provided the otherwise dour dash with its only splash of color.
People buy Subie's for qualities other than flash, though, and this one will doubtless find its market.
---
---