Sat., Dec. 8, 2012
VW Passat: The affordable European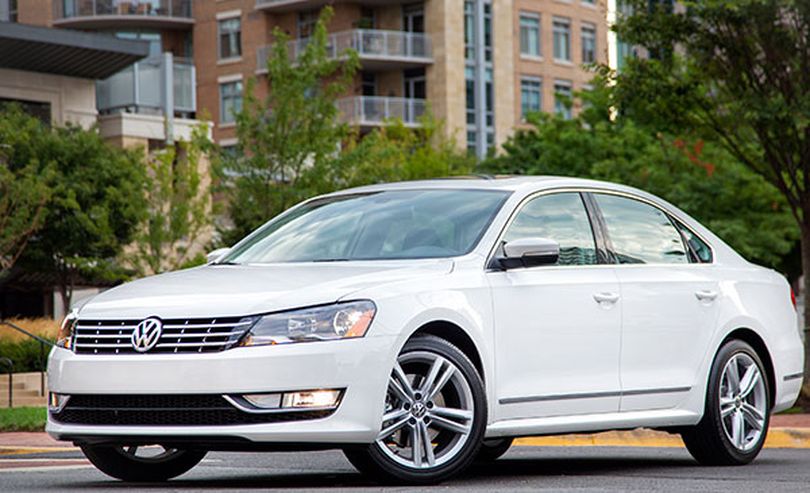 Though European carmakers dominate the upper end of the automotive market, they are largely absent from the segments where most of us shop.
The chief exception is Volkswagen, which of course made its mark flogging the humble Beetle.
VW has flirted with going upscale -- most notably with the excellent but short-lived Phaeton sedan -- and yes, one may still drop $60 Large on the hybrid version of the Toureg, but the brand's offerings tend to fall well below $35,000, even when well equipped.
The compact Jetta starts $16,430, including destination, while the 2013 Passat competes in the family sedan segment with a $21,650 base price.
That fetches a Passat that's 4 inches longer than its predecessor and rides on a wheelbase that's grown 3 inches. Its cabin is among the roomiest, quietest and most comfortable in the segment.
The front seats are firm and well bolstered and rear-seat legroom rivals that of some full-size cars. Fit-and-finish and materials quality are very good.
The Passat's touchscreen-based center console is a model of clarity and crisp efficiency. It's faster, better designed and less distracting than most. Most importantly, it's flanked by buttons that simplify its operation.
Passat no longer hangs its hat on razor's-edge handling but its fully independent suspension (front struts, rear multilinks) produces a lively and controlled ride, while tuning out the harsh impacts of potholes and freeway expansion joints.
In the VW tradition, steering is accurate and responsive, though numb on center and a bit heavy at low speeds.
Three engines are available; a 170-horsepower, 2.5-liter five-cylinder; a 140-hp, 2.0-liter turbodiesel that makes 236 pound-feet of torque; and a 280-hp 3.5-liter V-6.
I've driven only the six, which is a lovely engine. Quiet and smooth, it possesses a broad power band that VW's DSG automated manual eagerly exploits.
The base, five-cylinder engine also powers the lighter Jetta, where its output is sufficient. In the heavier Passat, it's overmatched. For best results it should be paired with the six-speed manual gearbox, not the optional six-speed automatic.
The torque-rich TDI (turbo-diesel) could be the pick of the litter. It's rated at 31/43 (manual) and 30/40 (DSG) and some testers say real-world numbers are 8-10 mpg better than that.
Herein lies the rub: Take a pass on the 2.5 and soon you're talking real money. The TDI starts at $26,675 and the six starts at $29,765.
If it's any consolation -- and it should be -- the base Passat is equipped with automatic headlights, keyless entry, full power accessories, air-conditioning, a six-way manual driver seat with lumbar adjustment, cloth upholstery, a tilt-and-telescoping steering wheel, redundant steering-wheel audio controls, cruise control, trip computer, Bluetooth with streaming audio and a six-speaker sound system with a CD player and auxiliary audio input.
Word is VW plans to sweeten the package in 2013, replacing the five with a 200-hp, 1.8-liter turbocharged four.
The 2013 Passat is sized, equipped and priced to win the hearts and minds of Americans -- and it's built at a new plant in Chattanooga, Tenn. It's as clear as it can be: This European wants a piece of the action.
Don Adair is a Spokane-based freelance writer. Contact him at don@dadair.com.
2013 Volkswagen Passat SE w/Sunroof
Vehicle base price: $20,845
Trim level base price: $29,235
Optional equipment: Our SE w/Sunroof tester included no optional equipment.
EPA ratings: 20 city/28 highway
Premium unleaded fuel required
---
---