When SUV's become crossovers: 2013 GMC Terrain Denali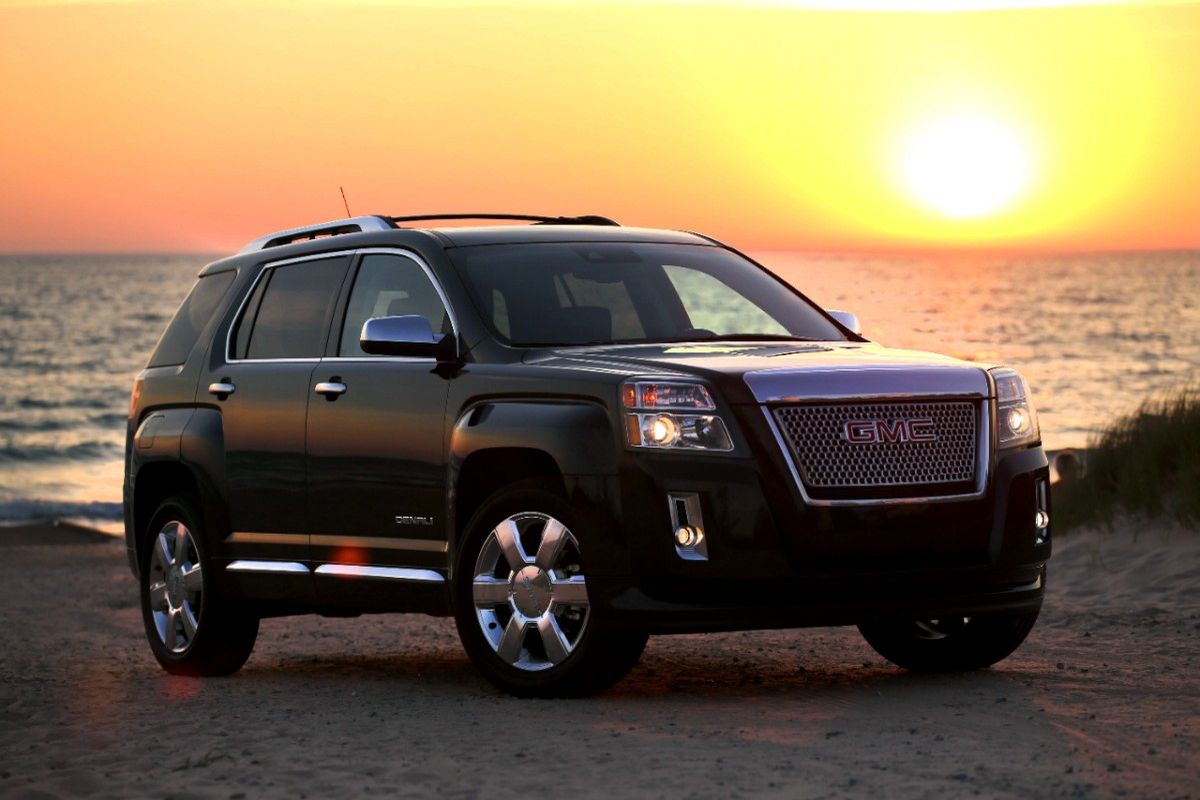 The GMC Terrain Denali has a swagger to it that's reminiscent of the SUV's glory days. A happier time when gas was cheap, no V8 engine was too inefficient and crossovers were for people who thought the Pontiac Aztek was a good idea.
As it turns out the Aztek actually was a good idea in theory on the basis it was a crossover, albeit an epically fugly one. Utility vehicles have to play by a whole new set of rules now in a recession addled economy. Still it's become obvious nothing short of a combination zombie-robot apocalypse is going to make the utilitarian qualities of the SUV any less of a necessity to American drivers.
Enter the Terrain - GMC's best-selling vehicle through 2012, second only to the Sierra pickup truck. The Terrains is a crossover and GMC's smallest vehicle, which isn't unlike saying it's the most petite offensive lineman in the NFL. Originally the game plan was for the Terrain to pick on smaller compact crossovers like the Honda CR-V and Toyota RAV4 with a superior luxury option list and GMC's beefy truck appeal.
In essence GMC took a Yukon Denali, Frankensteined it into a crossover and set it loose in family land. The marketing wizards at GM found the strategy worked better than they intended. Besides the CR-V and RAV4 the Terrain is now also being considered against larger midsize crossovers like the Nissan Murano and Ford Edge. Here's how the Terrain Denali stays competitive in the middle ground:
POWERTRAIN
The Terrain's two engine options ask buyers to make a clear choice between power and fuel economy: Sip fuel or haul like a boss. Every 2013 Terrain comes standard with a 2.4-liter four-cylinder that produces 182hp and 172 pound-feet of torque mated to a six-speed automatic transmission. The four-cylinder, front-wheel drive Terrains is good for an EPA-estimated 22mpg city/32 mpg highway. Those are competitive numbers with smaller compact crossovers that couldn't rock the Terrain's bling-happy chrome accents if they wanted to.
For the power hungry a 3.6-liter V6 good for a chunky 301hp and 272 lb-ft of torque is the better choice. The 3.6-liter produces almost 40hp more than the outgoing V6 while maintaining nearly identical fuel economy numbers. Equipped with the V6 the Terrain is rated to tow 3,500 pounds. All-wheel drive is optional with either engine option.
Impressive as the Terrain's V6 power and four-cylinder fuel economy are the plot thickens when the six is compared to those in the midsize crowd. With the V6 and all-wheel drive the Terrain is good for 17 city, 24 highway – lackluster considering the larger Ford Edge and Nissan Murano are rated at 18/25mpg and 18/23 respectively, each using a 3.5-liter V6.
Then again neither the Edge nor Murano currently offer a more fuel-efficient engine option as the Terrain does with a four-cylinder option.
INTERIOR
Nothing says luxury quite like leather and legroom. The Terrain's most impressive interior feature is standard in any trim: A rear sliding seat that can be adjusted to maximize rear leg room or rear cargo space. When maxed out for passenger comfort the rear bench is one of the most spacious in the midsize-crossover segment. The impressive legroom makes the Terrain justifiable as a proper road trip vehicle even if your buddies are real heifers of the big and tall variety.
In terms of trim the Denali package has the most impact inside the Terrain. The Denali logo appears on the front seat backs and on illuminated front sill plates. Red accent stitching is used liberally about the cabin and faux-smoked mahogany accents appear on the leather-wrapped steering wheel and door panels. .
GOODIE LIST
These bullet points are important; they're the core of what's supposed to distinguish the Terrain Denali as a luxury crossover designed to out-flatter the competition:
Special Denali 18-inch chromed wheels and exterior trim with chunky chrome grille
Convenience Package - Heated front seats, remote engine start power lift gate
Eight-way power driver seat with power lumbar adjustment
Eight-speaker Pioneer sound system with IntelliLink touchscreen interface and voice commands
Optional dual-screen DVD rear-entertainment system.
Bluetooth phone connectivity
Package - Lane-departure warning, forward-collision alert rear cross-traffic and side blind-zone alert systemsand rear park assist
Rearview camera
OnStar
Automatic climate control
DRIVING EXPERIENCE
Steering and handling are two very different things in the Terrain. Around town steering it's like trying to maneuver a wheelbarrow through a mossy lawn; it's not a rewarding experience and makes you feel you're working too hard to do something simple. Here more than anywhere the Terrain feels more like an SUV than a crossover, a hefty luxury vehicle designed to isolate the driving experience from the driver. For some the effect might be appreciated but the Terrain doesn't reward drivers who want a sporty or even communicative driving experience.
Surprisingly the Terrain pulls an about face and responds impressively when thrown into a corner. It doesn't roll around clumsily like its steering response would suggest. Instead it feels well-adjusted and planted when run hard through aggressive turns. There might be voodoo at play here; it could also be that the Denali trim package comes with a unique suspension that uses dual-rate shock absorbers geared towards handling.
Intended or not the Terrains is a compelling buy in no small part for its clever positioning. It occupies a sweet spot somewhere between compact and midsize crossovers where it can outclass the little guys with luxury options and steal away midsize buyers with utilitarian appeal. It also doesn't hurt that it looks a lot a lot like a Yukon Denali, which looks a lot like an Escalade; there's still a lot to be said for the style those beasts refuse to lose.
If GM could just get the Terrain to drive less like one of their SUV's and more like a crossover they could really be on to something.
---
---