Fri., Nov. 16, 2012
Dodge 'Adult Toys' of the 1970's - The Little Red Express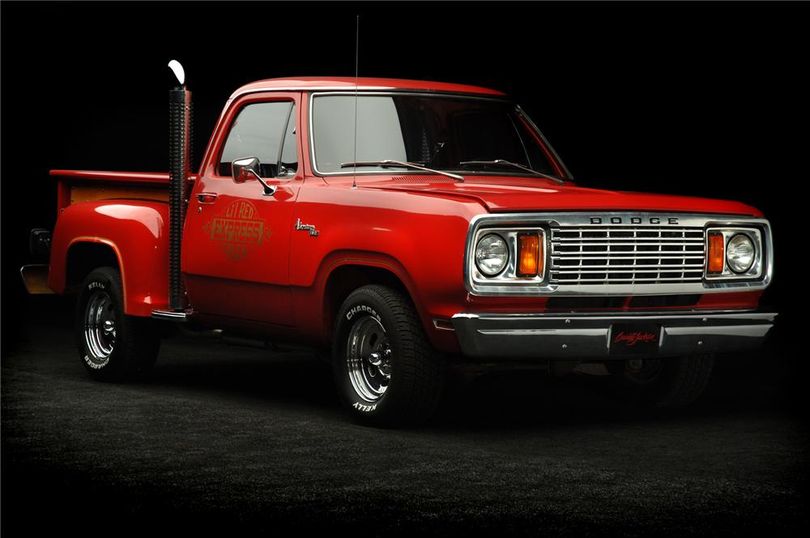 Chrysler's Little Red Express pickup truck was designed to dance through a loophole in late 1970's emissions regulations. It worked so well the Express turned out to be the fastest American production vehicle of 1979 and the original muscle truck.
Unlike its immediate predecessor in Chrysler's Adult Toys lineup, the Dodge Warlock, the Little Red Express was much more than a show truck catering to the trick truck crowd. MOPAR powertrain engineer, Tom Hoover wanted to make a factory-customized truck that actually had the power to back up its image.
This was no easy task for the day. Emissions regulations had reduced muscle cars from the 60's to detuned, smog-regulated embarrassments of their former selves. Automakers had resorted to customization packages, such as the Warlock pickup that did their best to look cool but had no real performance under the hood.
These were the darkest of times for American muscle. Hungry for another taste of MOPAR's glory days, Hoover did his research and discovered there were major loopholes to work around the EPA's vehicle-emission regulations.
Specifically light trucks were exempt from having to use catalytic converters if their Gross Vehicle Weight rating was above 6,000 pounds. The real kicker was that once an engine family was certified by the EPA as emission regulations compliant about 6-9 small modifications were permitted without having to be run through extensive testing again.
As if destined to work the system, Dodge's smallest D-Series pickup, the D-150 step side had a GVW rating of 6050 pounds. Hoover came up with the brilliant idea to take Chrysler's emissions compliant 360ci V8 Police Interceptor engine and drop it into what would become the Little Red Express.
Chrysler started with a standard 360ci V8 truck engine and began modifying it up to Police Interceptor status and beyond. Upgrades included:
Camshaft from the 1968 340 4-bbl.
Red stripe valve springs with damper from the 1968 340 4-bbl.
Standard valve retainers (replacing rotators)
Large Thermo-Quad from Police 360
Intake manifold from the 1978 Police 360
Windage tray from Police 360
Roller timing chain and sprockets from Police 360
Dual-snorkel air cleaner with fresh air ducts
Chrome valve covers and air cleaner lid
Street-Hemi style mufflers (2.5inch dual semi-stacks)
The Express put 225hp and 290lb-ft torque to the ground through a beefed up 727 transmission. She was good for a top speed of 128mph and a quarter mile time of about 15 seconds. Those might not seem like muscle car numbers by modern standards, but in 1979 the Little Red Express was faster than any American production car on the road.
As required by its title the truck was only available in bright red with a gold tape stripe package and gold decals on the doors and tailgate. For some reason gold accents was a big thing back then. Personally I blame disco.
The body side and tailgate body trim were made of real oak with chrome-headed bolts. But of course, the true source of the Express' cosmetic appeal came from the dual semi-stack exhaust pipes; as if to mock the EPA for being foolish enough to assume a muscle-head engineer wouldn't eventually work a massive exception through their smog regulations.
From 1978 to 1979 nearly 7,400 Little Red Express's rolled off Chrysler's assembly lines in bold defiance of the times. It was short lived victory. When the gas crisis hit in 1979 production was cancelled in 1980.
The Little Red Express holds several important places in automotive history few people are aware of. For starters it was the pinnacle of Dogde's all but forgotten Adult Toys lineup. More importantly it represents a glorious albeit brief time in muscle car culture during a decade when American performance cars were close to dead.
Keeping that in mind the semi-stack exhaust looks tasteful, appropriate even.
---
---