Big news from Dodge @ the Seattle Auto Show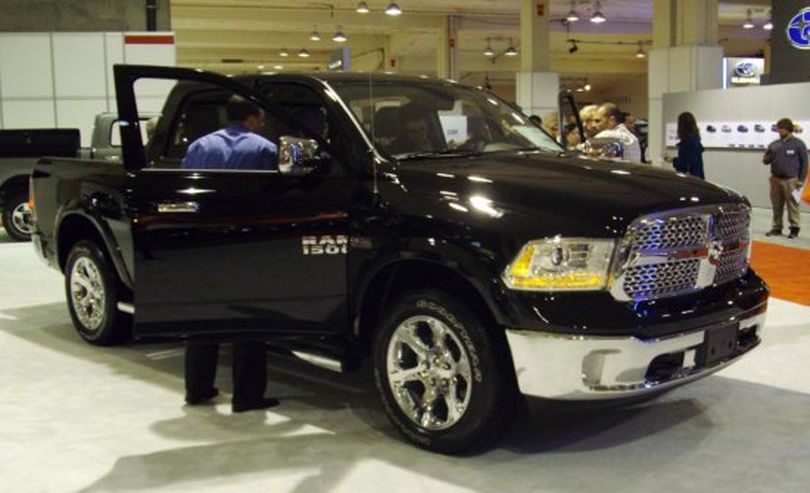 Dodge's Ram trucks are still huge and meaty just the way you like em'. In my opinion no other American pickup has a beefier front end that perpetually appears to be trying to eat something. It was a difficult pill to swallow when Ram's spokesperson claimed that when equipped with a Hemi V8 and their new eight-speed transmission the 2013 Ram 1500 will be more fuel-efficient than other V6 powered pickup rivals. The verdict will be out on that one until the EPA gets a chance to test a Ram with the 8speed V8 combo.
What's obvious is that Dodge is on a warpath of fuel efficiency with the new 1500. Using Chrysler's Pentastar 3.6-liter V-6 and the magical 8spd automatic transmission fuel economy is up to an EPA-estimated 17mpg city/25 mpg highway. That's a whopping twenty percent improvement over last year's 3.7-liter V-6.
If that weren't alluring enough when equipped with the 306hp Pentastar the 1500 can tow up to 6500 pounds. It begs the question why anyone would opt for the carryover 310hp 4.7L V8 that makes nearly identical fuel economy numbers as the massive 5.7L Hemi V8.
Besides the high-five worthy efficiency jump the biggest news of the 2013 Ram 1500 is optional air suspension. That might not sound like a big deal on your computer screen but no other full-size pickup has anything like it.
The system has five modes controlled by a switch on the center stack. Without human intervention the truck will automatically lower its stance just over an inch at highway speeds (60mph) to improve aerodynamics and fuel efficiency. The truck will also kneel subserviently to make entering and exiting the cabin easier, as well as loading and unloading the bed.
For off-roading the ride height can be increased up to 2 inches, at which point Chrysler claims the 1500 has best in class ground clearance, break over angle and departure angle.
Keep an eye on the sorts of technological advances being made by the Ram 1500. Pickups are pretty much the only vehicles on the road that need to make gobs of power for practical purposes. That puts them directly in the crosshairs of increasingly stringent government fuel economy requirements.
The advancements Chrysler and their competition are developing to keep adequate grunt in their trucks while making them vastly more efficient is going to showcase how they'll achieve the best of both worlds in vehicles across their lineups.
That might be the biggest story of the 2012 Seattle Show. From the press tour at least it looks like we might be able to have our cake and eat it too.
News from Ford, Fisker, Buick, Toyota.
---
---