Mon., Jan. 7, 2013
Arnold Schwarzenegger owns a tank and crushes cars with it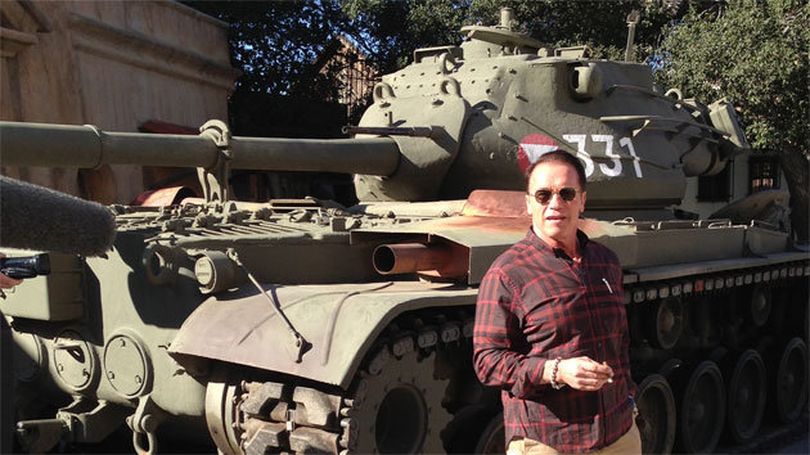 On Friday a handful of lucky journalists witnessed an American dream come to life: That Arnold Schwarzenegger owns a 50-ton M47 Patton tank, and that he crushes cars with it while smoking a stogie and wearing aviator sunglasses.
"The roar of the engine was deafening, but you could still smell Schwarzenegger's cigar smoke above the exhaust," wrote Matt McDaniel of Yahoo! Movie Talk. (1)
The journalists cheered in amazement as Schwarzenegger powered the gigantic war machine over a beater car in a genius publicity stunt for his upcoming movie, The Last Stand.
Schwarzenegger bought his tank in 1992, the same year he famously convinced Hummer manufacturer, AM General to produce their first civilian model for his personal use, which could lead one to speculate if the massive success of Terminator 2 in 1991 may have left him yearning to actually be fused with a killing machine.
As it turns out Schwarzenegger is no poser when it comes to military vehicles or military life for that matter. He was required to serve at least a year in the Austrian military and opted to be a tank driver. He said his Patton is ""exactly the very tank that I drove in the Austrian Army when I was 18 years old." (1)
It's a great accomplishment of pop culture that it doesn't seem unusual Schwarzenegger owns a tank, or that he crushes cars with it. But believe it or not the M47 Patton is actually a fairly usual machine itself. Produced between 1951 and 1953 they're still used in active service around the world.
Currently Schwarzenegger's personal M47 is stored at Melody Ranch Picture Studio near Los Angeles along with a collection of other military vehicles used for the movies. The Ranch's owners replaced the tank's engine and treads to keep Arnold vital as he navigates car crushing's from the belly of the beast.
Although not nearly as flashy, Schwarzenegger mainly uses the tank to give rides to inner-city kids at the ranch as part of his foundation dedicated to supporting after-school programs across the country.
Once again Arnie is blurring the lines between pop culture and reality: Even when commanding a killing machine in real life the Terminator still just wants to help a kid or two.
SOURCE:
---
---