Thu., Jan. 10, 2013
Ram trucks floor GM, Ford tow ratings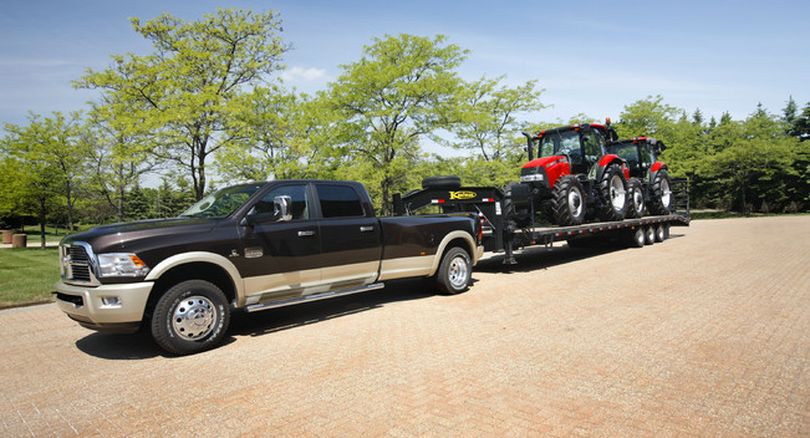 As far as bomb dropping goes Ram just pulled out a nuke. News came this week the 2013 Ram 3500 is rated to tow 30,000lbs, up from a maximum towing capacity of 22,750lbs for their equivalent setup in 2012. To put that in perspective similarly equipped heavy-duty 3500 pickups from General Motors are rated to tow 23,100 pounds while Ford's most capable F-350 is rated at 22,800 pounds.
Dodge now enjoys a 6,900lb towing lead over GM; about five hundred pounds more than the curb weight of a 2013 GMC Sierra 3500hd. The news might come as especially sour grapes to GM who revealed their 2014 pickups recently under the tongue-in-check marketing message they were more truck-like than the competition.
Ram attributes the hefty increase in the 3500's towing capability to a number of improvements they made for the new model year. At the core of the changes is a new class-exclusive 50,000 pounds-per-square-inch high-strength steel frame, improved transfer case, higher-capacity transmission and beefed-up 6.7L Cummins Turbo Diesel engine that now makes a best-in-class 850lb-ft or torque.
The upgrades allowed the 3500's Gross Combined Weight Rating (GCWR) to reach 37,600 pounds, up from 30,010 pounds from the 2012 model. Both Ford and GM's heavy-haulers top out at 30,500 GCWR.
To help crazy people latch 30,000lbs of whatever to the Ram 3500, new for 2013 options include an available fifth-wheel gooseneck trailer mount for heavy duty trailers and a 17,000lb Class V trailer hitch. To keep the bridge-buckling monster safely planted on the road dually models now include class-exclusive stability control for all four of the rear wheels.
SOURCES:
---
---