Toyota 4Runner: One of a kind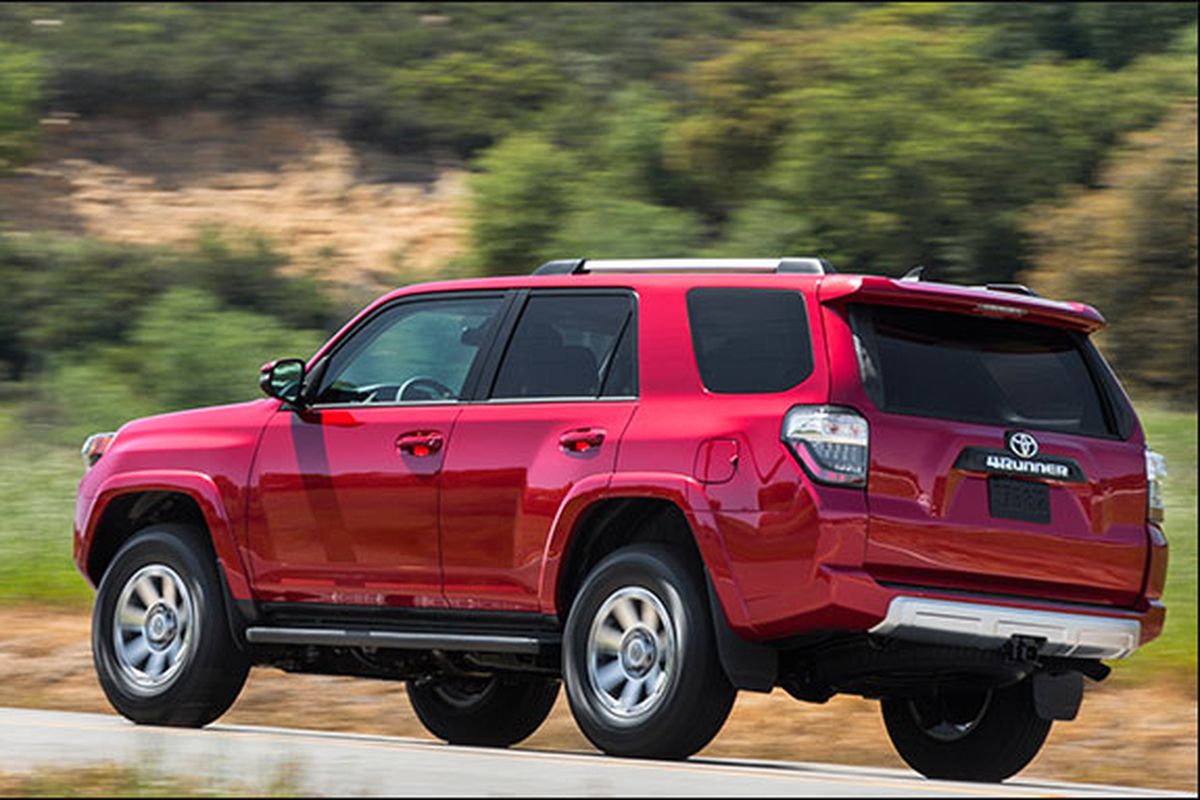 My traveling companion wasn't sure what to make of the 2014 Toyota 4Runner.
"It's not quite as comfortable as some of the other cars you drive," she offered.
"Of course, not," I said, trying to scrub any hint of condescension from my reply. "It's not a car; it's a truck."
I may have proceeded to elaborate on the difference between a true SUV, like the 4Runner, and the more common car-based crossover. The 4Runner, I probably explained, as her eyes glazed over, is a throwback, a truck-based SUV of the old school.
She demurred when I offered to take her out to the off-road park to show her what this baby could do. She probably thought I'd scare her within an inch of her life and most likely was right.
Not everyone wants or needs a rig as durable, sturdy and rugged as Toyota's venerable midsize SUV. For those who do, there are precious few alternatives.
What my TC couldn't know is that the today's 4Runner is a far more refined version of its former self, with ride and handling that would have been thought impossible just a few years ago.
For 2014, the 4Runner receives a handful of exterior updates, including a more aggressive front fascia. On the inside, there's a redesigned instrument panel and touchscreen audio interface with smartphone integration.
A rearview camera is newly standard across all trim levels. Three-row seating continues to be available, though the third row is only marginally useful. With the second- and third-row seats folded, 4Runner has a healthy 90-cubic-foot cargo capacity.
4Runner is available in three trims, SR5, Limited and Trail. Each has its own 4WD system, a kind of Goldilocks scenario. For hardcore off-roaders, there's the Trail edition, with its part-time 4WD system, locking rear differential, crawl control and driver-selectable terrain-responsive modes.
The SR5 has a part-time 4WD system that includes a low-range transfer case.
Limited gets a full-time AWD system, with low-range gearing, that requires no driver intervention. It also adds Toyota's X-REAS suspension enhancement system that provides a car-like ride.Less capable off-road than either the Trail or SR5, it will meet the needs of most drivers.
Every 4x4 4Runner is outfitted with underbody skid plates and a traction control system that sends torque to the wheel with the most traction. A 4.0-liter, 270-horsepower V-6, paired with a five-speed automatic transmission, powers all Runners. A properly equipped 4Runner tows up to 4,700 pounds.
Fuel efficiency counts for little in this segment. EPA estimates for the 4Runner are typical: 19 mpg combined (17 mpg city/22 mpg highway) for rear-wheel-drive models and 18 mpg combined (17 city/21 highway) for four-wheel-drive 4Runners.
4Runner is a proud holdout in a world of unibodies and electronic mediation. Sure, you'll give up something in terms of ride quality (though not as much as you'd think) and fuel efficiency, but I argue that's a small price to pay for the Runner's durability and go-anywhere capabilities.
Even my traveling companion would grant me that.
Don Adair is a Spokane-based freelance writer. Contact him at don@dadair.com.
2014 Toyota 4Runner Trail Premium
Vehicle base price: $
Trim level base price: $38,645
As tested: $42,175
Options included sliding rear cargo deck; Kinetic Dynamic Suspension System; rigid running boards; carpet floor mat & cargo mat.
EPA ratings: 18 city/21 highway
Regular unleaded fuel specified
---
---