Audi Q7 a rare combination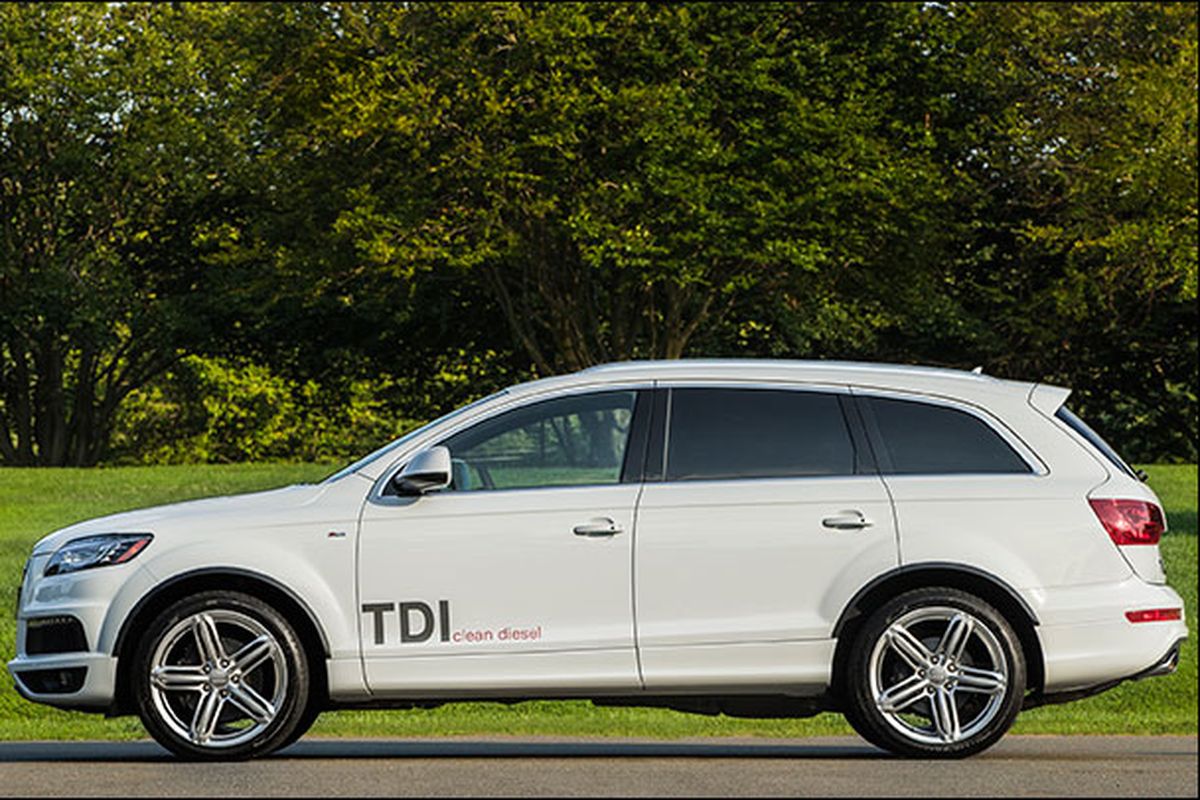 Audi's Q7 is a big, meaty slice of German engineering, a seven-passenger crossover with a lust for the open road.
Though it hasn't had a significant makeover in its seven-year existence, the Q7 offers fully modern levels of comfort, safety and luxury.
Three engine choices -- two gas, one diesel -- provide the motivation. A silken eight-speed automatic dishes torque to the standard quattro all-wheel-drive system. Four or five adult occupants ride in sumptuous comfort. Small children will survive in vestigial third-row seating.
From behind the wheel, the Q7 feels exactly like the large, powerful rig it is. It's a road-going machine, designed to cover large distances and rugged conditions. Because it's an Audi, ride and handling is a sizable cut above.
And though its best side shines brightest out on the two-lane blacktop, the Q7 also has a city side. Ride quality is very good and instant throttle response provides the thrust and surge necessary for successfully negotiating traffic-clogged thoroughfares.
At its $47,700 base price, the Q7 is well-equipped. Leather, adaptive xenon headlights and a premium 11-speaker sound system are just the tip of the standard-features iceberg. Too many ticks of the options list, thought, elevate the price into astronomical ranges -- and can impair performance.
To wit, our diesel-powered tester was optioned with the S line plus appearance package, which replaces the 18-inch all-season radials with 21-inch summer tires that perform poorly on rutted and snow-covered roadways.
Such as the hill that gets me home.
Twice during my weeklong test, I was forced to park at the bottom of the hill and hoof it home, and every drive on packed snow evoked a tense tiptoe ballet between traction and skid.
This is not to warn buyers off the S plus line -- it comes with killer titanium-finish 5-spoke alloys -- but to illustrate the hazards of ill-chosen options. Just keep a good set of snow tires to back up the hotrod rubber.
The turbocharged 3.0-liter diesel that powered my tester ran quiet and smooth. It makes 240 horsepower and 406 pound-feet of torque and earns EPA ratings of 18 mpg city/28 mpg highway/22mpg combined.
Despite those lofty numbers, the diesel doesn't lack for get-up-and-go. Acceleration is strong and certain and the Tiptronic gearbox makes swift, sure shifts that keep the engine in the heart of its power band.
A supercharged 3.0-liter gasoline engine produces 280 hp on base trims and 333 hp on the performance-oriented S line. Both versions earn a 18 combined mpg (16 city/22 mpg highway).
The Q7 cabin earns top marks for style, materials quality and ergonomics. Audi's MMI electronics interface presents the usual learning-curve issues, but is easier and safer to use than the current crop of touchscreen systems.
Cargo capacity is the weak link in the Q7 chain, with a total capacity of about that of a compact crossover.
The Q7 offers a rare combination of drivability, functionality and comfort. Crossover buyers seeking something out of the ordinary would do well to shoot it a glance.
Don Adair is a Spokane-based freelance writer. Contact him at don@dadair.com.
2014 Audi Q7 TDI quattro Tiptronic
Vehicle base price: $47,700
Trim level base price: $52,900
As tested: $81,795
Key options included navigation; Bang & Olufsen sound system; air suspension; corner-view camera system; S line and S line plus appearance packages; parking system with rearview camera
EPA rating: 19 city/28 highway
Diesel fuel required
---
---