Acura MDX: Hitting its stride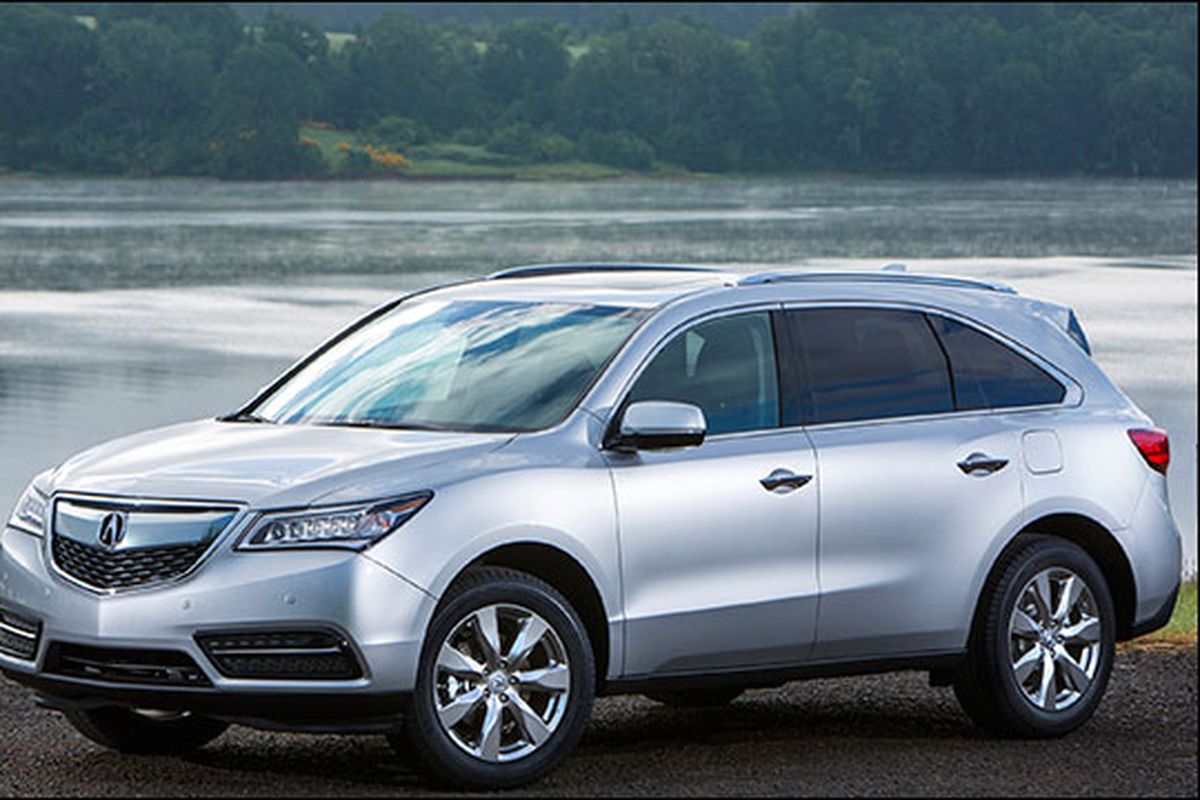 This should be a very good year for Acura's MDX.
Fully made over, the 7-passenger crossover went on sale last year and enters 2014 already smashing its own sales records. Built on a new platform and featuring a new powertrain, updated cabin tech and more, the MDX is as fresh as the day it debuted in 2001 -- and far more modern.
For the first time in its 13-year history, the MDX is available in a front-wheel-drive version. FWD pricing starts at $43,185, while $45,185 fetches Acura's brilliant SH-AWD system.
This year's updates have an efficiency bias, but affect every aspect of the MDX. The new platform is narrower than before, for improved aerodynamics, yet cabin space grows.
A longer wheelbase, stiffer chassis and revised suspension improve driving dynamics and ride quality, already MDX hallmarks. The MDX sheds 275 pounds, due largely to increased use of high-strength steel.
In tandem with a revised steering system, its svelte new form gives the MDX a lighter and more agile feel from behind the wheel.
It also enables a more efficient powerplant. The 290-horsepower V-6 that powers the new MDX is less powerful on paper than its predecessor but has a broader power band. Despite a 17-percent efficiency bump, the '14 MDX is quicker than before and can still tow up to 5,000 pounds.
EPA-estimated fuel economy with front-wheel drive is 20 mpg city/28 mpg highway and 23 mpg combined, while the AWD version rates 18/27/21.
Inside the fully redesigned cabin, materials quality improves and new noise-abatement measures -- ranging from thicker three-layer acoustic glass to a new floor "sealing plane" and Active Noise Control technology -- significantly reduce cabin noise.
A new touchscreen system slashes the instrument-panel button count from 41 to nine. At first blush, the system seems to complicates such simple functions as seat-temperature adjustments but Acura says customizable shortcuts override that concern.
The large and comfortable front seats lose an inch of fore-aft travel, which may bother a handful of long-legged drivers, but second-row legroom grows. Second-row seats have a five-position recline feature and slide 5.9 inches fore and aft. At the touch of a button, second-row seats tip and slide forward to allow easy access to the third-row seating area.
Suspension changes drop the vehicle height by 1.5 inches and step-in height by 1.8 inches, easing ingress and egress and boosting aerodynamics.

A new Integrated Dynamics System (IDS) offers three driving modes – Comfort, Normal and Sport. Comfort and Normal affect steering effort. Sport firms up steering feel and adjusts throttle response and SH-AWD torque proportioning.
Good as it is in every other way, SH-AWD is the MDX's true strength. It uses a network of sensors to anticipates and proactively offset traction losses, instantaneously directing power to the wheel(s) with the best grip.
SH-AWD provides tremendous cornering power in dry conditions and is matchless in wintery conditions. As of this year, it's also available in Acura's all-new midsize RLX sedan.
Now in its thirteenth year and third generation, the MDX is just hitting its stride. A very good year, indeed.
2014 Acura MDX AWD ADV ENT
Vehicle base price: $42,290
Trim level base price: $56,505
As tested: $57,400
Optional equipment: Our AWD tester bundled the optional Tech, Advanced and Entertainment packages.
EPA ratings: 18 city/27 highway
Premium unleaded fuel recommended
---
---