2014 Accord Hybrid: Second-chance sensation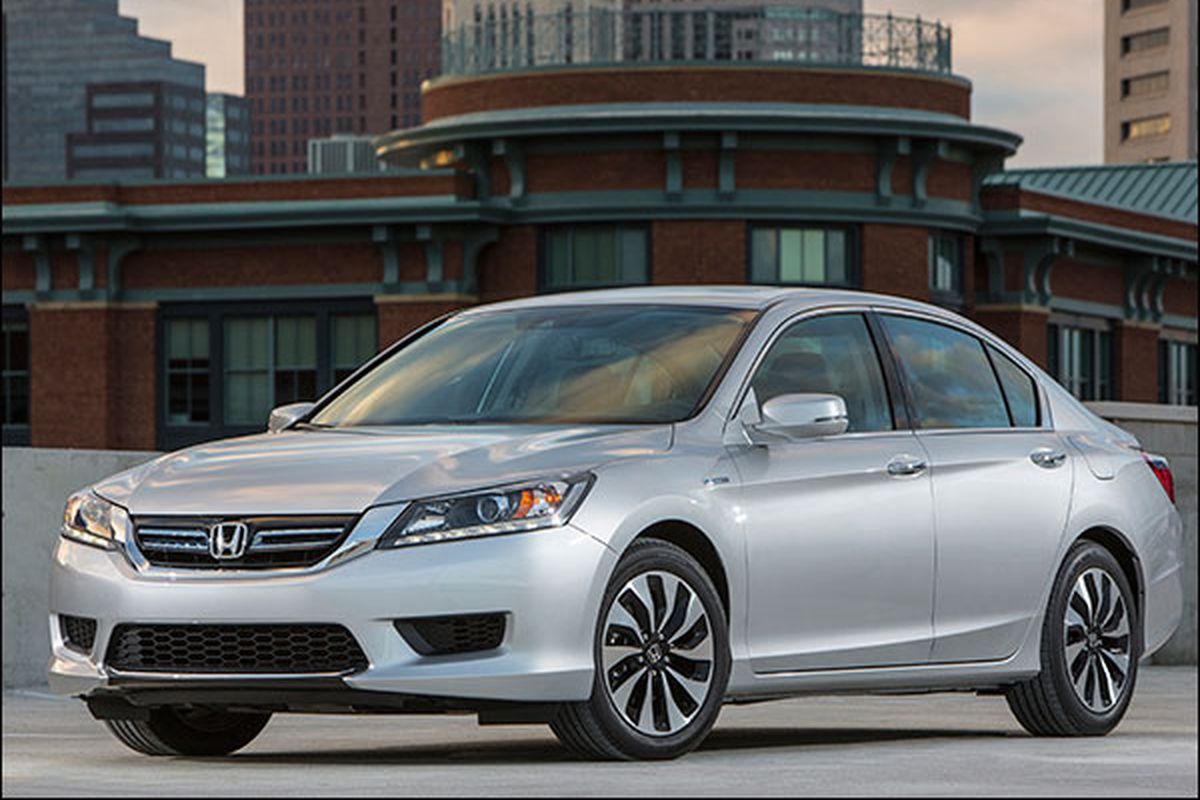 I once hailed the Honda Accord Hybrid as the car that would bring hybrid technology into the mainstream.
He shoots. He misses.
That car, the original Accord Hybrid, circa 2005-07, had everything going for the one that mattered -- fuel efficiency. Apparently wanting it both ways, Honda had built its hybrid system around a V-6 gas engine. The car had the kick of a V-6 but managed just-better-than-average efficiency.
Honda shoots. Honda misses.
Honda is back in the game this year, though, with the 2014 Accord Hybrid ($29,945, including destination). It's based on a four-cylinder powertrain and marries sterling EPA numbers -- 50 mpg city/45 mpg highway/47 mpg combined -- with convincing performance.
In the real world, some testers report average mileage of about 44 mpg, while others go as high as 50. My daily drive requires occasional spurts of prolonged acceleration, so my mileage numbers mean nothing. I can offer this, though: The Accord has power when it's needed. It runs the zero-to-60 sprint in about 7.5 seconds, which is quick by any midsize sedan measure.
Honda's new hybrid system teams a 141-horsepower 2.0-liter four with two electric motors. The gas engine sends power to the front wheels, while one electric motor sends torque to the rear wheels as needed.
The other motor acts as a generator, converting gas into electricity and boosting battery charge.
In operation, the system is virtually seamless. If you try hard, it's possible to feel the point at which the gas engine kicks in to supplement the electrical system, which in ideal conditions can power the car to about 35 mph. The brakes operate with the smooth fluidity of any good system and the continuously variable transmission never lapses into the familiar CVT rubber-band frenzy.
Ride quality is very good, although the low-rolling-resistance tires give the steering a light and somewhat disconnected feel. Cornering and high-speed handling are excellent.
Inside, rich materials flood the attractive cabin. A three-tier dash effectively segregates a pair of display panels from the control cluster. Front- and rear-seat quality and passenger space are tops among midsize sedans.
All Accord Hybrids come standard with keyless ignition and entry, dual-zone automatic climate control; full power accessories, including an eight-way power driver's seat; cruise control, 8-inch video display, Bluetooth phone and audio; rearview camera; and Honda's groundbreaking LaneWatch blind-spot display.
A handful of structural changes -- including an all-aluminum front subframe and an aluminum rear bumper beam -- are meant primarily to reduce weight. The beam helps offset the weight of the battery pack, which lives behind the rear seat, and improves front-to-rear weight balance.
Hybrid sedans lose about a third of their trunk to the batteries, though the Accord's trunk is a bit shallower than most. Complicating matters, the rear seatbacks don't fold, nor is there a pass-through for long objects.
In the world of compromises, this is not a tough one for most buyers to suffer. And though it's a bit late to proclaim the Accord Hybrid the first-coming of hybrid sedans, it's not too late to declare it a second coming of the first order.
Don Adair is a Spokane-based freelance writer. Contact him at don@dadair.com.
2014 Honda Accord Hybrid Touring
Base vehicle price: $29,155
Trim level base price: $34,905
As tested: $35,695
Optional equipment: Our fully loaded Touring tester included no options.
EPA ratings: 50 city/45 highway
Regular unleaded fuel specified
---
---