Toyota Tundra: Work ready. Or not.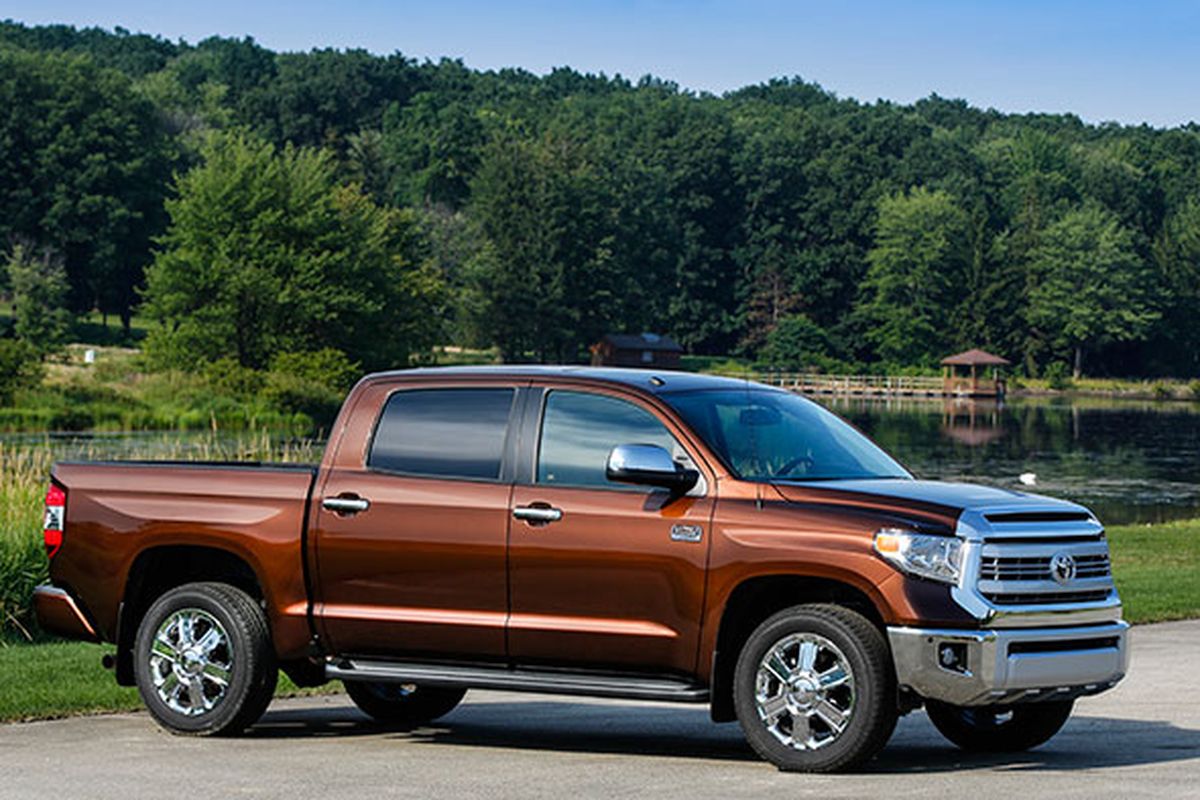 Toyota's redesigned 2014 Tundra pickup family adds a premium trim called the 1794 Edition.
It is, says Toyota, a "tribute to the ranch, founded in 1794, on which the Tundra plant is located in San Antonio."
With its embossed "saddle-brown" leather upholstery, ultra-suede cabin trim and JBL audio system, the 1794 is a refuge of glitz in a world of straw bales and horse poo. It reminds us that not everyone thinks of "work" and "truck" in the same context.
Unless you consider towing a fifth-wheel or horse trailer work.
The 1794's lesser siblings are better suited to the workaday world. Five trims include SR, SR5, Limited, Platinum and the 1794. Each gets its own interior design theme and all but the 1794 and Platinum are available in two-door regular cab, extended four-door double cab or four-door crew cab body styles. The 1794 and the similarly equipped Platinum are available only in the crew cab format.
The entire family is redesigned this year, with bolder styling and a more refined and user-friendly cabin.
Responding to complaints that the previous-generation Tundra looked like a "bubble truck," Toyota squared off its rounded edges, elevated its hood line and fitted a larger, brighter grille. The tailgate is stamped with a big, bold "TUNDRA."
Inside, a panel of easy-to-read gauges replaces last year's deep binnacles. The center stack moves 2.6 inches leftward, easing the reach required to access the HVAC controls. Knobs are large enough to be operated with gloved hands. Seats are redesigned for increased comfort. Interior materials have a higher-quality look and feel and Toyota has upgraded the quality of the leather used in upper trims.
A touchscreen display is now standard, and most Tundras can be had with the Entune suite of smartphone-based services, including the Bing search engine, Pandora streaming radio, real-time traffic and sports and stock information.
A rearview camera is now standard across the line, and blind-spot monitoring and rear cross-traffic alert systems are newly available.
New noise-reduction measures reduce the amount of engine and transmission noise that reach the cabin.
But for a few suspension tweaks meant to improve ride quality over harsh road surfaces, mechanicals are essentially unchanged. The three engines -- a 4.0-liter, 270-horsepower V-6; a 310-hp 4.6-liter V-8; and a 381-hp 5.7-liter V-8 -- carry over. The six is mated with a five-speed automatic, the eights with a six-speed. Its engine choices are varied and, though none is especially fuel-efficient, all are strong enough to get the job done.
Toyota is the only manufacturer to employ the industry's agreed-upon but seldom-used SAE J2807 tow-rating procedure. Ratings produced by J2807 appear lower than those resulting from other makers' methods but are more realistic. Properly equipped, the Tundra can tow up to 10,400 pounds.
Tundra remains steadfastly a truck. Its ride is smooth and stable under normal conditions but grows bouncy and irregular when the road surface deteriorates. Its hydraulically assisted steering system is accurate during turn-in and in the corners but is not particularly responsive.
In all the ways that matter, the Tundra is all truck and ready for work. Or not. It's your choice.
Don Adair is a Spokane-based freelance writer. Contact him at don@dadair.com.
2014 Toyota Tundra 1794 4x4
Vehicle base price: $26,200
Trim level base price: $47,320 \
Optional equipment included blind-spot monitor with rear cross-traffic alert; 20-inch chrome-clad wheels; running boards; bed liner.
EPA rating: 13 city/17 highway
Regular unleaded fuel specified
---
---