Honda Civic: Growing its game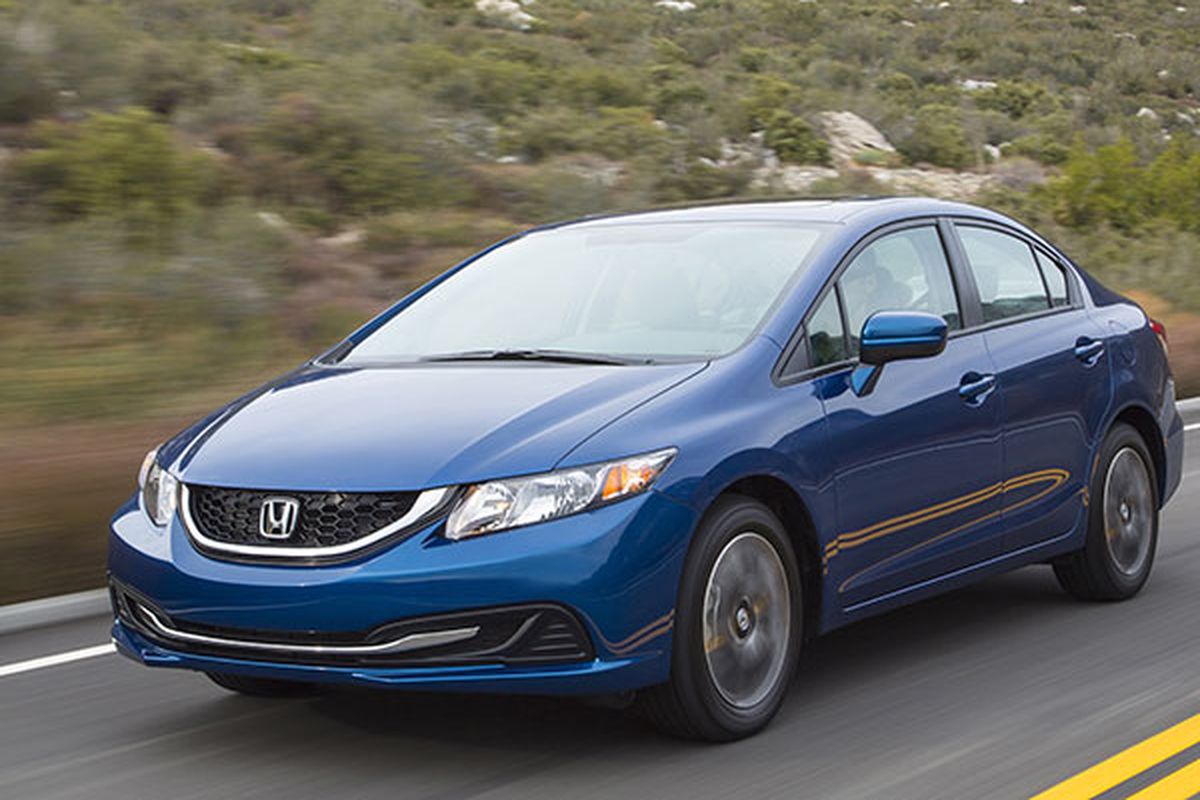 Last year, for what seems like the umpteenth year in a row, Honda's Civic was the third-best-selling passenger car in the US and its best-selling compact.
This means that more than 350,000 Americans bought a car known for its reliability, not its flash. I find this oddly satisfying.
In recent years, the compact crowd has battled for supremacy with keyless ignitions, smartphone integration and ever-larger color touch screens. Honda, meanwhile, has been largely content to focus on efficiency, safety and comfort.

But Civic's competitors are stylish and capable and Honda's reluctance to join the cabin-tech race has seemed increasingly wrongheaded. Now, following a raft of major updates in 2012, the 2014 Civic arrives bearing another round of potential game-changers.
Interiors are freshened across the board, with improved materials, available push-button ignition, larger display screens and enhanced smartphone connectivity. Civic's cabins are quieter and power and efficiency are improved.
Always one of the category's most engaging rides, this year's Civic sees ride-enhancing suspension tweaks on selected trims.
The Civic is available in sedan (from $19,180, including destination), and coupe ($18,980) body styles, and in gasoline, gas/electric hybrid and natural gas formats. The sedan can be had in fuel-efficient HF ($20,730), Hybrid ($25,425) and Natural Gas ($27,430) trims. The hot-shoe Si is available as a coupe ($23,580) or sedan ($23,780).
The 143-horsepower, 1.8-liter four-cylinder engine that powers most trims is typically Honda — smooth, efficient and responsive.
For 2014, Honda replaces last year's five-speed automatic transmission with a continuously variable transmission (CVT) that boosts both fuel efficiency and acceleration. Like a conventional automatic, the Civic's CVT "kicks down" under heavy throttle to a lower ratio, producing real acceleration and none of the noisy drama of most CVTs.
CVT-equipped Civics earn EPA ratings if 30 mpg city/39 mpg highway/33 mpg combined. with the base five-speed manual, those numbers dip to 28/36/31. The HF runs low-rolling-resistance tires, aerodynamic aluminum wheels, underbody panels and a rear spoiler to achieve 31/41/35.
The Si, with its 205-hp 2.4-liter four and six-speed manual, gets 22/32/25. The hybrid, 44/47/45.
Inside, the Civic retains its unique two-tier dash layout, with a 5-inch top-tier monitor that displays audio, phone and vehicle-system information.
Four adults ride comfortably inside a cabin that grew dramatically quieter in 2012. There's abundant incidental storage and the controls are thoughtfully designed and located — with the notable exception of the audio controls on the LX and on models equipped with navigation. Selecting and setting radio station "favorites" is needlessly complicated and the volume-control slide bar is useless. Better to employ the steering-wheel mounted controls.
Honda's available HondaLink smartphone app includes Aha radio and Apple's Siri Eyes voice-command functionality. Most functionality requires an iPhone 5.
All Civics include Honda's new Motion Adaptive power steering system which helps the driver overcome oversteer or understeer, both of which can cause skids. Honda's clever — and invaluable — LaneWatch passenger-side blind-spot monitor is standard on upper trims.
With the Civic no longer the Luddite of the compact class, its No. One sales ranking seems more secure than ever. The competition has its work cut out for it.
Don Adair is a Spokane-based freelance writer. Contact him at don@dadair.com
2014 Honda Civic EX Sedan
Base price: $18,390
Trim level base price: $21.090
As tested: $21,880
Options: Our EX tester included no options.
EPA ratings: 30 city/39 highway
Regular unleaded fuel specified
---
---