Bentley GT Speed Convertible proves surprisingly approachable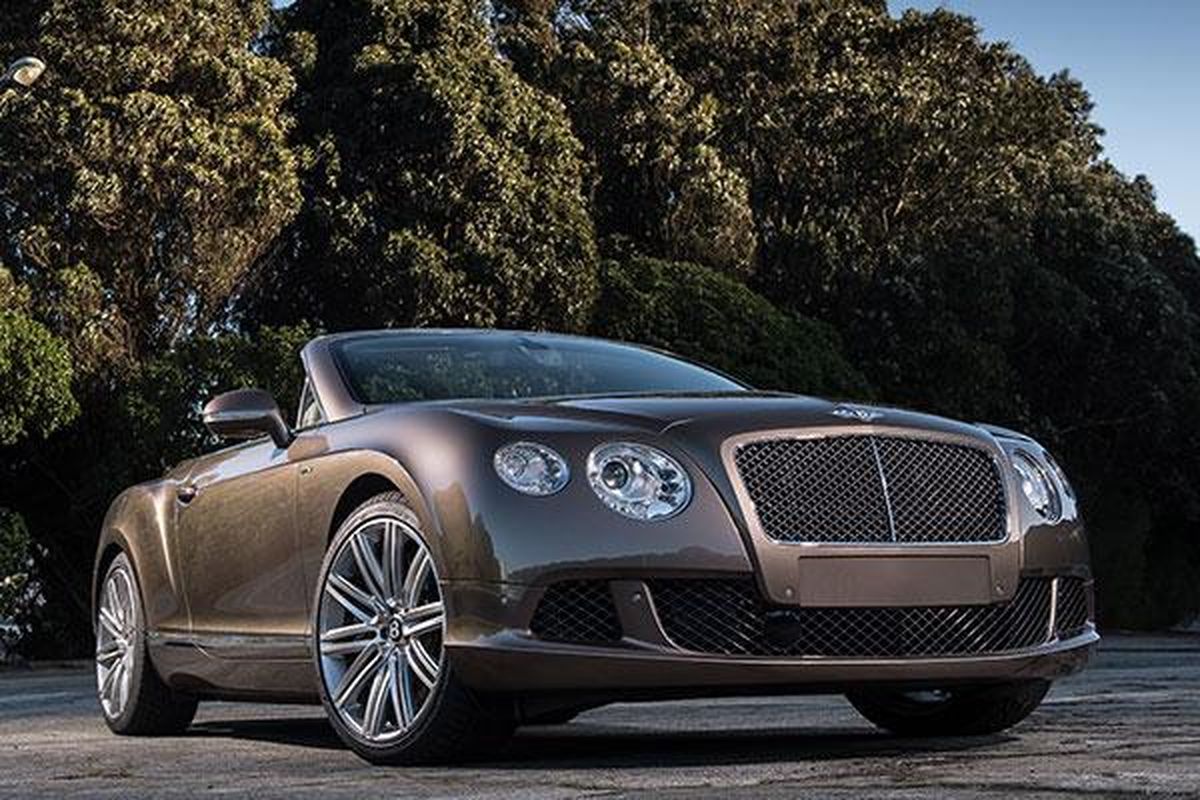 By the end of my week with Bentley's Continental GT Speed Convertible, I had learned that, with exposure, the extraordinary can become, if not commonplace, at least comfortable.
The $250,000 Speed Convertible is the flagship of Bentley's historic Continental family. With a top speed of 202 mph, it's the world's fastest four-passenger convertible (though "four-passenger" is a small fiction). It's beautifully designed inside and out, spare-no-expense opulent and engineered to the automotive world's highest standards.
But what stays with me is the ease with which it put itself at my service, the highest task of every great machine.
This helps explain why, after a few days, I no longer felt like an impostor dropping into the hand-stitched, diamond-quilted leather seats, or why the hairs on the back of my neck no longer quivered in expectation whenever the 12-cylinder, 616-horsepower engine burst into life.
I had stopped hyperventilating whenever the eight-speed automatic made an eye-blink-quick and perfectly timed downshift. I'd grown accustomed to trusting the air suspension to neutralize broken pavement, check body roll and keep the 21-inch tires glued to the asphalt when flying into a fast sweeper.
I had expected a lot of the Bentley, but I hadn't expected it to act like it could be mine.
Most of us inhabit a world in which the thought of spending $50,000 on a car is beyond the pale and $250,000 explodes the head. For those with the resources, though, the Speed Convertible is one of a handful of very pricey, very good alternatives.
As the young people I encountered explained during my week with the car, the Speed Convertible and its 205-mph Coupe sibling are favored by entertainers and athletes. Apparently, the button-down money goes either to Bentley's top-of-the-line Mulsanne or to one of a variety of Rolls-Royces.
Makes sense. The Speed Convertible is an athletic car that wants to be driven. Its 6.0-liter W-12 engine makes 590 pound feet of torque between 2,000 and 5,000 RPM, rendering its 5,500-pound bulk as invisible as a magician's rabbit. Zero-to-60 happens in just 4.1 seconds.
All-wheel-drive is standard, with a 40 front/60 rear torque split that replicates the dynamics of a rear-drive car.
The Speed Convertible is outfitted with almost every conceivable extravagance, from high-end quilted leather and real wood veneers to its Naim for Bentley sound system that produces crystal-clear audio with tremendous dynamic range — even with the top down, at speed.
Instead of a heavier hardtop, Bentley uses a four-layer canvas lid that seals so well that almost no road or wind noise intrudes. It raises and lowers in seconds, and at up speeds of up to 20 mph.
Should you venture out into the cool evening, optional fans blow warm air at the back of your neck. The front seats are heated, with optional ventilation and massage.
Downsides include scant casual storage and cupholders that sit out, uncovered, in the center console, for all the world to see. Bluetooth is not available, relegating the Bentley to a kind of second-tier status among the young and the wealthy.
We all find ways to compensate for our flaws. Fortunately, the Speed Convertible has a deep well of virtues working hard on its behalf.
Contact Don Adair at don@dadair.com.
2014 Bentley Continental GT Speed Convertible
Vehicle base price: $241,100
Trim level base price: $241,100
As tested: $265,270
Optional equipment included Naim premium audio; neck warmer; leather-trimmed shift paddles; ventilated front seats with massage; gas guzzler penalty.
EPA ratings: 12 city/20 highway/15 combined
Premium fuel required
---
---