Honda Accord Sport: Swimming against the tide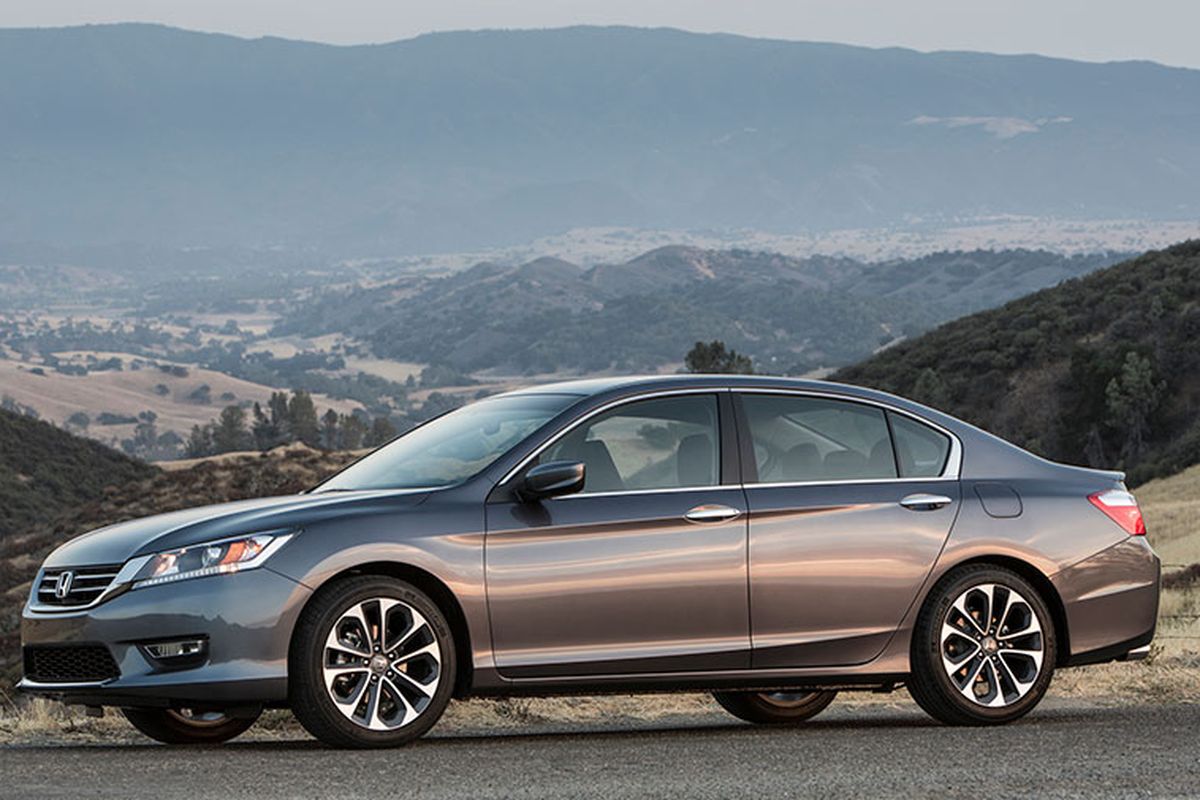 Some automakers keep their fingers up, trying to figure out which way the wind blows. Others use theirs to take the pulse of the public.
Honda is among the best of the pulse-checkers. Though they're rarely the most powerful, beautiful or elegant cars in their segments, Hondas are always found hovering around the tops of the sales charts.
It's not just customers who value its products. For 27 years running, <em>Car and Driver's</em> has included the midsize Accord ($22,925, including destination) on its 10Best list for.
Successes aside, Honda can be an outlier. When convinced of the rightness of a strategy, it fearlessly swims against the tide. Despite the fading popularity of manual transmissions, for example, Honda embraces them, offering sticks on even the Accord, the most mainstream of cars.
So, as an old-school guy, I was pleased to spend a week testing a 2015 Accord Sport ($24,685) equipped with a standard transmission.
The Sport is an odd trim. It builds on the basic Accord formula — front-wheel-drive, thrifty four-cylinder engine, five-passenger cabin — and adds 18-inch alloys, a decklid spoiler, a power driver's seat and a leather-wrapped steering wheel.
That's all well and good, since the Accord's standard-features list includes dual-zone automatic climate control, full power accessories, cruise control, an 8-inch infotainment display, Bluetooth phone and audio connectivity and a rearview camera. Its sound system includes a CD player, auxiliary audio jack, iPod/USB interface and Pandora Internet radio.
But that's the end of it; the Sport is ineligible for additional options. If you want navigation, satellite radio or even heated seats, you're out of luck.
Also, you can have the Sport in any color you want, as long as it's black or gray.
Whatever.
The 185-horsepower 2.4-liter engine that powers all four-cylinder Accords gets a four-horsepower bump in the Sport, due to a dual-exhaust system that improves airflow.
Besides the stick, the Sport also can be had with a continuously variable transmission (CVT), which improves economy but hinders performance. Stick-equipped Sports run the 0-60 mph sprint in 6.6 seconds and return EPA estimates of 27 mpg combined (24 city/34 highway).
CVT-equipped Accord fours run the 0-60 sprint in 7.8 seconds and earn ratings of 31/27/36.
A 278-hp, 3.5-liter V-6 powers upper trims and can only be paired with a conventional six-speed automatic. Zero to 60 comes up in 6.1 seconds and EPA ratings are 26/21/34.
In the Sport trim, the Accord's essential virtues become crystal clear. Its rigid, lightweight chassis enables precise suspension tuning. The ride is a bit stiffer than a typical family sedan's, but not punishing. The Sport is light on its feet and stable and surefooted in the corners. Its electrically assisted steering system is consistently communicative and accurate. It possesses the organic ease of a car engineered to be responsive to both driver and road conditions. It is relaxed in demeanor and invigorating in spirit.
Still, if anyone at Honda has a finger in the air, can we at least have heated seats?
Don Adair is a Spokane-based freelance writer. Contact him at don@dadair.com.
2015 Honda Accord 4DR Sport
Base price: $22,105
Trim level base price: $23,865
As tested: $24,655
Optional equipment: No options are available for the Accord Sport trim.
EPA ratings: 27 combined/24 city/34 highway
Regular unleaded fuel specified
---
---