Lexus RC F: F stands for fast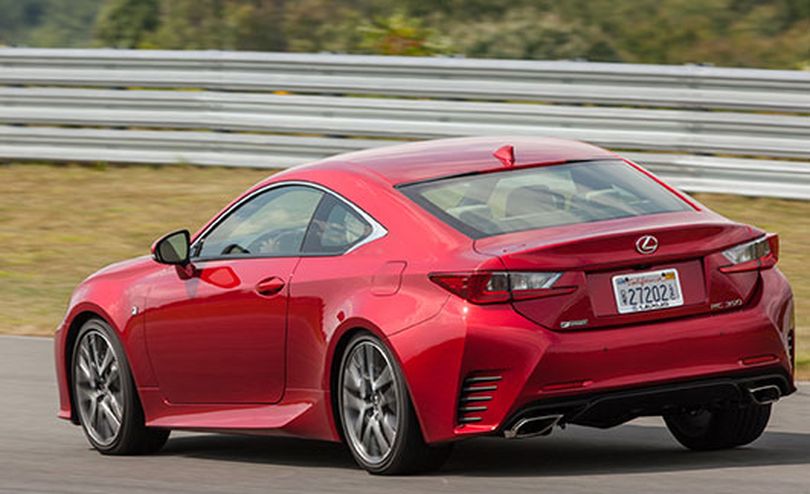 Halfway through my fourth of fifth fourth lap — almost time enough to sort out the braking points and apexes — I realized was driving a Lexus like I had never before driven a Lexus. Or ever expected to.
Tires squealed. Brakes stank. Ponies — 467 of them — pounded.
We were on the 1.8-mile road course at New Orleans's NOLA Motorsports Park, testing Lexus's new RC F sport coupe ($63,325, including destination). The RC F — yes, the F stands for fast — is top dog in a two-car family that includes the 306-hp, six-cylinder RC 350 ($43,715) and its derivative, the RC 350 F Sport.
Coming from a company known for playing it safe around the edges, the 350 F is a revelation. It proves that, given the challenge, Lexus engineers can build cars that can compete with the world's best.
The 350 F's most direct natural competitor is BMW's M4. Both are rear-drive performance coupes. The Bimmer is a buck or two more dear ($65,150), a bit less powerful (425 horsepower) and considerably (400 pounds) lighter.
Aside from its aggressive interpretation of Lexus's new corporate "spindle" grille, the 350 F is not immediately recognizable as a Lexus. Its scoops, vents, bulges and bumps are purpose-driven, if polarizing.
There's even a rear spoiler that emerges from the decklid at 50 mph. Its benefits won't be evident at those speeds, but they help keep the F planted and stable as enormous disc brakes (15-inch front; 13.6-inch rear) haul down the 4,000-lb. coupe from speed.
The snug aircraft-style cockpit borrows heavily from the LFA super-car. A tall console separates large, heavily bolstered front seats. The driver faces an LCD gauge pod that changes appearance as it cycles through four driver-selectable modes (Eco, Normal, Sport and Sport+).
The 5.-liter V-8 makes peak power at 7,100 RPM, while maximum torque (389 pound-feet) comes on at 4,100 RPM. Power is channeled to the rear wheels via an eight-speed automatic transmission. The engine and transmission seem perfectly paired. Running primarily in Sport+ during our track session, the gearbox snapped off super-quick and timely upshifts and perfectly timed downshifts, choreographed to ear-pleasing automatic throttle blips.
The zero-to-60 burst happens in a lusty 4.4-seconds.
The F's <em>piece de resistance</em> is an available $5,500 Performance Package. It swaps out the standard limited-slip rear differential for a three-mode torque-vectoring unit. It can transfer 100 percent of available torque to either rear wheel, helping to guide the car around fast, hard corners without impinging on engine power or scrubbing off speed via the brakes.
Though we didn't encounter any broken surfaces or rough patches, the F seemed unflappable no matter what kind of shenanigans — intentional and otherwise — we threw at it.
If the F has a fault, it's that it can make a mediocre driver think he's a good one, inviting all kinds of real-world trouble. That said, though, a special magic happens when the back wheels release their grip and allow the car to pivot and enter an induced skid. Assuming a) the driver dials in sufficient reverse-lock (i,e., turns the wheel in the direction of the skid) to keep the entire car pointed the right direction) or, b) the traction control system steps in to help, the 350 F dances its bulk right up to to the edge of the track (and beyond, if it's carrying too much speed), its massive 19-inch Michelin Pilot Super Sports scrambling for traction the entire way.
Then comes the moment the tires bite, finding traction and hurtling the car under full throttle to the next turn entrance, 5.0 liters of titanium valves, lightweight crankshaft and connecting rods, et al., screaming their way back home to the 7,300 redline.
Oh, what fun.
Ultimately, a superior driver will likely find the M4 the quicker car, its weight being its key advantage. It's maybe three-tenths quicker to 60, and has a livelier step and defter touch through the corners.
The 350 F is a work in progress. It's a sure bet Lexus engineers are already exploring ways to make more power, cut weight or produce some other magic fairy dust. Don't think BMW isn't watching.
---
---