Toyota Sienna: People-hauling made better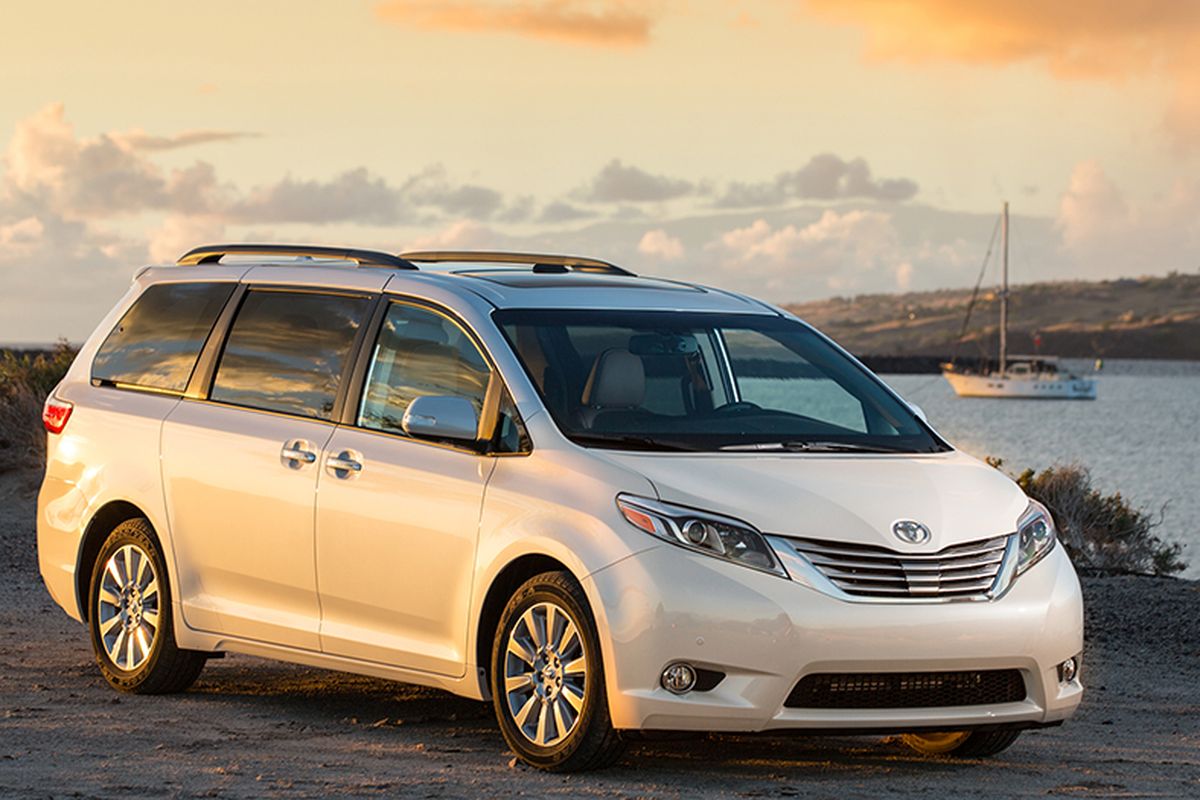 This side of a big, yellow school bus, the minivan is the most efficient and comfortable way to transport people and their possessions. Nevertheless, its stock has fallen sharply of late, victimized by the popularity of the sedan-based crossover.
Doesn't seem to matter to Toyota, though. For 2015, it updates its eight-passenger Sienna with a strengthened unibody, sharper suspension tuning and a cabin makeover. Sienna is the only family minivan available in the U.S. with all-wheel-drive.
Inside, Toyota ditches last year's unorthodox dash and control panel, replacing them with a setup that's more conventional, useful and attractive. Interior materials are improved, soft-touch surfaces cover fresh territory and fit-and-finish is of Lexus quality.
The contrasting stitching in our leather-lined tester ran so straight and true it seemed as if sewing elves had come in the night to stitch the works by hand.
New blue lighting dresses the cabin in a cool ambience and a fresh color schemes add variety.
The control panel moves left this year, making it an easier reach for the driver. The touchscreen interface is a bit clumsy but Toyota improves usability by resurrecting a handful of key knobs.
A new vehicle-information display (b&w in lower trims; color in the higher) nestles between the speedometer and tach.
Spanking new this year is Easy Speak, an in-car intercom that enables front front-seat passengers (presumably the adults) address those in the rear without raising their voices.
Crucially, it's a one-way system. No back-talk.
Toyota adds new functionality to its smartphone-based Entune multimedia system this year, and makes it standard across the line. Because vast reaches of the Western states cell-deprived, I view this trend skeptically. Soon enough, though, every car will be a rolling WiFi hotspot, so it's no doubt a moot point.
Every seat in the Sienna is a good one. Even the third-row bench has sufficient legroom and headroom to accommodate adults. The second-row seats slide fore and aft and flip up and out of the way to boost cargo space. With a bit of effort, they can be completely removed.
Toyota credits 142 new spot-welds for boosting structural rigidity, and the strengthened unibody enables more-precise suspension tuning. The difference is it makes is real; handling improves, with less body rolls in turns and other high-speed transitions, and the Sienna's long wheelbase helps give it a big-car ride.
The 3.5-liter V-6 that powers all Siennas makes 266 horsepower and 245 pound-feet of torque and drives the front wheels through a six-speed automatic transmission.
By minivan standards, the Sienna is quite quick, running the 0-60 sprint in the mid-7-second range. FWD trims earn 21 mpg combined (18 city/25 highway); AWD cuts those numbers to 19/16/23.
It's not lithe, though; nothing about the Sienna implies performance or the vaunted fun-to-drive experience. It is simply a first-class tool for transporting people and their possessions efficiently, safely and comfortably.
And, besides, the Sienna is way more fun to drive than a school bus.
2015 Toyota Sienna Limited Premium FWD
Vehicle base price: $26,455
Trim level base price: $45,020
As tested: $47,945
Options included intelligent cruise control; pre-collision prep; Vehicle Dynamics Integrated System; hill-start assist; roof-rack crossbars; wireless headphones.
Tow rating: 3,500 lbs
EPA rating: 21 combined/18 city/25 highway
Regular unleaded fuel specified
---
---