Mon., Aug. 3, 2015
Test Drive : 2015 Volkswagen Jetta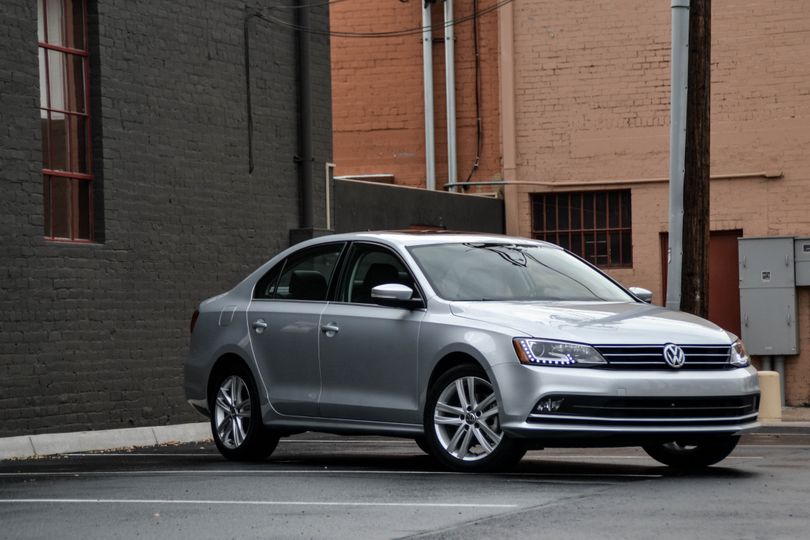 This week, we're driving the 2015 Volkswagen Jetta, delivered with its new TDI (Turbo Direct Injection) Diesel under the hood that offers many advantages versus the competition. Notable is the Diesel TDI technology, which dates all the way back to corporate sibling Audi¹s spectacular win at the 2004 24 Hours of Lemans, where a turbo diesel powered Audi prototype dominated the race for a first ever diesel win.
Since then, Volkswagen/Audi has combined to offer consumers some of the very best running diesels on the road today.
Today¹s VW/Audi Diesels are mechanical marvels. Our Jetta features a peppy 2.0-liter, 150-horse design (up 10 over last year) that delivers an amazing 236 lb. ft. of torque. VW engineers have successfully merged its direct port injection with the exhaust driven turbo, resulting in "lag free" initial torque acceleration and surprising all-around the rpm range performance. This always-evolving turbo technology eliminates what used to be a dreaded acceleration experience, IE: the non-turbo diesel VW Rabbits from the 1970s and its ability to accelerate to 60-mph in about eight seconds.
Consumers can expect top EPA fuel mileage, too, with 31 city and 45 highway the official numbers. This economy far surpasses just about every competing car in class, sans the hybrids that rely on electric motor technology and normal gas combustion. Dollar for dollar, Volkswagen Jetta Diesel is one of the best cars out there if you're looking for both driving fun and practicality. Noteworthy is Jetta Diesel being a Consumer Reports ³recommended² vehicle, which is certainly worthy of note.
Further, when VW¹s modern day diesel turbocharger kicks in and you go through the gears with the DSG six-speed automatic transmission, you won¹t believe your driving a diesel powered Volkswagen. The automatic allows gear selection either automatically or from the console gearshift. Not satisfied? There¹s a six-speed manual transmission available, so drive them both when you visit a VW dealer.
Personally, I like the automatic as quick and precise gear shifts are possible thanks to VW¹s twin clutch, wet plate transmission design that eliminates power interruption and provides instant gear changes.
Jetta TDI Diesel comes with an entry price of just $21,640 for the TDI S, while our tester was the ³SE with Connectivity² model that starts at $25,175. Standard are many modern day technology upgrades, power sunroof, 16-inch tires on nice alloys, touchscreen six speaker premium stereo system, leatherette seating, dual zone air, heated front seats, lumbar adjustable driver seat, cruise, rearview safety camera, push button start and some 20 other standard features. Your dealer will gladly explain all Jetta features. As for options, our Jetta came with not one, as the bottom line came in at $25,995 retail including $820 destination.
Underneath, Jetta relies on the proven McPherson strut independent front and multi four-link independent rear setup for planting the TDI in the turns. The standard electronic differential lock, anti-slip regulation and electro-mechanical power steering adds to the handling grip and comfort.
As for brakes, Volkswagen offers some of the best ABS four-wheel disc setups in the industry. When combined with all the modern day traction controls and electronic brakeforce distribution, you are traveling in one of the modern day marvels at an unbelievable price.
Inside, Jetta¹s cabin is pleasing, featuring firm seating, nice gauge package, 60/40 split rear seat, remote keyless entry, leather wrapped steering wheel, tilt and telescopic, center console, all the powers, carpeted floor mats, and more.
Outside, this new Jetta design appeared four years ago and has received exterior tweaks every year. Overall, Volkswagen offers the TDI Diesel in seven models, from the Beetle to the Passat and everything in between. With efficiency of 46 highway mpg for the manual diesel and a top range of 815 highway miles per thankful, it¹s hard not to give Volkswagen Diesels a closer look.
If you want a Hybrid Jetta, you¹re in luck as the new VW Hybrid debuts and starts at $31,670. However, the Hybrid MPG is not much better than the diesel, delivering 42 city and 48 highway. For price comparisons only, the popular non-diesel entry level Jetta starts at just $16,215 with a five-speed manual and 25 city and 34 highway EPA abilities.
Important numbers include a wheelbase of 104.4-inches, 14.5-gallon diesel fuel tank, 3,296 lb. curb weight, 5.2 inch ground clearance and a spacious 15.7-cu. ft. of cargo space.
Volkswagen publicists say the 2015 Jetta offers ³new bells, whistles, and features you want in a compact sedan all topped off with a Five-Star Overall Safety Rating. It adds up to a little more confidence.²
Jetta in any form is a tribute to what Volkswagen technology is capable of when its engineers concentrate on versatility, driving fun and affordable pricing.
2015 Volkswagen Jetta
Likes: Diesel economy, Passat style looks, pricing to attract everyone.
Dislikes: Touchscreen somewhat cumbersome, low price entry model special order only, Hybrid too expensive compared to Toyota Prius.
Entry Price: $16,215
Price as Tested: $25,995
---
---