Thu., Aug. 6, 2015
Test Drive: 2015 Volkswagen Golf SportWagen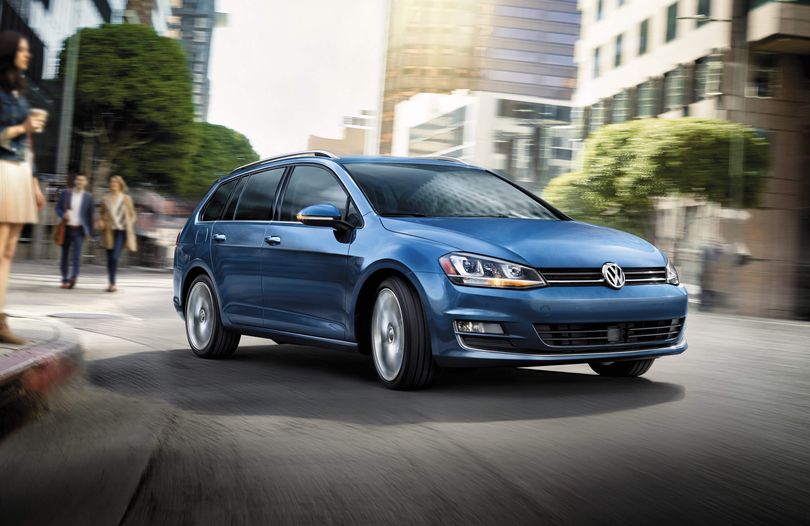 This week, we get to drive the 2015 Motor Trend Magazine ³Car of the Year,² namely the 2015 Volkswagen Golf that arrived in SportWagen trim. Although the heavier VW Golf SportWagen isn¹t part of the ³in crowd Golf coupes and sedans,² it is identical mechanically and deserves similar praise.
Specifically, SportWagen is a member of the Golf family that starts with the $17,995 two-door entry Golf 1.8 Turbo. Then comes the sporty GTI Golfs, a Golf Diesel, performance bred Golf R and even an electric Golf, the latter the newest member of the Golf family. With pricing that allows consumers from all walks a chance to own 2015 Golf, pricing tops off at $36,595 for the ultra-performance Golf R assuring you¹ll have lots to see when you visit your Volkswagen dealer.
Now in its seventh generation of success, Volkswagen¹s 2015 Golf is clearly its best effort to date. Our SportWagen came in top class SEL trim, with an entry of $29,345 and featuring just two options, an unnecessary $995 lighting package and a $695 Driver Assistance Package. Add $820 delivery, and you get to the final tally of $31,855. The base SportWagen starts at just $21,395 well equipped. (Check current dealer incentives for discounts).
Under the hood sits VW¹s proven 1.8-liter four cylinder turbo that generates 170 horses and 199 lb. ft. of torque. Fuel mileage is excellent, with 25 city and 35 highway EPA numbers. Power is transferred via Volkswagen¹s six-speed automatic transmission, which I recommend over the manual transmission for ease of operation and equally good fuel mileage.
SportWagen¹s exterior is a near match to sibling designs, sans the wagon necessities. It is listed as a compact or small wagon by EPA definitions and to me, SportWagen is more mid-size than many ³real mid-size² vehicles I¹ve driven. Notable is SportWagen SEL comes with the larger 18-inch tires on nice Durban alloy wheels, giving the fully independent suspension great grip on all type roads. Handling overall is crisp and precise, which has been a VW calling card for years.
The cabin is a good mix of versatility and convenience. Featuring a leatherette interior and expansive panoramic power sunroof, standard fare also includes top quality nine-speaker Fender stereo with SiriusXM, Bluetooth, voice control Touchscreen Navigation, iPod media device interface and MP3. Room inside is excellent be it front or rear seat passengers, while cargo area expands thanks to 60/40 split second row that folds down and offers an expansion of near 61 cu. ft.
All of the top line amenities are standard, from cruise to dual zone air to all the powers. Front seats are heated and the driver seat also features power and lumbar. There¹s a well positioned 115V outlet at the rear cargo area, and all air bags and safety items including rearview camera, stability control, electric brakeforce and more come standard.
Of all the Golfs available, SportWagen might be the most unique of the bunch. Because it is a station wagon and must adhere to the needs of a family or ³on the road² business person, consumers will relish the cargo room and larger quarters than, say, the entry Golf two-door. If you¹d like a diesel, no problem as the SportWagen is the only diesel wagon in America to offer a manual or automatic transmission. (Audi only offers the automatic).
If you have your heart set on an all-wheel-drive (AWD) SportWagen, we¹re told that corporate is already prepping the 2016 platform for an AWD SportWagen that will appear mid-year 2016.
Important numbers include a wheelbase of 103.7-inches, 3,120 lb. curb weight, 13.2-gallon fuel tank, from 30.4 to 60.8 cu. ft. of cargo space, and a 5.5-inch ground clearance.
Golf SportWagen has an unquestionable ³real station wagon² look to it, unlike other manufacturers who have either erased the design from its model lineup or renamed it a Crossover. Personally, station wagons offer all the advantages of small minivans and Crossovers yet do so with a more impressive carlike build.
VW SportWagen is an excellent effort from the folks at Volkswagen and worthy of a test drive is shopping this market.
Entry Price: $21,395
Price as tested: $31,855
Likes: Real station wagon looks, attractive pricing, interior room.
Dislikes: No AWD in 2015, tires a bit noisy, Touchscreen cumbersome.
---
---