BMW X6 M: High-performance, tech-rich crossover is weirdly shaped and stunningly fast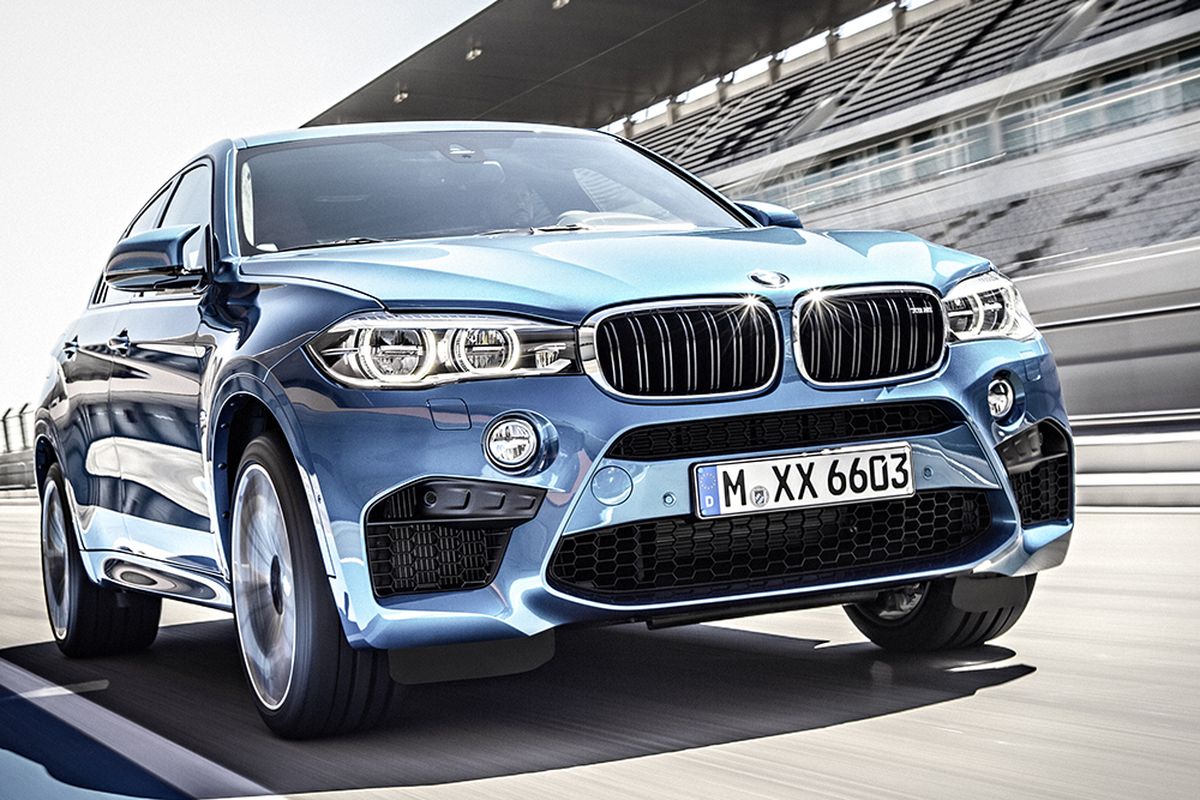 In 1999, BMW dipped its toes into crossover waters with the midsize X5. Built on the rear-drive platform of the 5 Series sedan, it inherited that car's muscularity and superior driving dynamics.
Nine years later, an oddly shaped X5 variant landed. The new X6 was an X5 in every way but one; a sloping rear roofline had displaced the X5's traditional crossover silhouette.
BMW called it a sport activity coupe (the X5 was a sport activity vehicle).
Shorn of its cargo hold, the X6 hunkered menacingly but felt bulky and out of proportion. The low-slung roofline slashed usable interior space, ostensibly the raison d'être of any crossover.
It seemed that BMW had designed a car for a market that didn't exist. But enough copies to warrant development of a high-performance M edition.
In 2009, BMW delivered M versions of the X5 and X6.
In Bimmer Land, M signifies a model that's been heavily modded by subsidiary BMW M GmbH. M standing for Motorsports, naturally.
An M makeover typically includes more power, more tech and a highly refined suspension.
I recently tested the second-gen 2015 X6 M and found it to offer more of everything that made the first one unique. It still seems like a car without a purpose, but thousands of customers say otherwise.
The '15 X6 M is 1.8 inches longer than before. Styling updates include deep body-side creases that flow over the rear fenders, adding both a sense of fluidity and aggression. A revised front fascia houses a pair of large air intakes. The front fenders get functional gills and the rear fascia adds a diffuser, twin exhaust outlets and a spoiler.
The new rig is powered by a turbocharged 4.4-liter V-8 that makes 567-horsepower and 555 pound-feet of torque. The transmission is a unique, three-mode eight-speed automatic which BMW says works like an automated manual. It makes very quick shifts and its broadly spaced ratios are largely responsible for this year's 20-percent efficiency gain.
The X6 M runs the 0-60 sprint in 4.0 seconds, wailing like a banshee the whole way. The EPA says to expect mileage ratings of 16 mpg combined/14 mpg city/19 mpg highway.
Ride-height is lowered nearly an inch from stock and an adaptive suspension adjusts to road conditions in real-time. The front suspension has been revised to minimize understeer in fast corners. All-wheel drive and dynamic stability control are standard.
With the 2015 X series Ms, BMW ends its dependence on run-flat tires. The X6 M wears 21-inch Michelin Pilot Super Sports that provide a ton of grip and improve ride quality substantially.
Inside, there's a head-up display, a new, M-badged steering wheel and multifunction M sport seats. The standard features list includes four-zone automatic climate control, a rearview camera and a Harman Kardon surround sound audio system.
Unless you count racetrack handling; rip-roaring acceleration; and a stylish, comfortable and tech-rich cabin, there's no obviously compelling reason to own an M6 M.
Unless, of course, you can.
Contact Don at don@dadair.com.

2015 BMW X6 M
Vehicle base price: $102,100
Trim level base price: $102,100
As tested: $112,650
Options included full Merino Leather; active blind-spot detection; active driving assistant; side- and top-view camera; heated steering wheel; soft-close doors; ventilated front seats; adaptive LED headlights with automatic high beams; head-up display; more.
EPA ratings: 16 combined/14 city/19 highway
Premium fuel recommended
---
---