Unconventional Hyundai Veloster is ripe with attitude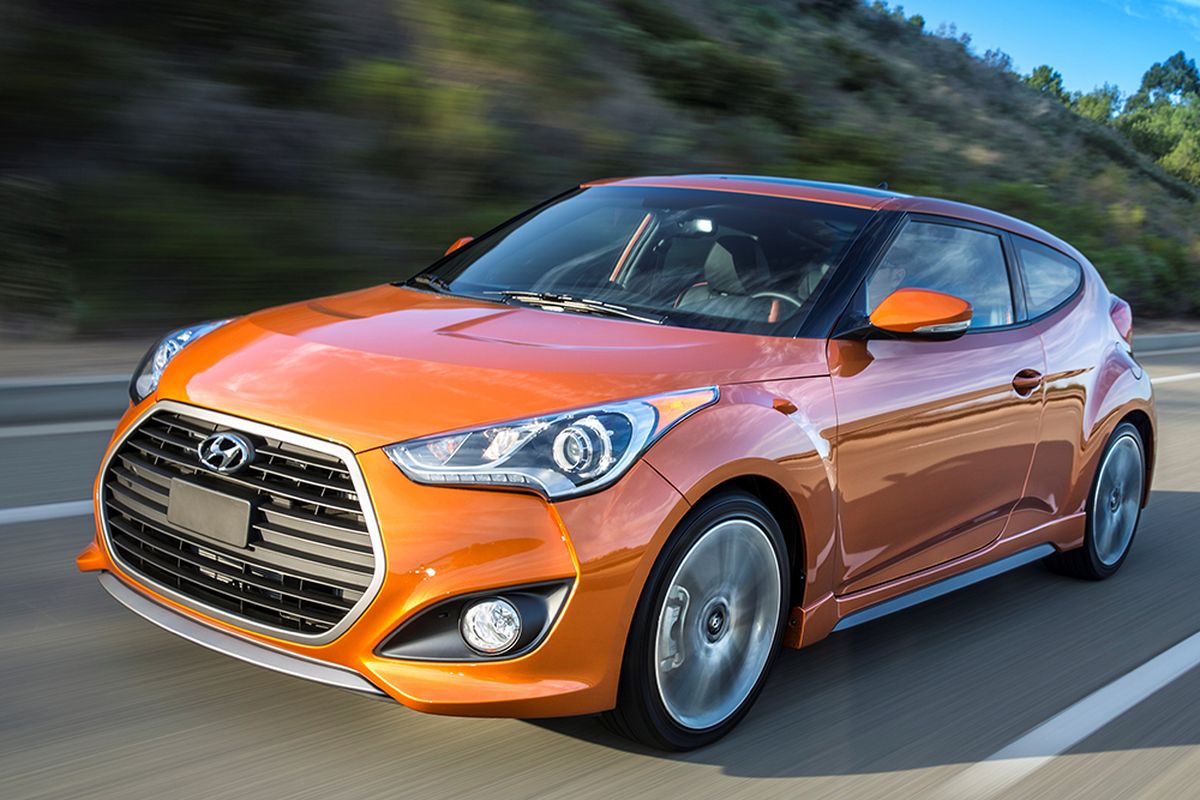 Hyundai's subcompact Veloster is crammed with clever ideas and useful tech.
With its long list of standard features, available torque-vectoring front-wheel-drive and unique three-door design, the $18,000 hatchback makes a strong value case for itself.
Veloster's squat and assertive <em>kammback</em> profile was influenced by racing-motorcycle design, Hyundai says, and the raffish 'tude carries on inside. Beefy grab bars and a game-inflected control panel establish a race-mode vibe. Controls are back-lit in glowing game-console colors. In some models, deeply bolstered sport seats are trimmed in bold, contrasting colors.
The Veloster's asymmetrical layout — two small passenger-side doors offset the single, large driver-side door — eases access to the rear seats. Or — with the rear seatbacks folded — to the rear cargo area.
Young families who wrestle with car seats will find the third door especially useful.
LED headlights and a rearview camera are standard across the board, as are heated mirrors, full power accessories, cruise control and A/C, a height-adjustable driver seat, cloth upholstery and a tilt-and-telescoping steering wheel.
All 2016 Velosters come with a 7-inch color touchscreen. Standard features include HD radio, "Eyes Free" Apple Siri integration and the latest generation of Hyundai's Blue Link (Bluetooth) telematics.
Veloster is powered by a choice of two four-cylinder engines, one turbocharged and one naturally aspirated. Both use direct injection to maximize power and efficiency.
The base engine, a 1.6-liter four, makes 132 horsepower. Power is routed to the front wheels via a six-speed manual transmission or six-speed dual-clutch automated manual (DCT).
The same engine, with turbocharger, produces 201 horsepower and can be paired with the six-speed manual or a new seven-speed DCT.
In non-turbo Velosters, the DCT is calibrated for economy; in the turbos, it's tuned for performance. DCTs are a rarity in this segment and a welcome substitute for the ubiquitous continuously variable transmission (CVT).
Turbocharged models get a torque-vectoring system that brakes the inside front wheel in fast corners, redirecting its power to the outside wheel. The action effectively pivots the car on its axis and minimizes the potential for a skid.
We tested a Veloster R-Spec Turbo with manual transmission ($22,425). The R-Spec is the entry-level trim on the turbocharged side of the ledger. It gets unique body-side extensions, a sport-tuned suspension and sport-tuned steering.
The R-Spec's sport seats grip one securely during fast corners and the B&M short-throw shifter makes good, sure shifts. Clutch take-up is finicky until the driver sorts it out.
But despite its raucous persona, the R-Spec is an unconvincing sports car. It's limited by powerplants that are not quite powerful enough and a chassis better suited to gentler suspension settings.
Better, in my estimate, to save a few bucks and buy a naturally aspirated Veloster. Or spend a few more on the better-equipped and less aggressive Turbo trim ($23,435). A new limited-run Turbo Rally Edition ($24,775) adds leather seating surfaces, 18-inch wheels and more — including a suspension tweaked tighter than the R-Spec's.
Veloster sales prove its appeal; here's hoping the second-gen car expresses its potential.
2016 Hyundai Veloster R-Spec w Manual Transmission
Vehicle base price: $18,000
Trim level base price: $21,900
As tested: $22,570
Options included cargo net and mud guards.
EPA rating: 28 combined/25 city/33 highway
Regular unleaded fuel specified
---
---