Test Drive: 2016 Fiat 500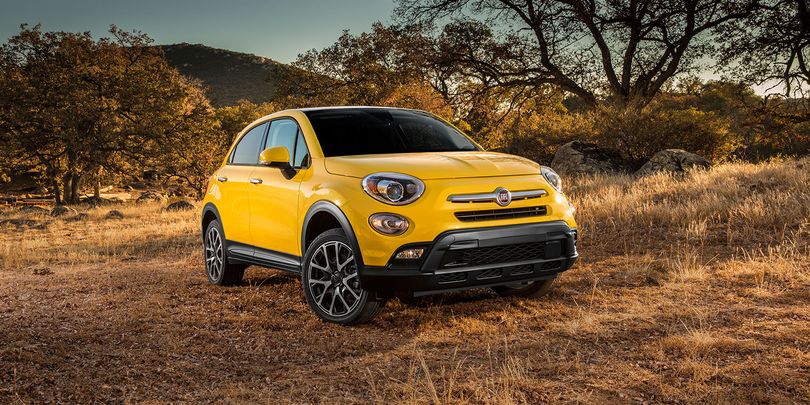 This week, we drive the 2016 Fiat 500X Lounge, the longer wheelbase and heavier 500 from the folks at Fiat. Built in Melfi, Italy, the 500 relies on an engine and transmission built in the United States and arrives dressed in upper class "Lounge" motif. We continue to appreciate Fiat's efforts to offer the larger 500s in addition to the sub-compact two-door 500s based on passenger room and the built-in safety heavier cars offer.
With an entry of just $16,845 for the 500 Hatch two-door, Fiat consumers can move upward through seven more 500s in two and four door designs. There is also an electric version and a special 1957 Special Edition awaiting your Fiat Store visit.
Our tester is the all-new 500X four-door Crossover, starting at $20,000 for the Pop up to the 500X Trekking Plus, which starts at $28,210. The 500X Lounge starts at $25,110 and also features a first ever 500X AWD model, which starts at $26,655. Classified as a small station wagon by the EPA, the 500X series will surely attract lots of new consumers in 2016.
Regardless of Fiat 500 choice, large or small, we still guarantee lots of attention from onlookers. So, regardless of performance abilities or whether it's a two or four door model, you will be noticed driving a Fiat 500 be it baby boomer or millennial age groups.
Perhaps one reason for the popularity from the elder baby boomer generation is Fiat's sports car racing history that dates back to 1957 with the Abarth models. Not surprisingly, even more affection comes from today's millennial as this individual seems to love Fiat 500 regardless of dress.
On the road, Fiat 500 is a fun to drive car that delivers solid handling. Be it traveling the turnpikes, rounding a curve on secondary roads or parking in tight city situations, Fiat 500 is very easy to maneuver and get any job done. Our 500X Lounge came with just one option called a "Lounge Collection 2" package which made driving and parking even easier and safer. For $1,550, you get leather seat upgrades, Park Sense rear park system and blind spot and rear cross traffic detection. It's worth the extra money in my opinion.
Under the hood sits a 2.4-liter four-cylinder putting out 180 horses and 175 lb. ft. of torque. The engine powers our crossover wagon with authority, and when connected to the standard multi-clutch nine-speed automatic transmission, expect zero to 60-mph in under eight seconds. If you enjoy shifting, a six-speed is standard on the less expensive 500 models with smaller `1.4 four cylinder engines. Estimated EPA numbers for the automatic with the 2.4-liter engine is 22 city and 31 highway, good but not great.
Fiat 500X fills the need for those looking for economical transportation with a touch of Italian art, more space, driver-centric amenities, capability and advanced safety and security features. Five trim levels let you choose your personal style as Fiat 500X includes entry level Pop, and then up the Fiat 500 ladder to Easy, Lounge, and then Trekking and Trekking Plus models, the latter two which feature a more athletic motif.
Numerous standard features make the 500X Lounge perhaps the best choice, thanks to 17-inch tires on machined aluminum wheels, GPS navigation and Uconnect stereo/Bluetooth with voice, all the powers, fog lamps, heated seats with lumbar, heated steering wheel, chrome trim inside and out, dual zone climate, SiriusXM six-speaker sound system, leather touches and much more.
On the safety side, a rear back up camera is standard as is electronic stability control, all the airbags, four wheel ABS discs and more. Your dealer will explain everything in detail, along with special incentives currently in play.
Important numbers include a wheelbase of 101.2 inches, 3,291 lb. curb weight, 13.2 gallon fuel tank, and up to 51 cu. ft. of cargo space with rear seat down.
Thanks to the heavier 500X Lounge four-door, I expect Fiat sales to continue to move upward. Specifically, the longer wheelbase and near heavier curb weight versus the two door Fiat 500 Hatch is still a most comforting factor for all drivers of all ages.
Fiat can expect more floor traffic from a segment of consumers that previously wouldn't have considered a sub compact Fiat 500, or any other sub-compact for that matter.
(Greg Zyla is a syndicated auto columnist).
2016 Fiat 500
Entry Price: $16,845
Price as Tested: $27,300
Likes: Bigger and safer design, exterior looks, fun to drive.
Dislikes: Engine noisy, nine-speed automatic finicky, fuel mileage just so-so.
---
---