Mazda CX-3: New subcompact crossover stretches class limits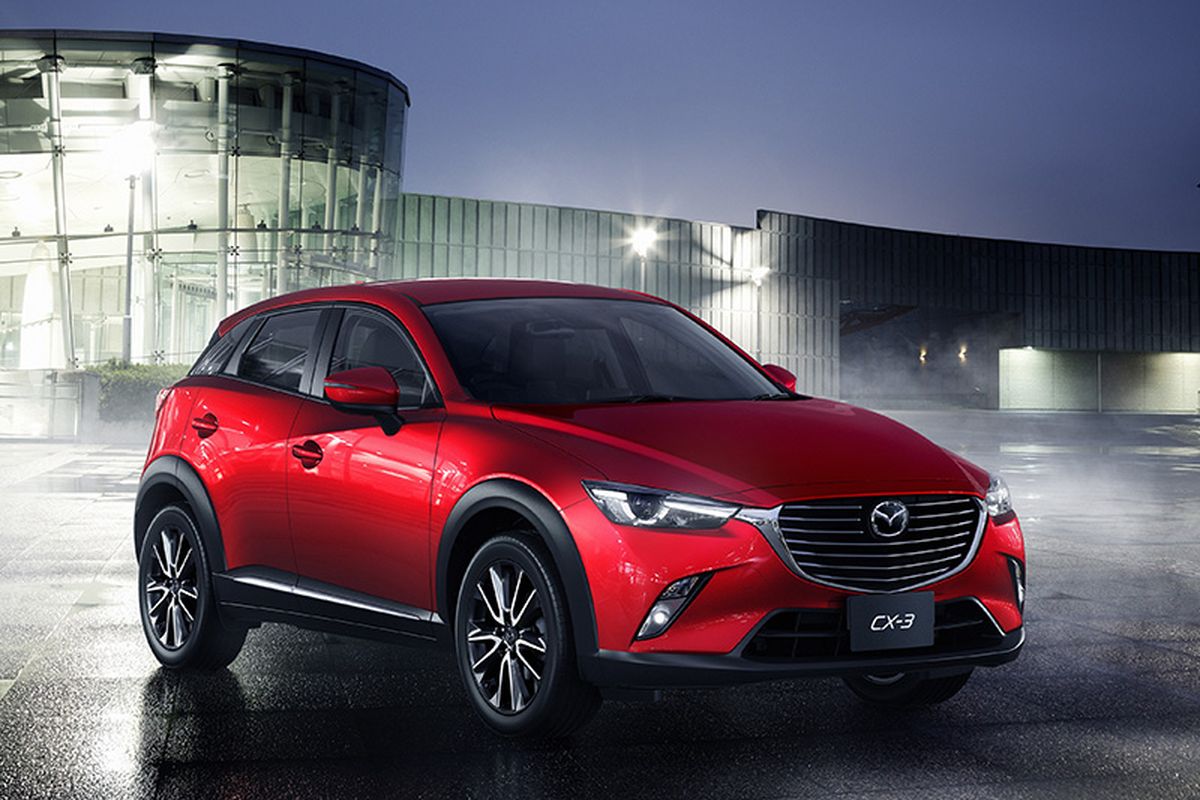 I was tempted to launch this piece with the less-is-more trope. After all, the all-new Mazda CX-3 essentially defines the term. It's small, lightweight and fundamental in execution. It offers a single engine/transmission combination and features a refreshingly straightforward hierarchy of trim levels and options packages.
But the less-is-more construct oversimplifies the matter. Unless you're counting cargo space (perhaps the CX-3's single biggest failing) and fuel stops, there's nothing lesser about it.
The CX-3 ($20,840, including destination) is a driver's car. Its engaging dynamics and outstanding efficiency push the limits of the subcompact crossover class. Zesty and curvaceous exterior styling sidesteps overstatement and cliche. Cabin design is exuberant and youthful, though the prevailing aesthetics are mature ones; comfort, ergonomics and attention to detail.
The front seats are supportive and comfortable. Back and thigh bolsters snug occupants into place during fast cornering. This is a small car, though, and even by class standards the back seats and cargo area are small.
The CX-3 is the fifth Mazda to fully employ Mazda's SkyActiv efficiency suite. Under the SkyActiv rubric, engineers isolate and excise unnecessary weight. They look to minimize friction-caused energy loss and fashion drivetrains of tightly integrated and complementary components.
The six-speed automatic is engineered to match the specific characteristics of the CX-3's 146-horsepower 2.0-liter four. The transmission is calibrated to keep the engine in the heart of its power band and makes smooth, quick shifts. In Sport mode, it executes the necessary downshifts as one slows for a corner.
The electrically assisted steering system has a light feel in city traffic and in parking lots, but firms up at speed. In corners, its action is progressive and communicative.
The CX-3 can run the 0-60 sprint in a quick-for-the-segment 8.1 seconds, yet front-drive trims return 31 mpg combined mileage (29 city/35 highway); AWD trims manage 29 mpg (27/32).
The base S trim is packed with goodies both expected and not. Standard gear includes push-button start, a 7-inch color touchscreen and Mazda Connect, one of the safest and most user-friendly infotainment control systems available. Besides Bluetooth phone and audio connectivity, It offers audio text-message delivery and reply; voice command; and Aha/Stitcher/Pandora/HD radio connectivity.
Mazda Connect's most valuable feature is its Commander control knob. The console-mounted rotary knob simplifies the process of menu- and screen-selection and reduces the time a driver's eyes must leave the road.
Mazda's predictive all-wheel-drive system ($1,250) is available on every trim level. It assimilates real-time data from various sources — including the onboard thermometer (the system takes ambient temperature into account) and the antilock braking and stability control systems — and maximizes traction by shunting power between the front and rear axles.
Upper trims can be outfitted with advanced safety technologies like lane-departure warning, rear cross-traffic alert, intelligent cruise control and forward collision-mitigation with automatic braking.
Mazda's less-is-more strategy is anything but simple. The CX-3 is a sophisticated little piece whose apparent simplicity masks a big personality and deep-seated capabilities.
Contact Don at don@dadair.com, or visit www.dadair.com.
2016 Mazda CX-3 Touring AWD
Vehicle base price: $19,950
Trim level base price: $23,210
As tested: $26,050
Options included remote start; moonroof; tonneau cover; satellite radio; premium Bose audio; high-definition radio
EPA ratings: 29 combined/27 city/32 highway
---
---