BMW X4: Unorthodox crossover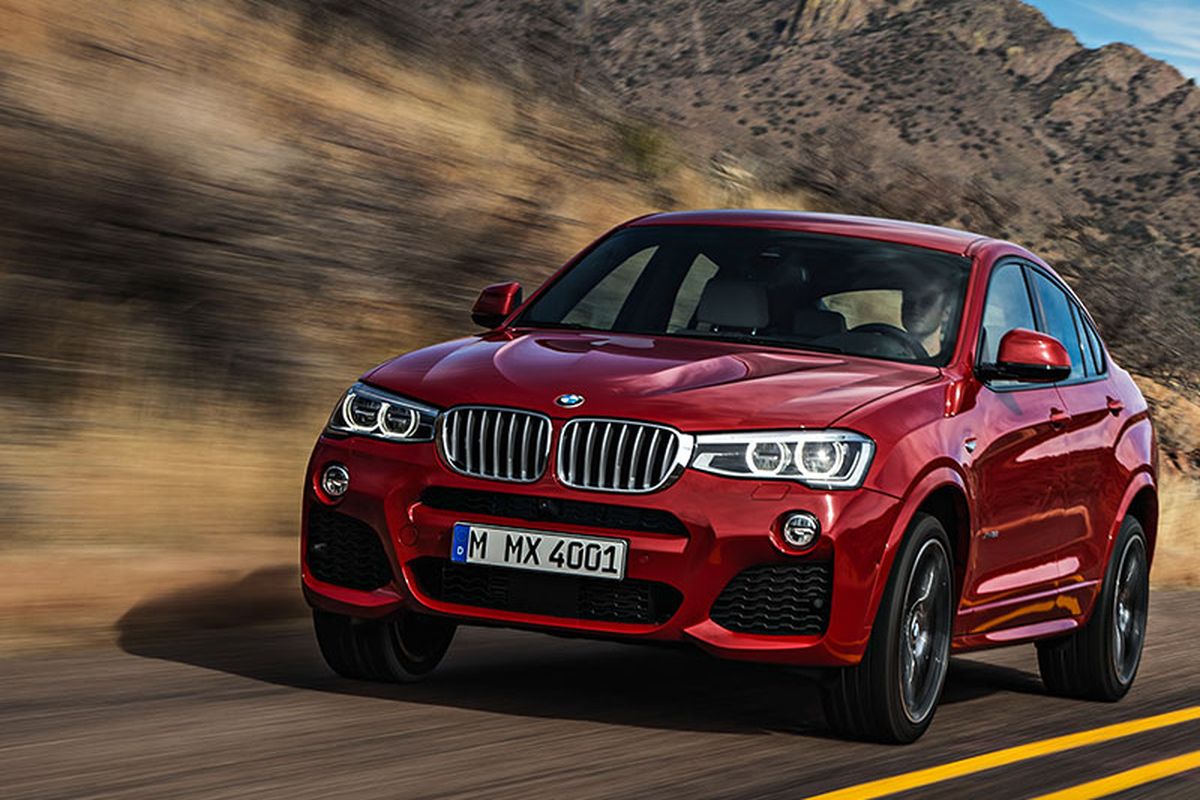 BMW animates its lineup this year with an unorthodox new coupe/crossover mashup. The 2015 X4 is a rig you'd expect to see on an auto-sow concept stand, not so much the street.
Based on the compact X3 crossover, the X4 is either blessed or burdened — your pick — with a shape that explodes expectations.
In principle, the concept is simple. The X4 shares the X3's wheelbase, hood and dashboard. The balance is rejiggered to accommodate a profile dominated by a sweeping, coupe-like roofline.
BMW pioneered the concept with the 2008 X6, a one-off based on the midsize X5 crossover. BMW calls its crossovers "Sport Activity Vehicles." The X4 and X6 are dubbed "Sport Activity Coupes."
At its highest point, the X4 roof is 2.2 inches lower than the X3's. Ride height drops from the X3's 8.3 inches to 8 inches and the seats are lowered incrementally inside the body shell. The center of gravity drops, helping to minimize body roll.
The X4 has a sport-tuned suspension, variable-ratio steering and standard torque-vectoring all-wheel-drive. The X4 boasts quicker steering, flatter cornering and sharper handling than the X3, itself no slouch.
Downsides include cuts to rear-seat headroom (minimal), cargo space (substantial) and visibility (not awful, but still … ).

Plus, you may find it butt-ugly.
There are two X4 models. The turbocharged 2.0-liter four that powers the X4 xDrive28i ($45,650, including transportation) makes 240 horsepower and 258 pound-feet of torque. The xDrive35i ($48,950) gets a turbocharged 3.0-liter inline-six good for 300 hp and 300 lb-ft. Both engines are mated to an eight-speed automatic transmission.
The EPA rates the 28i at 23 mpg combined (20 city/28 highway); the 35i follows closely at 22/19/27.
The 28i sprints from 0-60 in 6 seconds. The 35i hits 60 in 5.2 seconds, then pulls away sharply from the 28i until reaching its 130-mph top speed.
Like all of BMW's turbocharged sixes, the direct-injected 3.0-liter is deep and rich with torque, which the Steptronic automatic exploits with quick, smooth shifts. The turbo spools up quickly, eliminating turbo lag. Acceleration comes on in a near-linear rush, making easy work of passing.
In the X4, BMW's xDrive AWD system includes Performance Control, which sends power to the outside rear wheel during cornering. This sharpens turn-in, improves traction and reduces the likelihood of a skid.
An available M Sport package ratchets up suspension settings for even flatter cornering, though at some expense to ride quality.
Inside the well-appointed cabin, a wide center console promotes a dual-cockpit feel, while less-tall windows and lowered seating positions create an ambience that's nearly as much sport coupe as crossover.
Mission accomplished.
A long list of standard-features includes adaptive xenon headlights, LED foglights and running lights, automatic wipers, dual-zone automatic climate control, eight-way power front seats, split-folding rear seatbacks and auto-dimming mirrors. There's also Bluetooth phone and audio connectivity, BMW Assist eCall emergency telematics, BMW's iDrive electronics interface and a nine-speaker sound system.
Perhaps no other company offers more variants on basic models than does BMW. Neither the X4 or X6 answers to orthodoxy, but they keep things interesting in the crossover market.
Don Adair is a Spokane-based freelance writer. Contact him at don@dadair.com.
2015 X4 xDrive35i
Vehicle base price: $44,700
Trim level base price: $48,000
As tested: $57,450
Options included M Sport package (sport suspension, seats, more); rear-view camera; park distance control; keyless entry/ignition; adjustable lumbar; satellite radio; storage package; navigation.
EPA ratings: 22 combined/19 city/27 highway
Premium unleaded fuel required
---
---