Toyota Camry: Securing its lead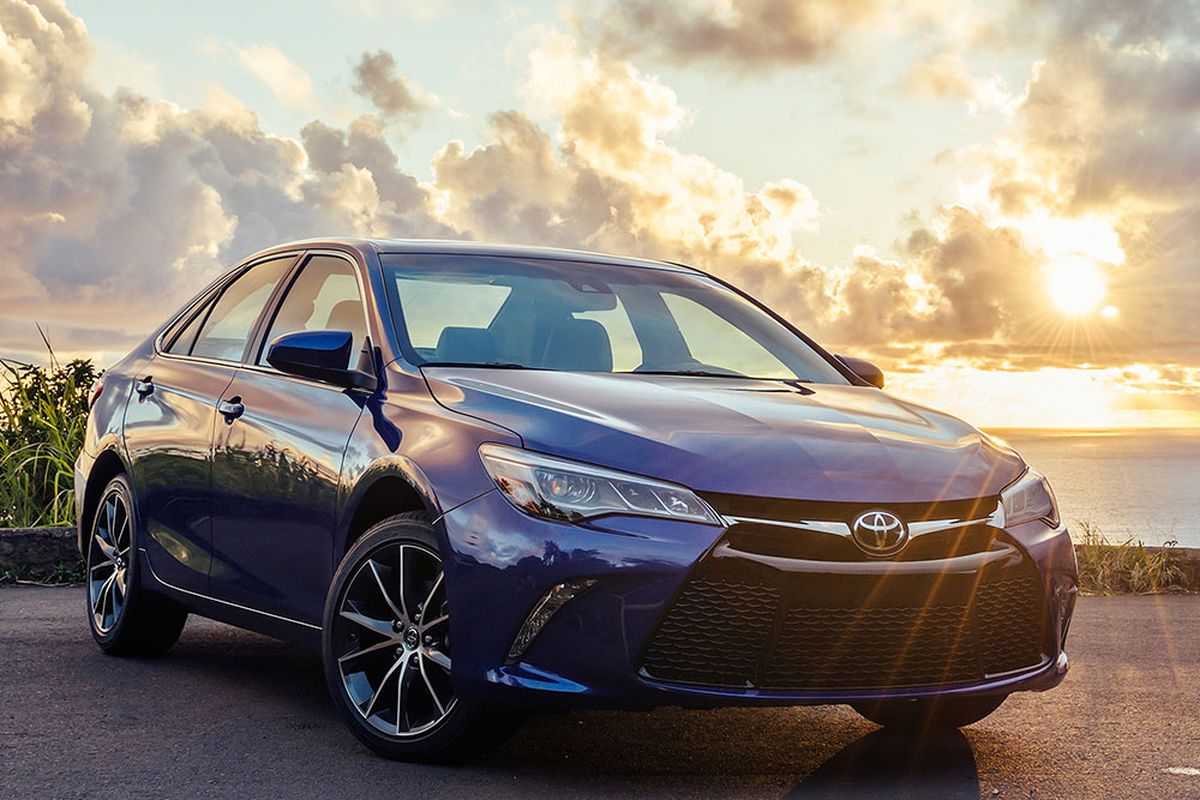 Every five or six years, Toyota trots out a new Camry and, almost without fail, it rockets to the top of the charts.
The last all-new Camry landed in 2011. If convention held, the next new Camry wouldn't have appeared until 2016 or 2017.
But now, the 2015 Camry ($23,375, including destination) is here and it's thoroughly restyled. Assertive new sheet metal entices the buyer's inner rogue, the cabin grows quieter and more upscale and a batch of new smartphone technology comes aboard, including an available wireless charging system.
Engines and transmissions are unchanged, but Toyota sharpens the Camry's performance metrics with significant chassis, suspension and steering updates.
On the outside, the grille grows larger and bolder. Subtle hood creases and not-so-subtle side-panel character folds retool the old flat-sided look. The cast of the headlights and LED running lights carries a wicket glint.
Inside, virtually every surface is covered in soft-touch materials, with upscale trims receiving such touches as French stitching. Seats are bolstered and grippy and the controls are, if at first a bit tricky, easier to access and use than many competitive systems. Knobs and buttons are larger and are easily grasped by gloved hands and a new console .
Three adults ride comfortably in the rear seats. The seatbacks fold down to increase cargo space.
All 2015 Camrys receive extensive noise-reduction measures. Improved window and door seals cut wind and road noise. Redesigned side mirrors reduce turbulence and wind noise. The sound-insulation content of the carpets increases 30 percent.
Historically, Toyota has aimed the Camry at the great Middle Market, with a heavy tilt toward older drivers. But the 2011 makeover debuted a sporty SE trim that's been a hit with younger owners. Last year, the SE ($24,305) claimed 45 percent of Camry sales. On average, SE buyers are 12 years younger than other Camry owners.
Hoping the leverage that trend, Toyota adds a new high-end trim this year. The XSE ($26,975) blends the SE's sporty qualities with the luxury of the top-line XLE (also $26,975).
Both XSE and XLE trims can be had with a 178-hp 2.5-liter four-cylinder engine or a 268-hp 3.5-liter V-6. "L" trims receive a conventional six-speed automatic transmission, while the gearbox in the SE and SLE makes quicker shifts and matches revs on downshifts. "S" trims get steering-wheel paddle shifters.
Twenty-two new spot welds boost chassis stiffness. The chassis systems — brakes, steering and suspension — are reconfigured accordingly.
Every 2015 Camry handles better than the previous generation, but the S trims most of all. The XSE, which we tested, gets higher-rate coil springs, firmer bushings and shock absorbers with internal rebound springs. Eighteen-inch alloys wear beefy all-season tires designed to enhance efficiency and foul-weather grip. They proved themselves during my ice- and snowbound test week. The chassis and suspension upgrades lent the XSE a buttoned-down and well-damped character. Body lean is minimal and, though firm, ride quality is very good.

Toyota's rush-to-market reflects industry dynamics. The Camry's competitors are more compelling than ever and Toyota knows its leadership isn't secure unless it's leading.
Don Adair is a Spokane-based freelance writer. Contact him at don@dadair.com.
2015 Toyota Camry XSE V-6
Vehicle base price: $22,970
Trim level base price: $31,370
As tested: $35,169
Optional equipment included blind-spot warning system w/rear cross-traffic alert; navigation; premium JBL audio w/Entune Media Bundle; pre-collision system; lane-departure warning; automatic high beams; radar cruise control; unique color.
EPA ratings: 25 combined/21 city/31 highway
Regular unleaded fuel specified
---
---