2015 Genesis: Hyundai's luxury player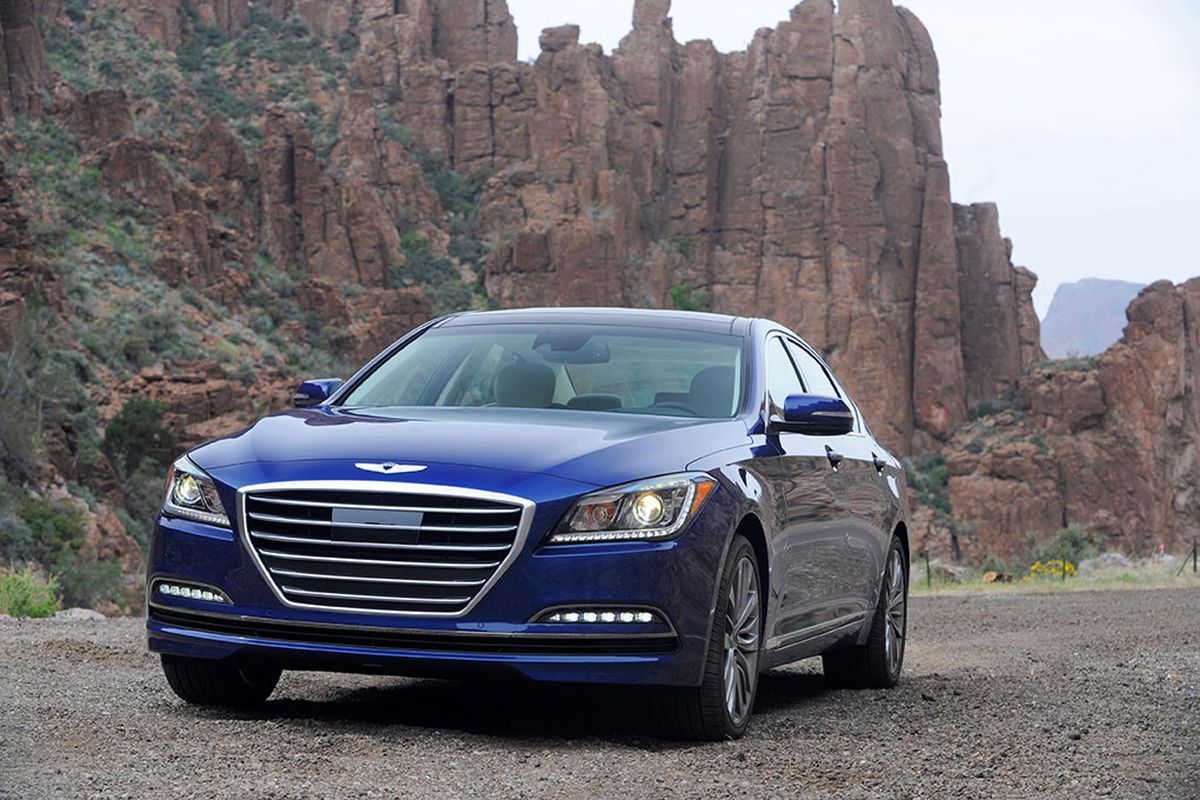 A few things we know about Hyundai: it's relentless, it dreams big and it does things in whole measure.
Within a decade or two of its disastrous 1986 U.S. launch, the Korean builder had become a leading purveyor of value-priced, tech-laden cars and crossovers. Not satisfied with a conventional trajectory of success — it was one of three makers to grow sales during the recession — Hyundai abandoned convention in 2009, with the debut of the Genesis, a $40,000 luxury sedan.
Rather than creating an up-market brand to house its new car — <em>a la</em> Toyota's Lexus, Honda's Acura, Nissan's Infiniti — Hyundai kept the model in-house.
Critics criticized. They said luxury buyers would refuse to share showrooms with the <em>hoi polloi</em>, the drivers of the Sonatas, Accents and Santa Fes who are Hyundai's natural constituents. We'll see, said Hyundai. The company hasn't grown rich(er) on the back of the Genesis, but sales have been strong enough to justify keeping the car around.
The full-size, rear-drive Genesis matches the luxury kingpins in all the obvious ways. Top-shelf cabin electronics co-exist handsomely with raised-grain wood trim and fragrant, fine-grained leather. The ride is comfortable and handling is relaxed and capable. Exterior styling is fresh and refined.
The Genesis cruises into its second generation this year on a new platform and with newly available all-wheel-drive. Overall size remains unchanged but a longer wheelbase boosts ride quality and rear-seat legroom.
Inside the well-dressed cabin, the instrument panel and center-console layouts are updated, the navigation screen grows larger and the dash picks up some handsome new curves.
Hyundai brought in British sports-car builder for some suspension-tuning tips.
We'd previously tested a rear-drive version and last week drove the new AWD trim. Because the AWD system adds just 165 pounds to the Genesis's 4,500-pound curb weight, the performance hit is minimal.
Hyundai's HTRAC three-mode (Normal, Eco, Sport) AWD drivetrain uses an electronic variable-torque clutch to dynamically apportion power between the front and rear axles. In Sport mode, the system holds gears longer, shifts more aggressively and exploits the superior dynamics of rear-wheel-drive by sending up to 90 percent of torque rearward.
The system is tuned to recognize and respond to differing conditions, including straight-line acceleration, medium,- and high-speed cornering and hill starts. On my informal test route, the Genesis entered curves with a neutral stance and well-controlled body lean.
The rack-mounted, variable-ratio electrically assisted steering system has an appropriate heft feel and, though it's not entirely communicative, it's accurate and has good on-center feel.
A 311-horsepower V-6 powers Genesis 3.8 trims; the Genesis 5.0 is powered by a 420-hp eight. Both are mated to a shiftable eight-speed automatic transmission. Only the six can be fitted with AWD.
Finally, the Genesis provides a compelling case for affordable luxury.
Don Adair is a Spokane-based freelance writer. Contact him at don@dadair.com.
2015 Hyundai Genesis AWD 3.8
Vehicle base price: $38,000
Trim level base price: $40,500
As tested: $52,450
Options included ventilated front seats; HID headlights; auto-dimming mirrors; panoramic sunroof; blind-spot warning; rear cross-traffic alert; Ultra Leather seating surfaces; smart cruise control with stop/start capability; front and rear parking sensors; matte-finish wood and aluminum trim; heads-up display; 17-speaker Discrete Logic 7 audio system; more
EPA rating: 19 combined/16 city/25 highway
Regular unleaded fuel specified
---
---