740Ld xDrive: BMW adds turbodiesel to flagship lineup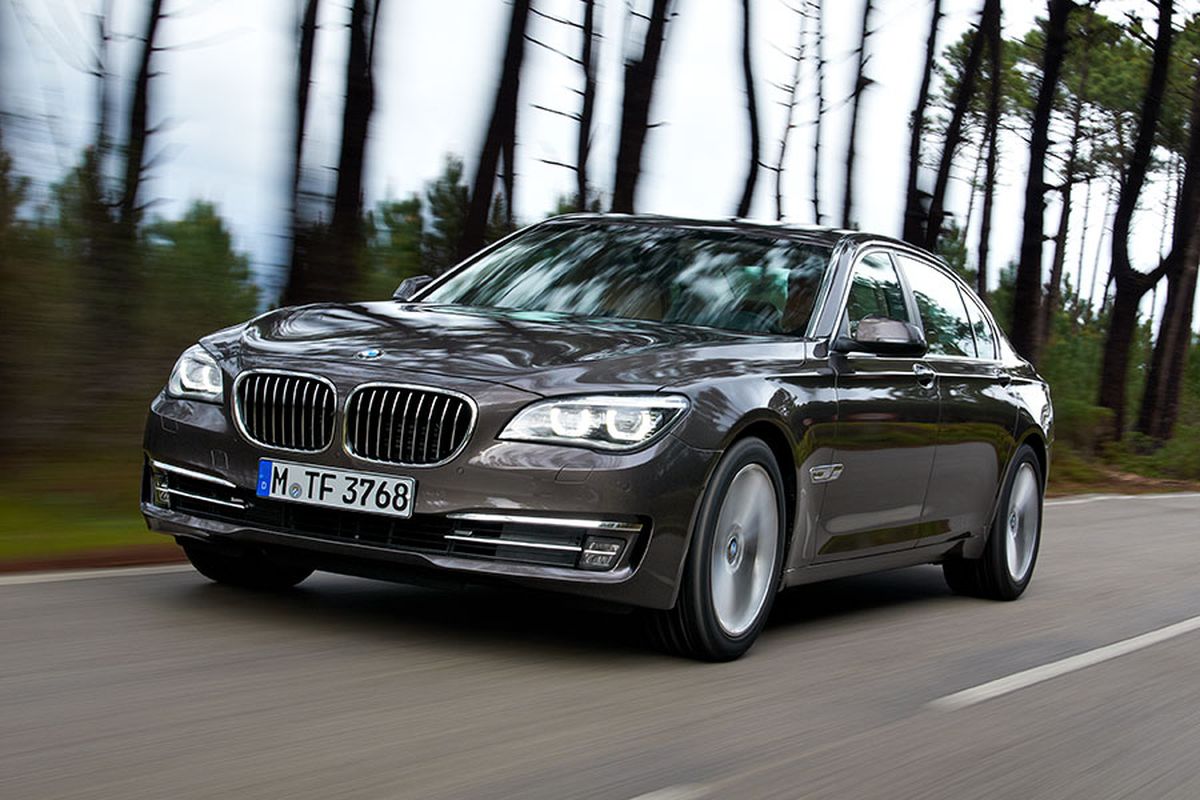 In the Old Dogs/New Tricks category, BMW adds a turbodiesel option this year to its 7 Series lineup.
The old: The current, fifth-generation 7 debuted in 2009; a new version is due this year.
The new: A 3.0-liter turbocharged diesel six that makes 255 horsepower and 413 lb-ft of torque. Mated to an eight-speed ZF transmission, the diesel drives the 4,700-pound sedan from 0-60 in 6.1 seconds and delivers an EPA-estimated 26 mpg combined (23 city/31 highway).
Its 654-mile highway range (485 in city driving) gives road trips a new dimension.
The diesel joins a lineup that includes a 315-hp inline six; a 448-hp V-8 and a 535-hp V-12, all of them turbocharged. A 7 Series hybrid and the performance-tuned Alpina B7 are sold as separate models.
BMW assures the diesel's exclusivity by offering it only in a long-wheelbase (Ld) trim and with all-wheel-drive (xDrive). The resulting $83,450 price tag (including delivery) ensures the owner that not every Tom, Dick and Mary will arrive at the yacht club in the same number.
Each of the 7 Series' predators — they come from Mercedes-Benz, Audi, Lexus and Jaguar —is fresher than the big Bimmer, leaving it feeling a bit dated. My $101,850 tester lacked such useful amenities as intelligent cruise control (I've become a fan), blind-spot monitoring and lane-departure warning, though all are available.
There's minimal interior storage. A built-in phone cradle — it accepts an iPhone adaptor —occupies the center console. If the cupholders are in use, access to a small, lidded bin under the control panel is blocked.
Even so, the 740Ld xDrive was a brilliant companion on a recent, 850-mile Grand Tour of the Northwest. On the freeway, the Ld cruised effortlessly, its massive capabilities largely untapped and its 600-watt B&O audio system doing its lovely thing.
Late at night and 10 miles shy of my next stop, the 7's optional drowsiness monitor inquired about the state of my alertness, even offering to help find a likely stopping place.
Heated and cooled multi-contour seats included four-way lumbar, adjustable thigh support and adjustable back-and-thigh bolsters.
The Bimmer was happiest — and so was I — on the winding two-lane that traces the North bank of the Columbia River along the Washington/Oregon border. There, the diesel's rich well of torque — and the ZF's uncanny ability to find the heart of the narrow power band — found expression in bursts of acceleration as we overtook slower traffic. The variable-vane turbocharger spools up quickly to minimize turbo lag and the transmission makes quick, sure shifts.
BMW's four-mode Adaptive Drive system employs active anti-roll bars that lock up during hard cornering to quell body roll. When cruising, they relax to provide a smooth and well-damped ride.
Appropriate to its size — and the speeds of which it's capable — the electrically assisted steering system is heavily weighted. Though precise and accurate, it doesn't pass along much road-surface information to the driver.
BMW won't say if the new diesel will be on board when the 9th-gen launches. Let's hope; that new dog should know all the tricks.
Contact Don at don@dadair.com.
2015 BMW 740Ld xDrive
Vehicle base price: $74,950
Trim level base price: $83,450
Optional equipment included Adaptive Drive with ARS; power rear and side sunshades; ceramic controls; enhanced Bluetooth and smartphone; Nigh Vision with pedestrian detection.
EPA ratings: 26 combined/21 city/31 highway
Diesel fuel required
---
---