Legacy: Subaru's outlier sedan receives mainstream refinements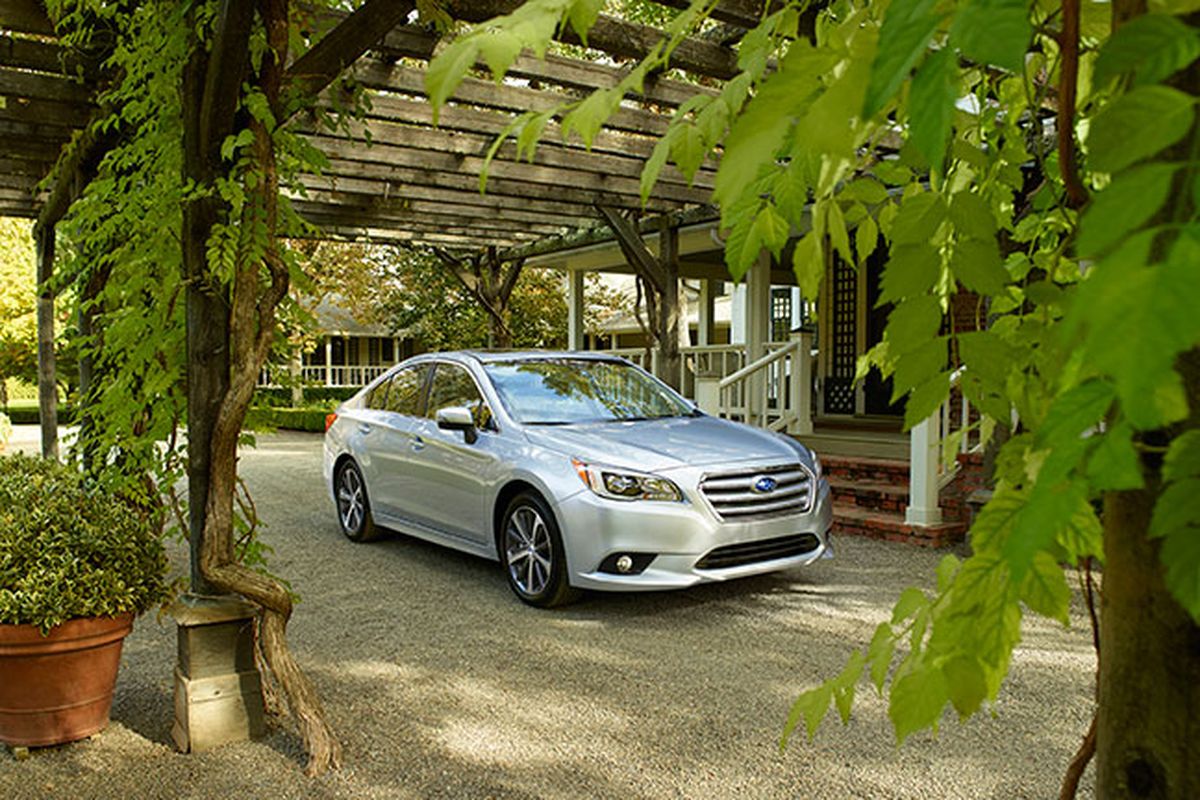 Hidden inside every Subaru Outback and Forester built are the muscle and sinew of the Legacy sedan.
The midsize Legacy platform is Subaru's lifeblood. It underpins the company's two most popular models — the Outback and Forester — and accounts for two-thirds of its sales.
Legacy is an outlier. Among midsize family sedans, it's the only with standard all-wheel-drive and its powertrains include a pair of horizontally opposed ("boxer") engines. It's loved for its durability and four-seasons practicality, not for any gloss or opulence.
This year, the Legacy grows more refined, though. There are improved cabin materials, more soft-touch surfaces and enhanced infotainment controls. Rear-seat legroom grows to within an inch of the class leader.
Fuel efficiency, a traditional Subaru weak spot, is improved. A new electrically assisted steering system is more communicative than before and helps reduce fuel consumption. Suspension revisions enhance agility and ride comfort.
A quiet cabin is a comfortable cabin, so Subaru adds a new acoustic windshield, liquid-filled engine mounts, thicker panels in key locations and expanded use of foam insulation and floor damping material.
The center console armrest provides a storage area large enough to hold an iPad. A covered and illuminated storage bin below the center stack incorporates USB, AUX jack and 12v power ports.
A rearview camera is now standard and a newly available Rear Vehicle Detection System includes Blind Spot Detection, Lane Change Assist and Rear Cross Traffic Alert. New seat-cushion airbags deploy from the seat bottom to restrain occupants in a collision.
Subaru steers clear of luxury that would betray its folksy roots. You can load up your Legacy with leather and a 12-speaker Harmon Kardon audio system (recommended), but it will never feel like another brand's "luxury" model.
The pebbly dash in my mid-level Premium 2.5i tester had a rubbery consistency that promised easy clean-up and resistance to boot-heel marring. Navigation graphics are crisp and clear. Below it, though, the Climate Panel — it includes climate-control settings, exterior temp and a clock — utilizes old-school LCD characters that wash out in sunlight.
Like all Subies, aside from the rear-drive BRZ sports car, the Legacy is equipped with torque-vectoring all-wheel-drive. <ital>Real</ital> AWD, Subaru emphasizes; not the front-drive-with-a-splitter setup found in most AWD products.
Still, with 5.9 inches of ground clearance (versus the Outback's 8.7), the Legacy's mission is more urban than off-road.
Engine choices include a 175-horsepower 2.5-liter four and a 256-hp 3.6-liter six. Both pair with a much-improved CVT with simulated gear stops and steering-wheel-mounted paddle shifters. The EPA rates four-cylinder trims at 30 mpg combined (26 city/36 highway), the six at 23/20/28.
My 2.5i tester was not quick — the 0-60 sprint is a 9.4-second stroll — and under acceleration the boxer engine runs less smoothly than competitive inline fours. But the CVT makes quick and convincing "shifts" and is less prone to rubber-band behavior than less-refined competitors.
Whatever its strengths and flaws, the Legacy represents real, AWD value among midsize sedans. Muscle and sinew matter, but its newfound polish is certain to earn win the Legacy a new round of fans.
Contact Don at don@dadair.com.
2015 Subaru Legacy 2.5i Premium
Vehicle base price: $21,695
Trim level base price: $23,795
As tested: $25,984
Options included Eyesight driver assist program, including pre-collision throttle-management control and braking systems, adaptive cruise control, lane-departure and lane-sway warning; Rear Vehicle Detection System, including blind-spot detection, rear cross-traffic alert and lane-change assist.
EPA rating: 30 combined/26 city/36 highway
Regular unleaded fuel specified
---
---