Test Drive: BMW 228i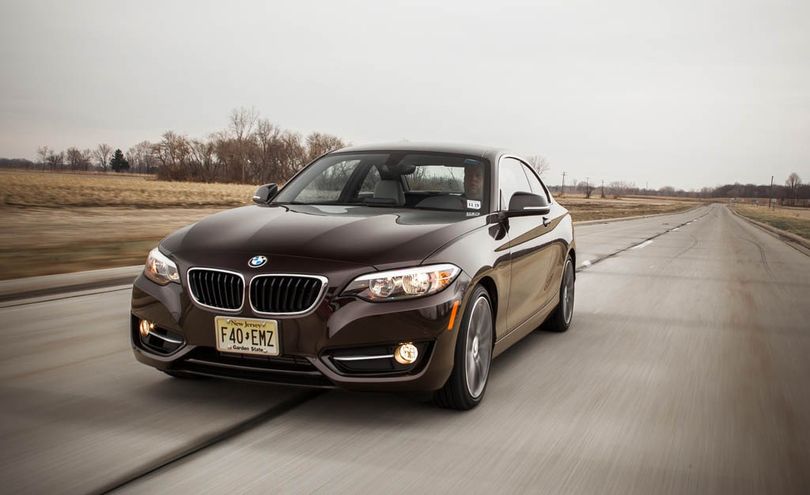 This week, we're driving BMW's all new 228i xDrive, the latter the nomenclature for AWD mechanicals. This all-new 2-Series is going to be a big hit with people of all ages as it delivers true BMW-bred road manners and is within economical reach of many of today's consumers.
Powering our little beauty is BMW's twin-turbo 2.0-liter four-cylinder, which produces 240 horses and 255 lb. ft. of torque and allows accelerating to 60-mph in just 5.4 seconds. The reason for this outstanding performance is BMW utilizing a twin power turbo design, which kicks in to make the 228i feel more like a powerful V6 than a tiny four. The twin power turbo, by the way, doesn't mean there are two turbos. To explain in layman terms, BMW's single turbo receives its "twin power" from an electric, low RPM assist that eliminates any lag until the RPMs kick in high enough to take over the entire turbo boost via exhaust pressure. (And it works splendidly).
Acceleration and cruising assist comes via an eight-speed automatic transmission, which is also responsible for the outstanding 23 city and 35 highway EPA fuel mileage numbers. Another "saving fuel" item is BMW's stop-start function, which shuts the engine off when you're stopped at a red light.
Knowing that BMW owners demand driving and handling perfection, this new compact sized Bimmer is everything one expects from one of today's top manufacturers. Our tester came in one of only two models available, either a rear-drive or AWD two-door coupe (ours) or a six-cylinder powered convertible. If you're looking for a sedan, you'll have to move up to the 3-Series as BMW has yet to announce a sedan in the 2-Series field.
All 228i BMWs come with 17-inch tires on nice aluminum alloy wheels, cruise, air cond., rain-sensing wipers, fog lamps, folding heated side mirrors, "Sensa Tec" upholstery seating, three-spoke tilt-and-telescoping leather wrap steering wheel, paddle shifters and much more. For music and info, an iDrive system with 6.5-inch screen works with an HD Radio/AM/FM/CD for your listening pleasure. USB, iPod and Bluetooth connectivity are also standard.
Most notable is that our tester came with the all-wheel-drive xDrive mechanicals and a highly recommended $2,250 M Sport Package, which will pay big dividends if spirited driving or race track test days are part of your ownership itinerary. The M Sport features special brakes, adaptive M suspension, variable sport steering, 18-inch tires on grey/aluminum alloys, chrome line exterior and more. Additional options were a $500 brushed aluminum trim, $550 special paint treatment and another $500 for heated seats. With a $950 delivery fee, it brought the final tally to $38,600. (The base for an AWD 228i xDrive is $33,900). Check your dealer for current incentives.
All 2015 BMW 2 Series models feature four-wheel ABS brakes, stability and traction control and all the airbags. Our tester did not have a backup rear safety camera, which will become mandatory in the years ahead. (What are you waiting for BMW?)
The 228i cabin is very inviting and roomy for the front passengers. As expected, rear passengers will find things a bit tight if they are of adult size, but that's the tradeoff right now for a BMW compact coupe that is high on everything except price.
All interior appointments are of expected BMW quality and fit, with a special flare for performance enhancements built in. It did take some time for me to learn the iDrive system and radio as tuning into a favorite AM station took several tries until I figured everything out.
Surprising was 228i's cargo space as we took our BMW on a trip to Baltimore's Inner Harbor and had no trouble fitting three suitcases and some extra ancillary items. The rear seat is a 60/40 split, so had we needed more room it was there.
Because of high performance Michelin ZR-rated summer the tires, there is more road noise than usual, but the tradeoff in grip is fair and all you have to do is turn up the music to drown it out. Other than that, expect a luxurious ride and comfort beyond what one expects in a car that is ready for the turns at the Watkins Glen road course.
Important numbers include a wheelbase of 105.9 inches, 3,345 curb weight, 13.7 gallon fuel tank and 13.8 cu. ft. of cargo space.
Overall, it's the driving impressions I must emphasize the most, as my co-driver on the trip (a fellow publisher and car fanatic) put the 228i through its paces on the trip home. Be it tight maneuvering, higher speed passing, or just some comfortable 65-mph cruising, this BMW is really a driver's car.
In summary, it's one of the best $33,900 AWD sports cars we've ever driven.
2015 BMW 228

Entry Price: $32,100

Price as Tested: $38,600

Likes: Affordable supercar, great power and MPG, superb handling.

Dislikes: No rear safety camera, no four door model, tight rear seat.
(Greg Zyla is a syndicated auto columnist)
---
---