Mitsubishi Evo: On saying goodbye to an old favorite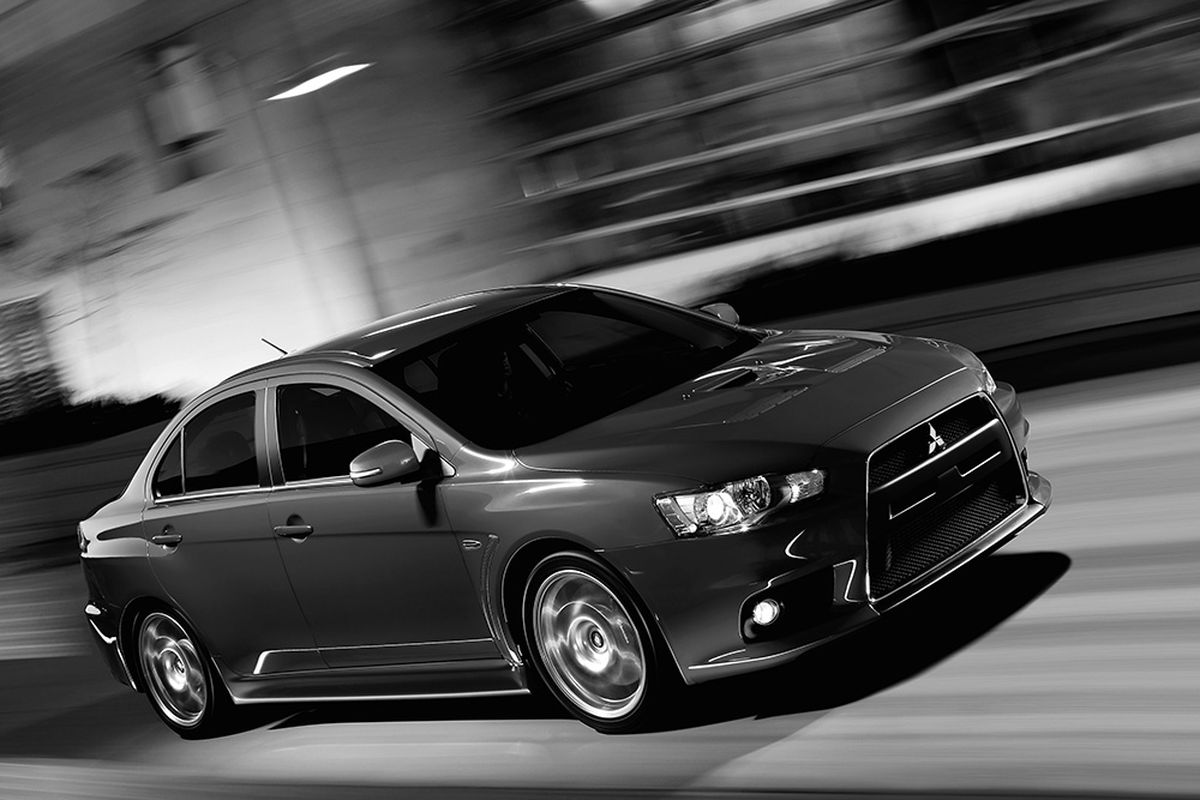 We've trimmed the office in black bunting today, as we bid adieu to Mitsubishi's Lancer Evolution.
Next year, Mitsubishi will "replace" the wildly quick, responsive and wholly impractical Evo sedan ($35,305, including destination) with a hybrid crossover.
In its short lifespan — it debuted in Japan in 1992 and in the States in 2003 — the Evo put race-ready technology in the hands of the citizenry. If you could pony up $30 Grand, you could be Tommi Mäkinen, who drove Evos to four consecutive World Rally Championships.
When it debuted, Evo's dual-clutch automated manual transmission, torque-vectoring rear differential and high-RPM launch protocol were racetrack, not showroom, technologies. To this day, Mitsubishi endows the Evo with such high-budget features as Brembo brakes, Bilstein shocks and BBS wheels.
Details reveal Mitsu's commitment to track-level performance. The Evo's hood, roof, bumper beams and front fenders are made of aluminum, cutting weight without impacting safety.
The premium MR ($39,805) uses lightweight, two-piece front brake-rotors to reduce unsprung weight by nearly 6 pounds. Unsprung weight (weight not supported by the suspension) deeply impacts high-performance handling.
Early Buddhists wrote of "lively and darting fish," a serendipitously accurate depiction of the Evo's dynamics. Chassis, suspension and steering are tuned to be instantly responsive. Steering is lively and accurate. Once the turbocharger spools up — at about 2100 RPM — a nudge of the throttle pedal offers immediate access to a deep well of power.
The Evo's small-but-mighty four-cylinder engine catapults the 3,500-pound Evo from 0-60 in a neck-snapping 4.4 seconds.
On a rally course, acceleration is just the beginning. Cars fly through wooded trails and mountainside villages, teasing fate at every turn. They run at insane speeds on surfaces of all types and traction profiles — from asphalt to dirt, mud, gravel and beyond.
Mitsu's Super All-Wheel-Control (S-AWC) system counters by anticipating traction loss and proactively distributing power among the wheels — speeding some and braking others — to keep the car on course, the laws of physics be damned.
Hard cornering elicits minimal body lean and 18-inch Yokohama performance tires provide tenacious grip.
Two available transmissions include a five-speed manual and a twin-clutch automated manual. The stick is fun but the automatic is quicker and more decisive than any human. Three drive modes permit the driver to select a performance profile.
The Evo is based on the Lancer, a front-wheel-drive compact sedan whose limitations inhabit the Evo; hard plastics dominate the cabin's cozy confines — though the Evo gets padded door cushions — and Mitsubishi's Fuse infotainment interface is, comparatively speaking, weak tea.
The rear seat is cramped and the trunk tiny. The rear seatback is a structural element and is critical to body rigidity, so it doesn't fold.
Among devotees, a bigger concern is this year's deletion of the Evo's Recaro racing seats; the units that replace them are comfortable, but lack the Recaro's tenacious hold on occupants.
Sadly, the Recaros won't be included in the just-announced Evo Final Edition ($38,805). It receives a 12-hp bump (to 303), the MR's brakes and shocks, the 5-speed stick and assorted commemorative add-ons.
If it were my choice, there'd be no need for a Final Edition. Or this damn bunting. Farewell, Evo.
Contact Don at don@dadair.com.
2015 Mitsubishi Lancer Evolution MR
Vehicle base price: $34,495
Trim level base price: $38,995
As tested: $41,805
Options included leather seating surfaces; power glass sunroof; heated front seats; sound dampening enhancement; scuff plates.
EPA ratings: 19 combined/17 city/22 highway
---
---