Mon., Nov. 16, 2015
Collector Car Corner: American built foreign cars, tires and the Vulcan 27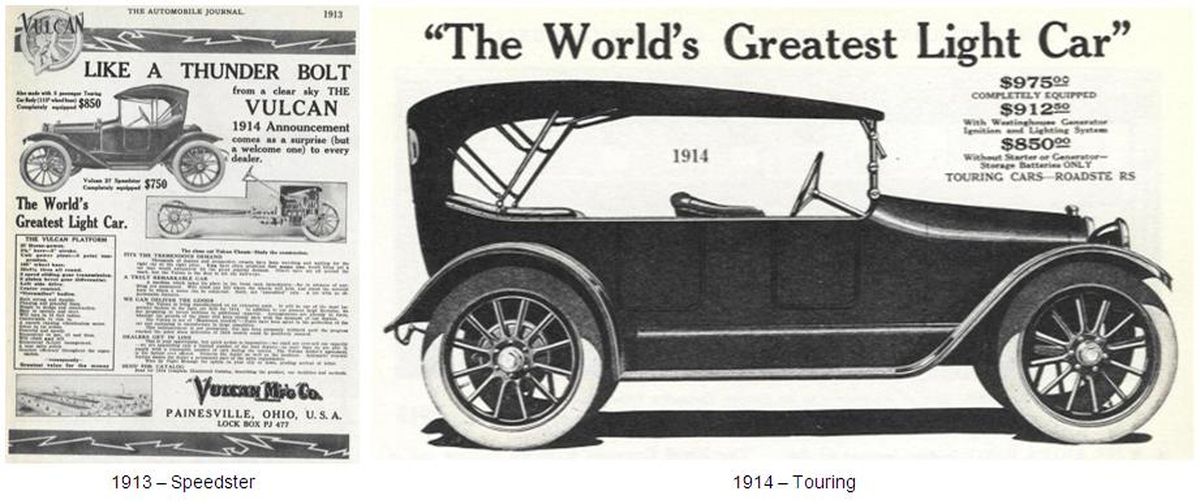 The 1914 Vulcan 27 Speedster which was built in Painesville, Ohio from 1913 to 1915. The state is notable for car production and tire production. (Complements of former Vulcan Automobile Company)
Q: I enjoy reading your articles on collector cars and want to bring one to your attention that was built in Ohio many years ago. It is the Vulcan 27 which was built in Painesville, Ohio. I have seen one at our local car show and it looked pretty good. I'd like to know how many cars are built today in America as I know many foreign makes are built here. Also, Ohio was the big producer of tires, too. Thanks much, Jim Menmuir, Painesville, Ohio, no email, no computer, too old!
A: Thanks Jim for your question and we'll go across the board to answer it. First, the Vulcan 27 sold for $750 to $850 when it appeared in the states back in 1913. The Vulcan was a 100-percent Ohio built and manufactured car and came with a 27-horsepower "Speedster" engine. The plant's location near Lake Erie made it easy to ship cars after completion and/or accept materials needed for its manufacture process. The last Vulcan built was in 1915.
As for cars built in the United States today versus yesteryear, it's an impressive list. If you date back to the late 1890s, there were literally hundreds of automobile companies that actively built cars for the booming horseless carriage era. So many, in fact, that we don't have room to publish all the names.
Fast forward and the American car companies today include General Motors, Ford, Chrysler, Tesla, and Panoz, the latter two independent yet noteworthy. There are other independent companies that are involved in car building, but some, like luxury hybrid plug-in manufacturer Fisker, filed for bankruptcy and then sold off capital assets to a Chinese auto parts company.
Many big name foreign brands build cars in America. In addition to the above mentioned companies, here's the way it all breaks down: Honda builds cars in Ohio and Alabama; BMW in South Carolina; Hyundai in Georgia and Alabama; Kia in Georgia; Mercedes-Benz in Alabama; Mitsubishi in Illinois; Volkswagen in Tennessee; Nissan in Tennessee and Mississippi; and Subaru in Indiana. These companies have made major commitments to the United States workforce.
Additionally, many of the companies use both foreign and American produced parts for their car/truck productions and share many ancillary products in the manufacture process. Also, many American brand vehicles are built in Mexico and Canada and have been for decades.
Back to Ohio. As noted in your hand written letter, the state also played a major role in tire production as Akron, Ohio, was billed as the "Rubber Production Capital of the World" in the 1940s. Included on the major list of Ohio-based tire manufacturers were B.F. Goodrich, General, Goodyear, Kelly-Springfield and Firestone.
However, thanks to consolidation and company takeovers, the rubber industry declined in Ohio as production moved to other states or countries. Currently, Goodyear still has corporate headquarters in Akron, along with its subsidy Kelly-Springfield. General Tire has become the German owned Continental Tires, while BF Goodrich operates out of South Carolina and is owned by Michelin. The last of the big names, Firestone, was purchased by Japanese owned Bridgestone.
We'll end with a tip of the hat to Goodyear, which built brand new corporate offices in Akron in 2013 and has been flying the Goodyear Blimp (see photo) since 1925 at major events everywhere. The Goodyear brand has been at the forefront of American automobile racing, too, especially drag racing and NASCAR competition. Thanks for staying in Akron Goodyear!
And thank for Jim for your letter and remember it's never too late to buy a computer while you continue to enjoy the written word.
---
---