Test Drive: 2015 MINI Cooper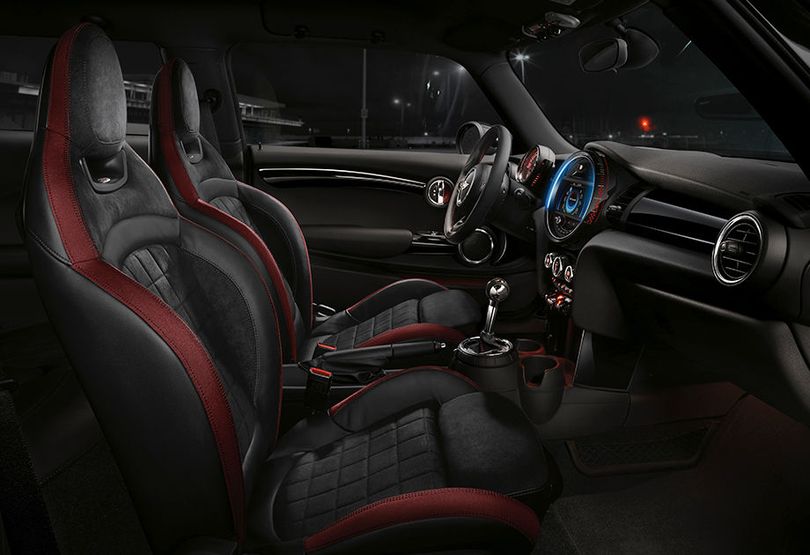 We're driving BMW's popular MINI Cooper this week, a front or AWD four-passenger sports car available in short and long wheelbase trims. Since its re-introduction in 2002 under the BMW umbrella, the MINI has again developed a similar cult like following from a diverse group of owners… just as it did when introduced in the United Kingdom back in 1959.
Today's MINI still receives final assembly in Oxford, United Kingdom, although its modern day German heritage is spiced with parts coming from Canada, the United States and the UK while the main transmission and engine components are shipped in from Germany.
Our tester is the famous John Cooper Works (JCW) MINI Hardtop, a high performance MINI that is synonymous with MINI Cooper fame. Specifically, the car was the brainchild of soon to be great Formula 1 builder John Cooper himself who first brought the car to fame in 1959 Great Britain.
Using a sideways-mounted engine and a then yet to be proven front-wheel-drive layout, Cooper not only founded the Cooper Car Company, he drove to three Monte Carlo Rally titles and 16 Grand Prix wins in his Formula 1 Cooper built machines. His name lives on as today's MINI John Cooper Works models are featured in numerous North America and European race circuit sanctioned races that specifically feature MINI Coopers.
Under the hood of the JCW sits a turbocharged 2.0-liter four cylinder that delivers 228 horsepower and 236 lb. ft. of torque. Coupled to a $1,500 optional paddle shift sport automatic transmission that features a "launch control" when accelerating, we timed our tester from zero to 60-mph in just 5.9 seconds.
BMW says the automatic is faster than the standard six-speed Getrag manual transmission. The performance engines release a special deep throat exhaust that MINI says "serves as a first warning sign" of its performance engineering. Thanks to the evolution of the modern day automatics, we now recommend the automatic as a "just as much fun" alternative to the manual. JCW MINIs come in six different flavors, including two all-wheel-drive versions. Notable if fuel efficiency, where 25 city and 31 highway are the EPA estimates.
On paper, 223-horses may not seem like much, yet when bolted into a MINI with the JCW racing-bred suspension and handling package, the combination of lightweight and a turbo not only puts you back in the seat, it will keep up with most anything on the road. The power and MPG numbers are some of MINI John Cooper's best selling points, as performance and handling are primed by Cooper's creed of performance ala light weight, and handling. Better assisting the driving ability is a set of special JCW 18-inch spoke alloys on Pirelli run flat tires that cost $750 more than the standard 17-inchers. This option is recommended.
Granted, MINI is not a car for everyone, as demographically it's aimed at those who love spirited driving and a vehicle that handles like an SCCA road racer instead of a highway comfort dream machine. The cabin is surprisingly roomy, although access to the rear seats is a bit cumbersome which is why MINI has a four door JCW available.
It's on the road, however, where MINI JCW's true joy reveals itself. Anyone who enjoys a good handling, peppy car will revel in its driving characteristics. The feedback through the steering wheel is excellent thanks to the race-bred suspension and optional $500 dynamic damper control, both which assists adhesion. If you drive deep into a corner with a proper entry-apex-exit pattern, MINI JCW will handle most anything you throw at it and then deliver a top speed of 153 at your area "track day."
As for safety, eight airbags with side curtain setup, performance Brembo ABS disc brakes, corner brake control, electronic brake force, and much more are standard fare. Consumers will also enjoy a long list of standard features from air conditioning to a five speaker stereo system, which your MINI dealer will gladly go over in detail along with all the unmentioned options. The interior is most impressive, set off with John Cooper distinctive steering wheel, dashboard and sport seating.
Important numbers include a 98.2-inch wheelbase, 11.6-gallon fuel tank, 2,885-lb. curb weight, 8.7 to 30 cu. ft. of cargo space, and 5.6-inches of ground clearance.
By far the most impressive MINI Cooper we've ever driven, if you can afford the monies it takes to move up from the entry model into the $30K performance MINI Coopers, you won't be disappointed. It's a powerful example of John Cooper's dogma all crafted into a UK/German-bred thoroughbred machine.
2015 MINI Cooper
Likes: Outstanding handling, lots of power, JCW looks.
Dislikes: Side pillars hinder visibility, no backup camera.
Base Price: $20,700
Price as tested: $37,850
---
---