Collector Car Corner: Readers recall Crosley small cars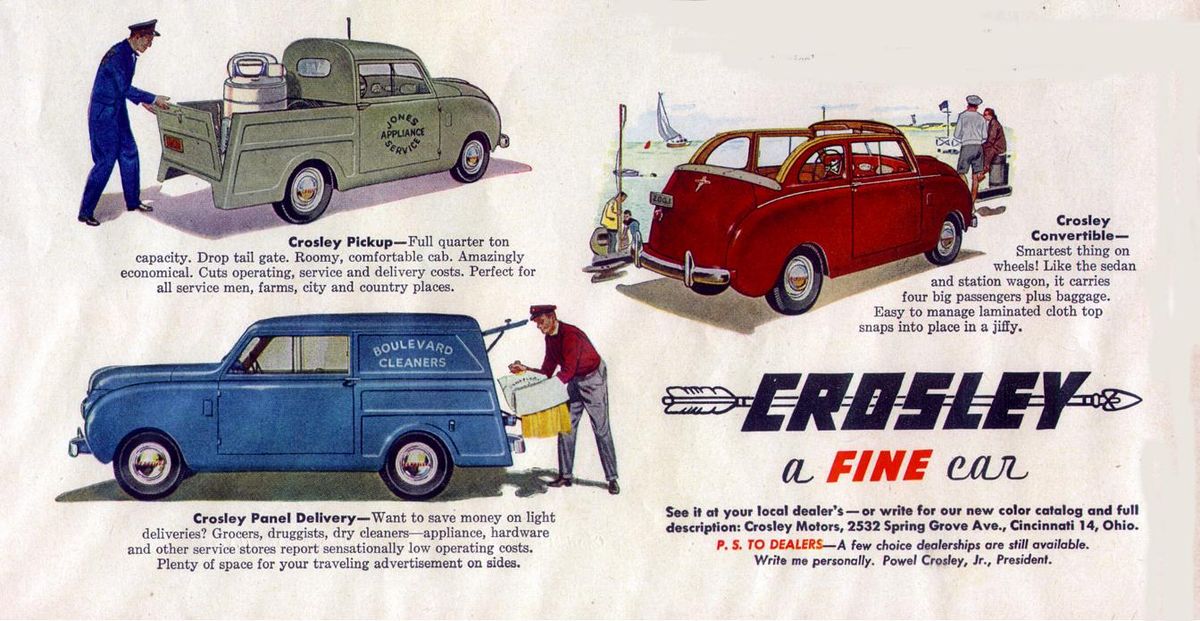 Q: Hi Greg and I want to let you know I was born in 1935 and was a "motorhead" by the age of 15. Your column on the first small and compact American cars brings back my memories of the two-passenger Crosley, which was very small and came with a two-cylinder engine.
I owned a 1951 Crosley Station Wagon that by then had grown up a little and came with a four-cylinder engine with room for four passengers. I drove my Crosley for a year and remember this car was made by the same people as the Crosley radios.
I am still a "motorhead" and would appreciate your thoughts on the Crosley. Sincerely, Richard Emswiler, now age 79, Lehigh Acres, Florida.
A: Richard I would be happy to let you know more about the Crosley as I also received several letters from readers about my not including the Crosley in my "First American-built compact car" article. Notable is a letter from John Lindenthal, an 87-year-old car enthusiast who recalled living in the late 1940s and early1950s and seeing the Crosley vehicles. He mentions that his friend had a "tiny pickup with a convertible roof over the cab."
As for history, Crosley Motors was founded by Powel Crosley Jr. and his brother, Lewis, in Cincinnati, Ohio, in 1939 as a subsidiary of his Crosley Corporation, which was already a successful American business. A respected industrialist and entrepreneur, Crosley Jr. was responsible for many innovations in consumer products including small and large appliances and also radio and TV broadcasting. Notable is that Crosley appliances and radios are still available to this day.
Popular in many business and social circles, Crosley Jr. was perhaps best known as owner of the Cincinnati Reds major league baseball team until his death in 1961 at the age of 74. The current Cincinnati Reds street-level main entrance at "Great American Ball Park" is named "Crosley Terrace" in his honor.
As for the car, the very first Crosley appeared in 1939 as a tiny, sub-compact two-seater convertible and weighed just 925 pounds. The two-cylinder engine you remember was an air cooled Waukesha built 39 cubic inch design. The car started at just $299 and met with Crosley's philosophy of "every American who can afford a car should have an opportunity to buy a brand new, truly fine car."
The first Crosley only came in three colors either yellow, gray or blue. By 1942, Crosley expanded its line to offer a panel truck, sedan, pickup and other styles. When World War II began, Crosley had sold nearly 6,000 cars and was the last American manufacturer to finally stop civilian car production in 1942 because his cars delivered near 50-mpg. The United States then had Crosley concentrate on small military vehicles and radio transceivers and fuses during the war effort. Included was a military "4x4 Pup" which looked like an early Jeep and was powered by the two-cylinder.
When the war ended, Crosley resumed civilian car production and by this time his vehicles were powered by larger four-cylinder water cooled engines. His models even included a "Super Sport" and "Hotshot" sports car roadster, featuring a front head lamp "bug eye" Sprite look long before Austin Healey introduced its Sprite in 1958.
Although Mr. Crosley was highly successful in everything he did, his cars never really caught on with the consumer as post war America was in a buying mood for "bigger and better" cars. The 1951 Crosley Wagon you owned came just one year before Crosley ceased vehicle production in mid-1952.
Sadly, Crosley's "small car" ideology would later prove correct as many American and foreign small cars became very successful by the end of the decade and into the Sixties.
Notable are some of Crosley's industry firsts: the push-button radio, early television productions (including soap operas), first refrigerator with shelves in the door, most powerful commercial radio station ever (WLW Cincinnati), complete lighting for the first baseball night game in 1935 at Crosley Field (Reds versus Phillies), first to use disc brakes on American cars and much more. Crosley Jr. indeed was a true industrial genius. Overall, Crosley produced near 77,000 vehicles during his car manufacturing days.
As for not counting the Crosley in my first compact car column, the Crosley was conceived as very lightweight sub-compact vehicle, but it sure does warrant our attention. Ditto to the King Midget, as this was another American-built tiny small car.
There you have it Richard (and John). Thanks much for your letters and reminding us of the Crosley cars and trucks. And as for those Cincinnati Reds, I still feel Vada Pinson should be in the Hall of Fame.
(Greg Zyla is a syndicated auto columnist who welcomes reader comments and questions on collector cars, auto nostalgia or old-time racing at 303 Roosevelt St., Sayre, Pa. 18840 or email at greg@gregzyla.com).
---
---