MX-5 Miata: Ancient military sport inspires Mazda's fourth-generation roadster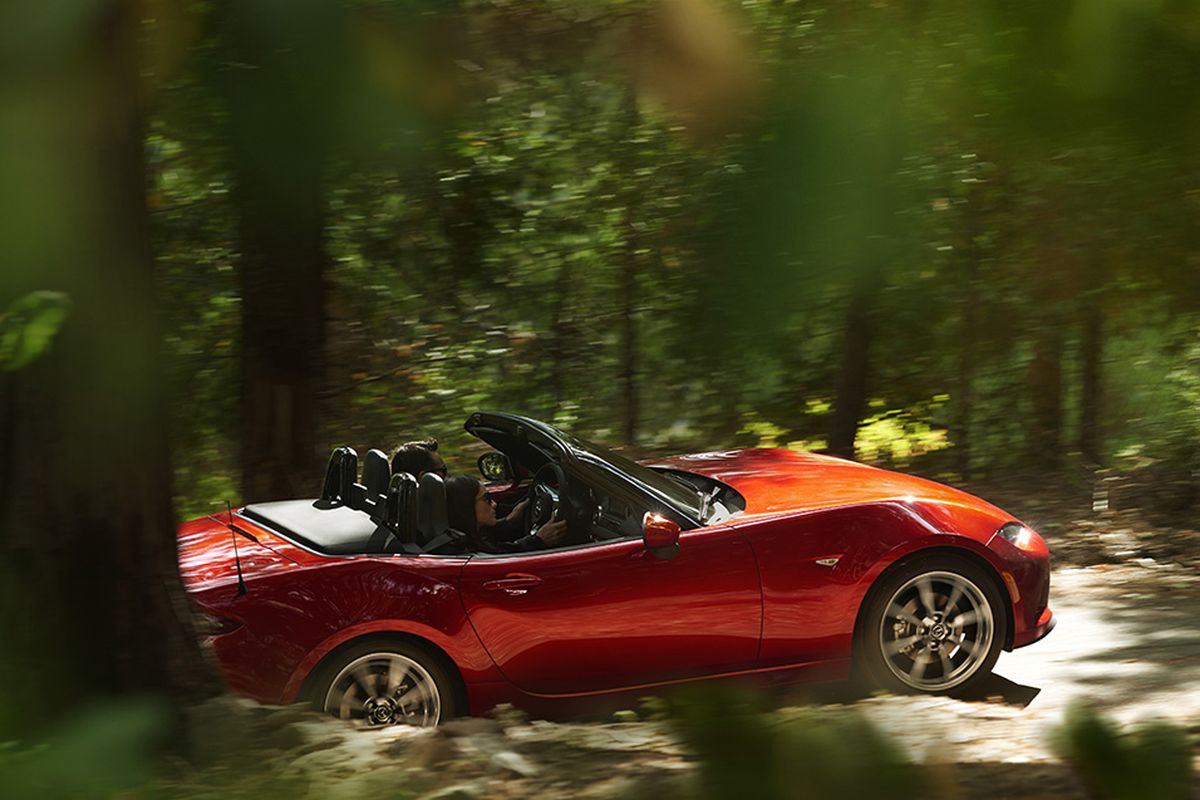 Mazda credits an ancient military sport as inspiration for the all-new 2016 Mazda MX-5 Miata.
Perch atop a horse in full stride, Yabasume archers aimed pumpkin-shaped arrows at stationery targets. Their hands occupied by weapons, they used their knees to guide their mounts.
The practice gave rise to the phrase jiban ittai, which roughly translates to "unity between horse and rider."
It's an apt metaphor; if you don't feel one with the MX-5, you're not really driving it. The roadster encourages driver engagement. Steering feel is lively and communicative. The suspension is tuned to reward exuberant driving without punishing innocent passengers.
In many ways, the 2016 is a return to form. It's the smallest, lightest and most communicative Miata since the 1990 original. Though slightly less powerful than earlier generations, it's quicker than any Miata before it.
This is also the edgiest Miata yet. Its taut and muscular lines toughen up its image and should broaden its appeal. Props to Mazda for truth in advertising; first on its stated list of design goals: Beautiful proportions to make occupants look good.
The snug, two-place cabin feels a bit roomier and is said to accommodate occupants in a wider assortment of sizes. Materials quality is better than ever and upper trims get upgraded soft-touch trim panels. The base Sport trim has more hard surfaces, but is no less comfortable for it.
An available infotainment system includes a seven-inch touchscreen and an intuitive driver-input system. A USB port and Bluetooth phone and audio connectivity are now standard and an available Bose audio system embeds speakers in the headrests.
Mazda set out to make this the most comfortable Miata and even our Club trim tester, with its sport-tuned suspension and 17-inch alloys, boasted a compliant ride.
The new MX-5 was developed under Mazda's Skyactiv efficiency program, which prioritizes weight savings. Accordingly, a pair of weight- and space-saving mesh-suspended seats replace last year's coil-spring units.
Replacing the old steel mechanism with aluminum bows and braces, Mazda cut the weight of the manual soft-top. The top has always been easy to use but a new release mechanism makes it easier than ever. The MX-5's snug dimensions enables many drivers to raise and lower the top from the comfort of their own seat.
The focus on weight improves performance and efficiency. Fuel economy jumps an amazing 25 percent this year. The '16 MX-5's estimated city mileage — 27 mpg — nearly equals last year's highway numbers.
The engine, a 2.0-liter four-cylinder that makes 155 horsepower, sits lower and further back in the engine bay this year, for a lower center of gravity and better front/rear balance.
Transmissions include a six-speed manual and a six-speed automatic. With the stick, the MX-5 runs the 0-60 sprint in 6 seconds. With the automatic, why bother?
Of course, the fun begins where the straightaway ends. The MX-5's rear-drive dynamics, first-rate steering and well-sorted suspension, defines sports-car performance. Few cars, regardless of price, reward attentive drivers more handsomely.
Just don't drive it with your knees.
Contact Don at don@dadair.com.
2016 Mazda MX-5 Miata Club
Vehicle base price: $24,915
Trim level base price: $28,600
As tested: 32,820
Options included Brembo front brakes; Club appearance package; BBS 17-inch dark-alloy wheels; keyless entry and ignition.
EPA ratings: 30 combined/27 city/34 highway
Regular unleaded fuel specified
---
---