Test Drive: 2015 Infiniti QX80 AWD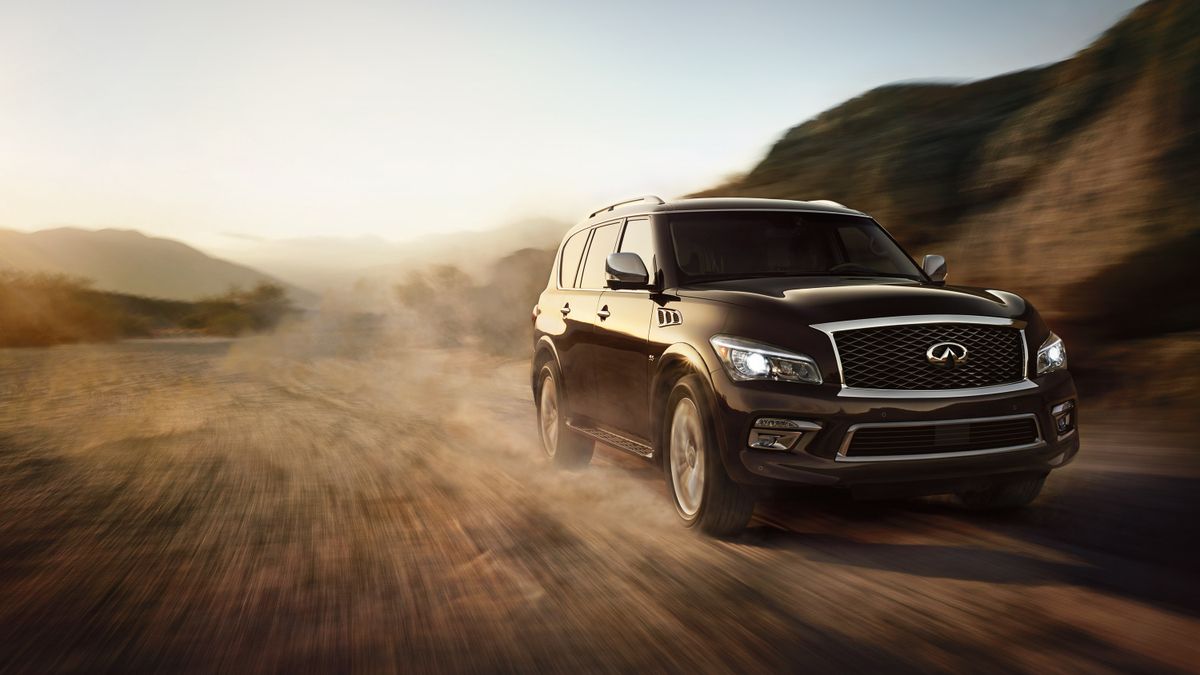 This week, we're driving one of the biggest and most elegant full size SUVs on the road today, namely the 2015 Infiniti QX80 AWD. With final assembly in Los Angeles, the 2015 Infiniti QX80 is high on amenities and lavishness and then delivers a built-in safety bonus thanks to its near three-ton overall curb weight.
Our tester came with Infiniti's "All Mode" AWD system that couples to a fuel efficient seven-speed automatic with adaptive shift control. Further, the AWD system can be manually set to offer 4H and 4L settings, although when left in automatic mode Infiniti computers make all the decisions as traction is distributed where needed most but never more to front tires than rear to prevent torque steer.
Sitting under the hood is Infiniti's powerful 5.6-liter all aluminum 32-valve DOHC V8 that puts out 400 horses and 413 pounds of torque. Years ago, an engine like this might deliver 14-MPG highway at best, yet thanks to Infiniti's highly advanced transmission gearing and seamless cylinder deactivation during highway cruising, a very impressive 20 MPG now awaits families and businesses that need room for seven or eight people.
As for acceleration, the 400-horse engine moves this luxury SUV with real authority featuring powerful low end acceleration. Then, when you take the onramp to the freeway, expect very good MPG as at 65-mph the RPMs read only 1,500.
The underpinnings feature a sturdy independent double wishbone front/rear design with automatic load-leveling. If you need to tow, a seven-pin wiring harness is ready to accept your brake controller while the rear bumper accepts all trailer hookups. There's a "snow and tow" mode switch to activate modern day suspension technologies, and you'll be able to tow up to 8,500 pounds easily.
One of the impressive and recommended options on our tester is a $2,100 Driver Assist Package that adds backup collision intervention, blind spot warning, intelligent brake assist with forward predictive collision warning (slows and brakes the SUV to prevent a collision) and forward emergency braking. Your Infiniti dealer will explain this option as if you use it just once it's worth the monies expended.
Another option I really like, although expensive at $5,500, is the Deluxe Technology Package. It includes a unique and "first in class" hydraulic body motion control system that assists QX80 in distributing weight and preventing lean in the corners. Specifically, a hydraulic circuit unites the four independent suspension components via hydraulic pressure, actuating as necessary while QX80 is in motion. You also receive climate controlled front seats, leather seating throughout three rows, Stratford Burl trim and stitched leather steering wheel and much more. This option also features a "lane departure prevention" function that actually guides the QX80 back into its intended lane path if the operator does not correct.
Another notable option is a $2,400 Tire and Wheel package, featuring huge 22-inch tires on 14-spoke forged aluminum alloys. It sure makes the QX80 standout even more, and I recommend the chrome version over the "black chrome" variety.
A Theater Package for $2,450 is nice, and adds dual 7-inch monitors mounted into the back of the front headrests. You'll receive two wireless headphones, wireless remote control, auxiliary jacks and a 120V outlet for entertainment equipment. "Days of Thunder" anyone?
Since the list of luxurious standard features is too long to list, I assure you, however, that every possible creature comfort is here, and then some.
I was fortunate to have several business and personal trips set aside for the week I drove QX80, and I can attest that this is one of the finest full size SUV's I've driven to date. For those fortunate enough to be shopping the Cadillac, Lexus, Lincoln or Range Rover arena, you owe yourself a test drive as Infiniti QX80 starts at $63,250 for the rear drive version.
Important numbers include a wheelbase of 121.1 inches, 5,855 pound curb weight, 26 gallon fuel tank, 41.6 ft. turning diameter and 14 city/20 highway EPA numbers.
In summary, Infiniti makes one of the very best full size luxury vehicles in the world, so don't miss an opportunity to drive one.
Test Drive: 2015 Infiniti QX80 AWD
Entry Price: $63,250
Price as Tested: $89,845
Likes: Spectacular interior, great ride, surprising highway MPG.
Dislikes: Some driver blind spots, boxy design not for everyone, black chrome wheels.
---
---