Don Adair: Nissan Armada accommodates 8, tows up to 8,500 pounds.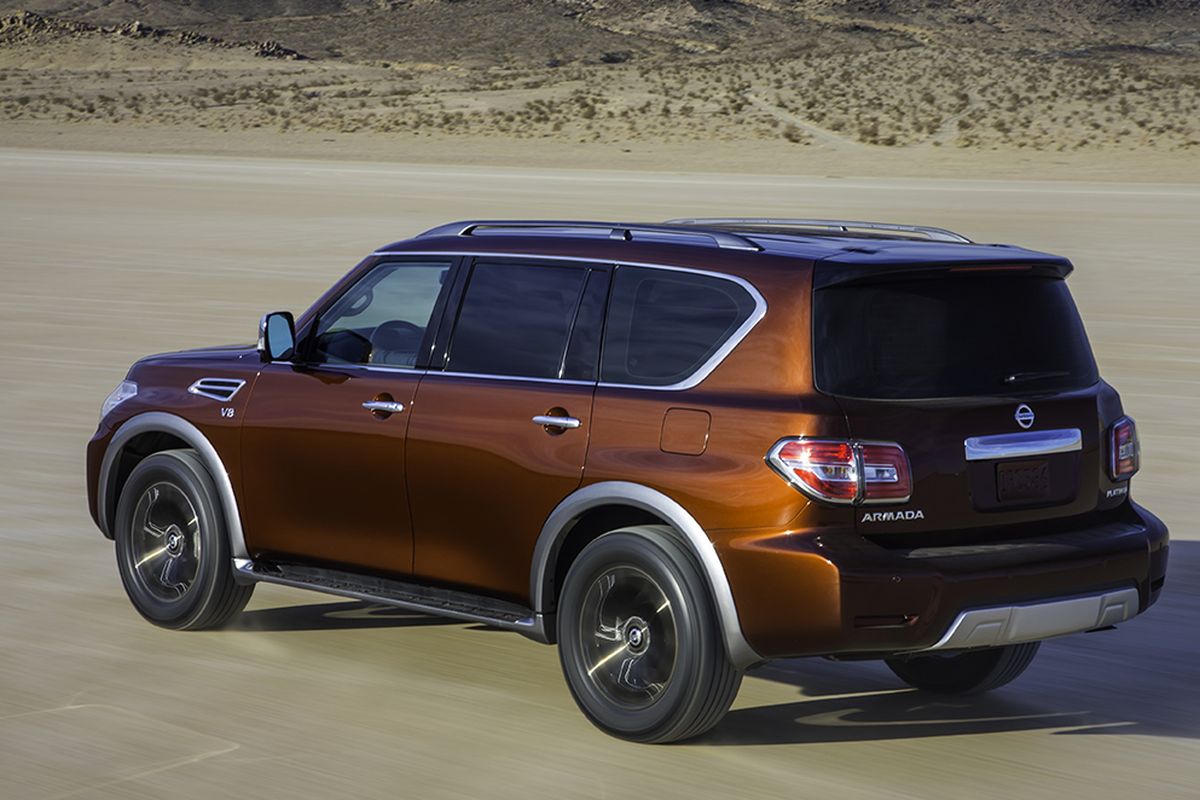 If you found yourself salivating over the Infiniti QX80 we reviewed recently, but couldn't get past its eye-watering ($88,850) price tag, take heart; Nissan may have your rig.
The all-new, 2017 Nissan Armada is a mechanical twin to Infiniti's QX80. The large, truck-based SUVs are built on the same steel-frame platform and share powertrains, suspensions and more.
Both are rear-drivers by default. Their shared four-wheel-drive system includes low-range gearing, a limited-slip differential, hill-start assist and a tow-mode function. Both have sufficient ground clearance — Armada's is 9.1 inches, the QX80's 9.2 inches — to do serious work in difficult conditions
Both rigs can tow up to 8,500 pounds. The Armada seats up to eight, the QX80 as many as seven.
As you would expect, the Infiniti is more luxurious than its cousin. Its suspension settings are cushier, its leather more premium, its engine a mite stronger. Warranty terms are more generous and the standard-features list is longer.
But, where the rubber meets the road, the Nissan is the Infiniti's equal.
So, let's talk dollars and cents, where the differential is substantial. The Armada's $45,995 base price is $19,000 shy of the Infiniti's $64,245. Our top-of-the-line Armada Platinum rang the bell at $61,435, a few thou shy of the least expensive QX.
Sixty-one Grand ain't cheap, but that horse trailer won't tow itself.
The base Armada is no slouch. It comes with keyless ignition and entry, a rearview camera, dual-zone automatic climate control, heated six-way power front seats (with two-way power driver lumbar), a leather-wrapped tilt-and-telescoping steering wheel, a reclining second-row bench and a 60/40-split third-row seat, automatic LED headlights (low-beam only), roof rails, side steps and rear privacy glass. Wheels are 18-inchers and a full-size spare is standard.
Standard tech includes navigation, an 8-inch touchscreen infotainment interface, Bluetooth connectivity and a 13-speaker Bose audio system. A squadron of user-friendly buttons and knobs supplement the touchscreen, minimizing distraction time.
The cabin is slightly smaller than before, but has a more human scale, with better ergonomics and unimpeded sight lines. Cabin fit-and-finish and materials quality are first-rate. The seats are large and commodious, with just enough bolstering to provide a sense of security, and numerous storage bins and cubbies swallow phones and purses.
Armada is powered by a 5.6-liter V-8 engine that makes 390 horsepower and 394 pound-feet of torque. A seven-speed automatic transmission runs smoothly through the gears, without hesitation or indecision.
The Armada weighs in at 5,600 pounds but feels smaller, largely because it's quicker than its size suggests; 0-60 happens in just 5.9 seconds. For the most part, its all-independent suspension effectively controls Armada's bulk, though under certain conditions it can feel a bit floaty.
The steering system is heavily boosted to minimize effort and has an artificial feel and so-so communications skills. On the upside, a healthy on-center valley minimizes the need for endless driver inputs.
Want big? Want strong and capable? Want quiet and comfortable? Want to spend less than a king's ransom? Nissan may have your rig.
Contact Don at don@dadair.com, or visit www.dadair.com.
2017 Nissan Armada Platinum 4WD
Vehicle base price: $44,900
Trim level base price: $59,990
As tested: $61,435
Options included second-row captains' chairs and center console with padded armrest.
Tow rating: 8,500 pounds
EPA rating: 15 combined/13 city/18 highway
Regular unleaded fuel specified
---
---